In brief
The US Department of Justice announced that John McAfee is under arrest in Spain and awaiting extradition on tax evasion charges.
The SEC has also sued John McAfee, claiming he made over $23 million from touting ICO projects while lying to investors.
John McAfee has been arrested and is in Spain awaiting extradition to the United States.
Today, the Department of Justice unsealed a June 15 indictment for tax evasion, which alleges that the cybersecurity software developer and ICO hype man hid cryptocurrency and other assets in bank accounts in others' names. If convicted, he faces up to 30 years in prison.
Shortly before the announcement, the US Securities and Exchange Commission (SEC) filed a civil complaint in US District Court against  John McAfee, alleging he secretly made over $23 million from promoting seven initial coin offerings.
Neither McAfee nor his lawyers were immediately available for comment.
The indictment, alleges that McAfee failed to pay taxes from 2014 to 2018. Moreover, it says that to hide his earnings, he routed income though cryptocurrency accounts in another person's name.
As for how much McAfee should have been paying in taxes on his cryptocurrency earnings, the SEC's civil suit lays out the details.
The civil suit, which also names ex-Team McAfee CEO (and bodyguard) Jimmy Watson, alleges that McAfee shilled eight initial coin offerings without revealing he had been paid to do so. (He apparently only received payment for seven.)
All told, those seven ICOs raised $41 million. Of that, McAfee received $11.6 million in Bitcoin and Ether, plus $11.5 million from the seven projects' own tokens. Watson earned $316,000 for helping tout and "scalp" securities by quickly selling the coins after hyping them up, said the SEC.
McAfee is charged with violating Section 17 of the Securities Act and Section 10 of the Securities Exchange Act.
According to the SEC, McAfee lied to investors, claiming he was being paid by the projects themselves. Moreover, according to the suit:
"McAfee falsely claimed to be an investor and/or a technical advisor when he recommended several ICOs, creating the impression that he had vetted these companies, that they were benefitting from his technical expertise, and that he was willing to invest his own money in the ventures. In reality, McAfee's tweets were paid promotions disguised as impartial investment advice."
At one point, McAfee was outed by the press. According to the SEC, that presented a problem: He still had a lot of now-worthless coins from the ICOs. So, McAfee allegedly pumped the tokens:
"To cash out, McAfee encouraged investors to purchase the securities sold in certain of the ICOs without disclosing that he was simultaneously trying to sell his own holdings and had paid another third-party promoter to tout the securities."
The complaint does not name the ICOs, which occurred between December 2017 and early 2018, but does give some description:
ICO-1, from a group based in Romania
ICO-2, from a UK company operating in Nigeria
ICO-3, from a Belize company operating in Las Vegas
ICO-4, from an Atlanta company
ICO-5, from a San Francisco company
ICO-6, from a Miami company
ICO-7, from a Virgin Islands company operating in Moscow
ICO-8, from a UK company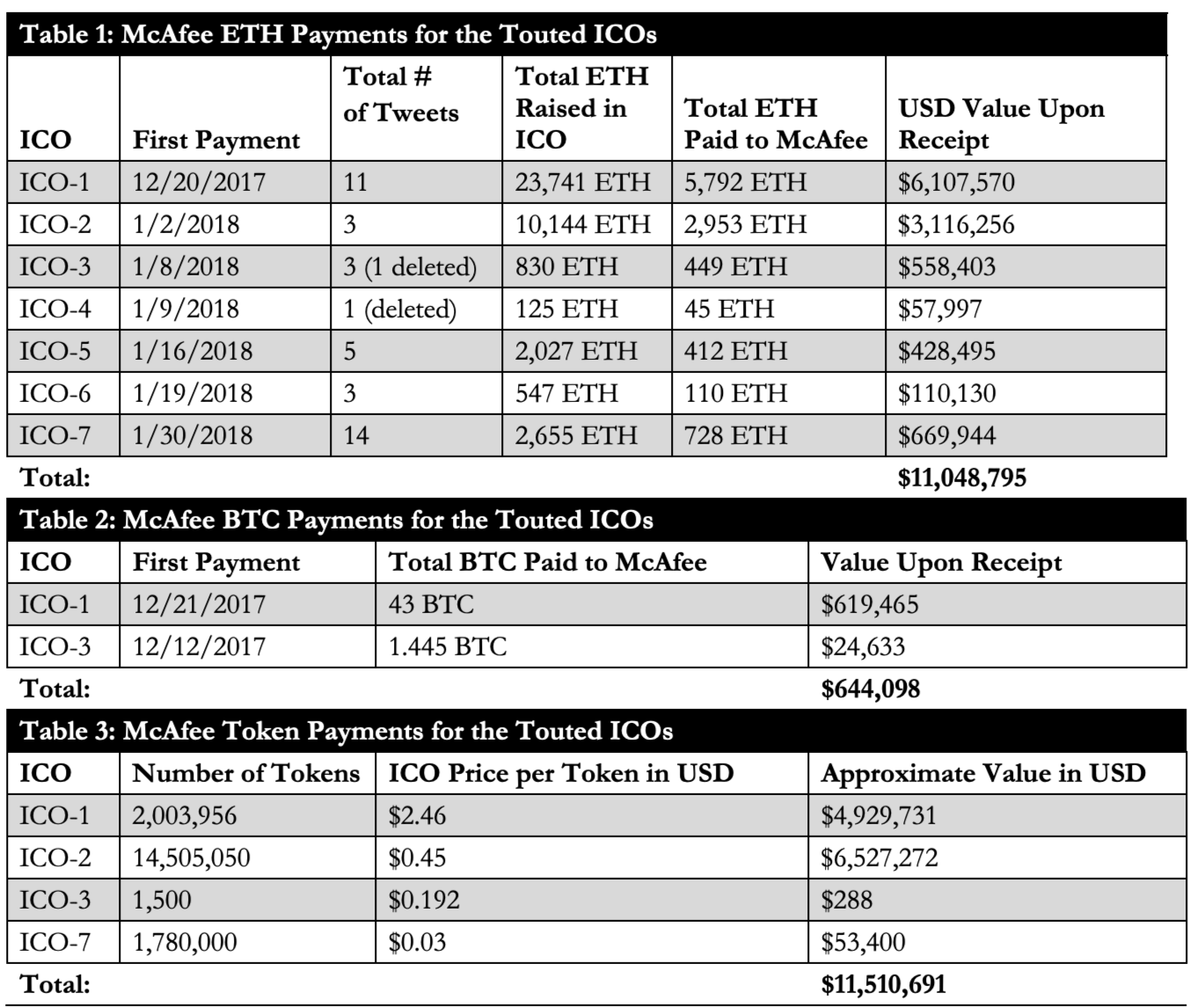 Overall, the complaint portrays McAfee as a modern-day P.T. Barnum for the crypto set, leveraging the then-exploding Bitcoin price to garner personal publicity:
"McAfee's extravagant posts (such as tweeting predictions about BTC price increases and promising to 'eat my d**k on national television' if such predictions did not pan out) and interviews about his BTC predictions generated an enormous amount of publicity, especially among the digital asset community."
Afterward, says the SEC, token projects came calling, and McAfee was able to sell his newfound influence to token projects. The result was tweets like these:
Yes, there are 1,500+ coins now. And yes, most are jokes or outright scams. But among those coins are Ethereum, Monero, Litecoin and other proven winners. By implying Sether is a joke is a huge mistake. Go to sether.io and read it. You will see it is in the mold of a winner.

— John McAfee (@officialmcafee) December 22, 2017
The SEC is asking the court to order McAfee and Watson to "disgorge all ill-gotten gains they received as a result of the violations alleged herein and to pray prejudgment interest" as well as civil money penalties. It's also seeking to permanently bar McAfee from participating in digital asset security sales or from ever serving as a director or officer of a company that offers registered securities.