The global cryptocurrency market shed a collective $22 billion in market capitalization today with over 90 of the top 100 crypto assets plunging in price. The price of Bitcoin fell to $10,409, representing a decline of approximately 4.5% within the last 24 hours.
Crypto investors will be anxiously looking on with March 12 in the back of their minds. At that time, Bitcoin suffered a two-day price plunge that saw the crypto asset lose over half its value in two days. The Black Thursday market crash, which was felt not just in crypto but throughout traditional stock and equities markets as well, was in large part due to the surge in the COVID-19 pandemic.
A similar trend appears to be playing out today, with the Dow Jones Industrial Average falling by approximately 800 points, again due to fears over the ongoing pandemic and a potential "second wave."
In early September, Bitcoin suffered one of its biggest slumps since March. While it recovered a bit since then, it now appears that the last few days of the month may be as ugly as the first for crypto—if not worse.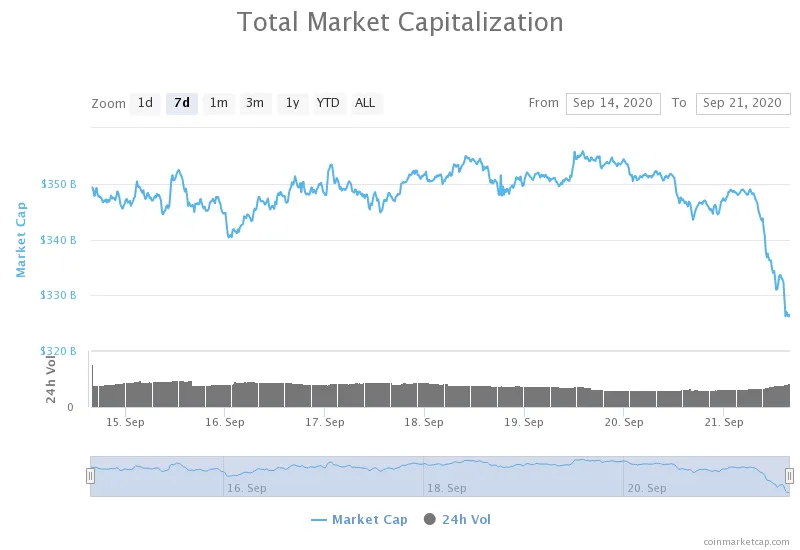 As far as the technicals go, Bitcoin failed to break through the $11,000 resistance and after finishing near $11,100 on Saturday. It's been downhill since then for Bitcoin over the last day, though the coin is still finding support above $10,000. If Bitcoin falls below this mark, it will fall short of breaking the "days above $10,000" streak of 63 consecutive days which it achieved in November 2017.
If Bitcoin goes, so goes the crypto nation
The rest of the crypto market is similarly suffering today. Ethereum, the second-largest crypto asset by market cap fell by more than 10% before stabilizing around $337 per token. Newcomer Polkadot (DOT) lost 14.57% to fall below the $4 mark, and Binance's BNB also recorded double-digit losses: Each token now costs $23, which is 12.63% less than the day before.
And on the DeFi side of crypto, Chainlink (LINK)—one of the hottest coins of the year—has dropped by almost 14% in price. Yearn.finance (YFI) investors saw their fortunes shrink 25% literally overnight with each token plummeting to around $21,900. UMA and Aave also lost more than 20%, while Uniswap's new UNI token—which caused big waves in crypto last week—and its evil clone SushiSwap (SUSHI) both averaged losses today of 15%.
Stocks react to COVID, corruption
And, just like in March, the crypto market's slump appears to be highly correlated with traditional financial markets. Panicked investors caused the Dow to drop by almost 800 points, while the S&P 500 and Nasdaq dropped over 2.5%. Both indices are currently at July levels.
While a variety of factors may be affecting the market, two important ones may be chiefly responsible: First, a surge in COVID-19 cases in key international trading countries, such as the United Kingdom, Spain and France, could have exacerbated fears of a prolonged global recession.
What's more, leaked documents from the Financial Crimes Enforcement Network, published by Buzzfeed, have revealed the in ways in which banks and federal US regulators have failed to prevent more than $2 trillion in dirty money from flowing through the financial system. That might be the kind of thing that makes people a little nervous about where they're putting their money.
Disclaimer
The views and opinions expressed by the author are for informational purposes only and do not constitute financial, investment, or other advice.