Could Twitter, also known as X, become Twitch's next big rival?
Twitter owner and former CEO Elon Musk published a livestream of himself playing Blizzard's role-playing game Diablo IV on the social media site early Monday to trial its new livestreaming studio feature for Premium users. 
"Tested the X video game streamer system last night. It works!" the Tesla CEO and richest man in the world wrote along with a video published early Monday morning.
Tested the 𝕏 video game streamer system last night. It works!

Will try to complete a Tier 100 Nightmare dungeon tonight live on this platform.

— Elon Musk (@elonmusk) October 2, 2023
"Will try to complete a Tier 100 Nightmare dungeon tonight live on this platform," Musk added. 
Over the weekend, X Media Engineering Lead Mark Kalman published a walkthrough video of how livestreaming through Twitter's Media Studio works.
To access the Media Studio, gamers will have to go to studio.x.com, log into their Twitter account, and copy their stream key to their streaming software's settings. This means that streamers will be able to use OBS, an open-source streaming software, and broadcast directly to Twitter from there. Streamers can also add a chat to their broadcasts, which will display messages from viewers, according to another video.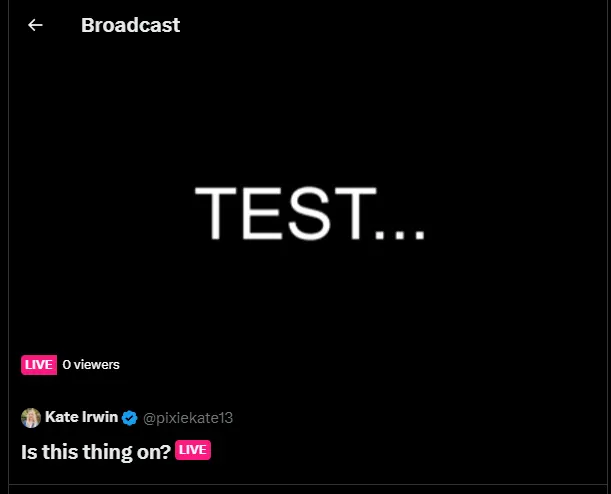 A quick test of the Media Studio feature indicates that it's now live for paying Twitter Blue users. Twitter currently offers three U.S. regions to choose from: Oregon, northern California, and northern Virginia. It also has five regions for Asia-Pacific users, three for Europe, and one for South America.
From our test, the Media Studio livestreams do not appear anywhere on your Twitter feed after they're over if you don't tweet out the link yourself. The unique link for the stream does still work afterward, however, and the recording remains on your private Media Studio as well until you choose to delete it.
Kalman has not yet responded to Decrypt's request for comment on the feature.
It's worth noting that Twitter users can already go live through the X mobile app, however, or relay desktop broadcasts to Twitter via sites like Restream or StreamYard.
A substantial upgrade to Twitter's media capabilities has long been promised as a part of Musk's takeover. Plans to allow paying users the ability to upload videos up to two hours in length was announced earlier this year, and Musk has also shared plans for a "paywalled video" feature. Pre-recorded videos still have a maximum upload size of 1GB at time of writing, however.
While X Premium (Twitter Blue) buyers can also upload longer videos in 1080p resolution, the site appears to be subtly discouraging its users from doing so. A notice that such resolution is "rarely needed" appears when uploading video content.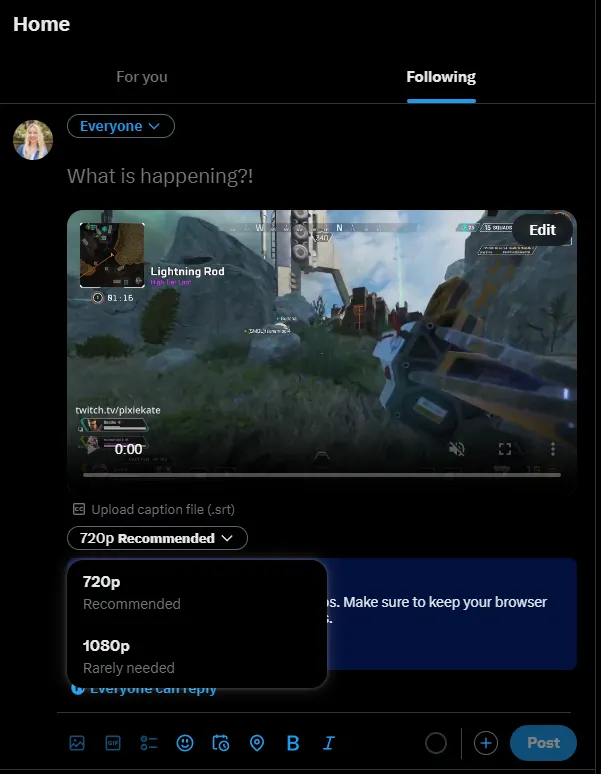 That sentiment might have to change for Twitter to compete with streaming platforms like Twitch and Kick. Twitch Partners are able to livestream in unlimited amounts at 1080p resolution. And while Twitch Affiliates are restricted to a 720p resolution, higher-resolution streams look significantly better when playing games with fast movement, like most shooter games as well as RPGs like Diablo IV.
Live streaming on Twitter doesn't have to be just for video games, however. From a technical standpoint, users will be able to stream anything that OBS can capture to Twitter via the Media Studio, including full-screen webcam footage or computer screen captures. 
According to Twitter's current rules, it does not allow "media that is excessively gory" or for users to "share violent or adult content within live video or in profile or header images." The platform's rules also do not allow users to "violate others' intellectual property rights, including copyright and trademark." 
In this regard, it looks like Twitter's rules are similar to those on Twitch, where streamers similarly cannot livestream violence, adult content, copyrighted content, or illegal activity, among other restrictions.