Don't call it a tweet if you're using Bluesky.
Instead, the influx of new Bluesky users has adopted the faintly obscene-sounding term "skeeting"  to describe the act of posting on the platform.
The latest wave of new users to the Jack Dorsey-backed decentralized social media app Bluesky includes a wide variety of politicians and Hollywood filmmakers too.
Among the big names joining the platform are Rep. Alexandria Ocasio-Cortez (D-NY), who has over 13 million followers on rival platform Twitter, and "Guardians of the Galaxy" director James Gunn, who's recently taken charge of DC Comics' film output.
Gunn, in particular, has been active on Bluesky, bringing on board "Guardians" stars Sean Gunn and Pom Klementieff, and "Peacemaker" stars Jennifer Holland and Steve Agee.
Others who've joined the invite-only platform include model Chrissy Teigen, "Mission: Impossible" director Christopher McQuarrie, "Silicon Valley" and "The Eternals" star Kumail Nanjiani, Edgar Wright, director of "Shaun of the Dead" and "Scott Pilgrim Vs. The World," and "Moon" director Duncan Jones.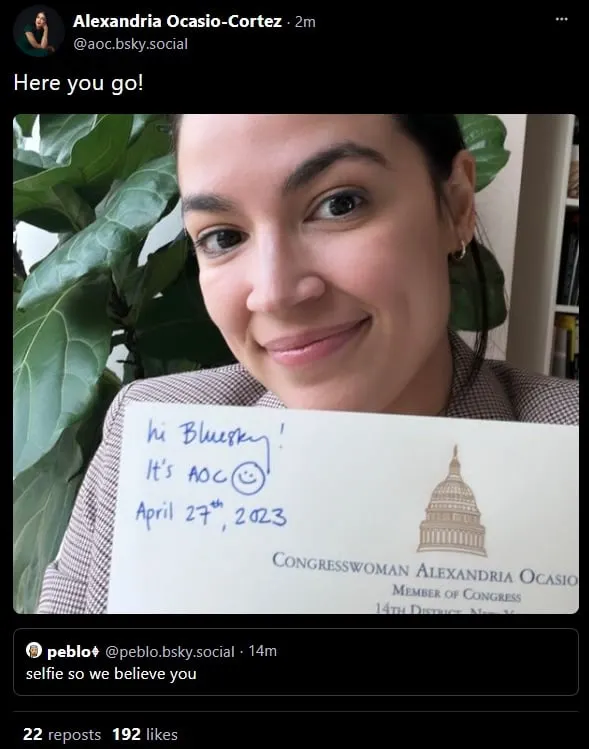 A number of high-profile Twitter accounts have joined the migration too, including prolific "shitposter" dril, and the altogether more wholesome We Rate Dogs, while prominent NFT creators, artists, builders, and collectors have also flocked to the platform in recent days.
What is Bluesky?
A decentralized social media app, Bluesky originates from a research project launched in 2019 at the behest of Twitter founder and then-CEO Jack Dorsey and funded by the social media platform.
The independent team was tasked with working on an open and decentralized social media standard, the AT Protocol—with Dorsey expressing the desire for Twitter itself to become a client of the standard.
In August 2021, former Zcash developer Jay Graber took the helm at Bluesky, while the project was spun out from Twitter in 2022, becoming a fully independent organization ahead of Elon Musk's purchase of the social media site. Although Twitter had invested $13 million in the platform, Musk ended the deal to support Bluesky following his takeover, abandoning plans for Twitter to use the AT Protocol in the future.
Although the user experience on Bluesky is broadly similar to that of Twitter (albeit lacking some features), it's under the hood where the differences become apparent. While Bluesky is the first major release on the AT Protocol, the idea is that any developer or company can build their own social media platform on the protocol, enabling users to migrate their data between them.
Bluesky remains in a closed invite-only beta for the time being as Graber's team builds out its feature set and implements bug fixes.
Users can join a waitlist for access to the platform, or receive an invite code from another user; Bluesky users currently receive a single invite code every two weeks, though the dev team also hands out bundles of codes to active users.
The platform itself can be accessed via iOS and Android apps, and a test web client, staging.bsky.app.
A Twitter exodus?
Twitter has implemented a series of contentious policy decisions under CEO Elon Musk, including the disbanding of the site's Trust and Safety Council, the suspension of an account that tracks Musk's private jet flights, and the suspension and reinstatement of the Twitter account for rival social media platform Mastodon.
Just yesterday, New York's Metropolitan Transit Authority abandoned real-time updates from its Twitter account, stating that the platform is "no longer reliable for providing the consistent updates riders expect."
For the MTA, Twitter is no longer reliable for providing the consistent updates riders expect.

So as of today, we're saying goodbye to it for service alerts and information.

But we're not saying goodbye to you, our customers! There are lots of ways to get real-time updates. ⬇️

— MTA (@MTA) April 27, 2023
Following Musk's criticism of Twitter's "lords & peasants" verification system, the blue checkmarks denoting verification of "Legacy" accounts were removed, appearing instead on the profiles of subscribers to Twitter's $8 a month Twitter Blue service.
Musk has argued that subscriptions are a vital tool in combating bot accounts and generating revenue for the site.
Gold verification badges were removed from a number of media organizations following their refusal to pay Twitter's proposed $1,000-a-month fee, before being reinstated, while some high-profile Twitter accounts had their blue checkmarks reinstated, with Musk implying that he was personally paying for some users' subscriptions.
Amid the confusion, some users are exploring other social media platforms, including decentralized alternatives such as Mastodon, Nostr, Farcaster and Bluesky.
It's important to note that although user numbers have declined, Twitter still holds the lion's share of the market, with over 353 million users. Bluesky, for all the buzz surrounding it, has under 50,000 users, with Graber stating that its waitlist grew to 1.2 million after Musk's takeover of Twitter.
Mastodon's user base shot from 380,000 to more than 2.5 million in less than two months following Musk's takeover, before plummeting to 1.4 million by late January.
Dorsey, meanwhile, took to Bluesky to welcome the emergence of decentralized social media platforms, stating, "There will be many implementations of the same idea, and that's a good thing."