Bill Murray is the face of one of the most prominent celebrity NFT collections, but like many who aren't plugged into the Web3 world, he didn't really grasp the concept at first.
"I thought it was a sort of a sports league," Murray told Decrypt of the NFT acronym. "I didn't know if it was the National Federation of Tennis or Tumbleweeds, or what. I didn't know what it was exactly. Then when I found out what it was, I was truly confused—even more confused [than] when I thought it was a pro sports league."
But as his son Jackson described to Decrypt last year, the 72-year-old comedic legend of "Ghostbusters" and "Lost in Translation" fame grew hip to the idea of a tokenized project that was part fanclub and part autobiography, but also an access pass to events where holders can party with the comedy legend himself.
Last weekend, Murray and his partners at Web3 startup Project Venkman and comedy website The Chive delivered on the biggest promise tied to The Bill Murray 1,000 NFT project: a members-only bash at an Oceanside, California golf course, where the star cracked jokes, led putting and pie-eating contests, and chatted with fans for hours.
In the process, Murray—who's known for wacky encounters with fans, but also being inaccessible to even family and collaborators—gave his die-hard fans their own "Bill Murray stories" while proving out the model for an NFT celebrity project with exclusive utility.
But as Project Venkman eyes an even larger online collective of Murray fanatics along with future live events, can it scale the project without diluting its appeal? And can this model translate to celebs that don't have the enigmatic allure of Bill Murray?
The Murray experience
Goat Hill Park was decked out in Murray references large and small, both to his famed flicks and personal stories committed to the Ethereum blockchain via his NFT collection.
Over the course of the six-hour event, the 100-or-so Murray superfans could grab a golf club and take a swing at flowers in the soil—as he did in "Caddyshack"—play whack-a-mole and skee-ball games tied to his flicks, admire an exacting replica of the ice sculpture from "Groundhog Day," and eat omelets inspired by Murray's apparent love of freshly laid eggs.
Fears of it being a superficial appearance were quickly dashed as the actor amiably wandered into the crowd, greeting and hugging his paying admirers, taking group selfies, and signing the leg of one die-hard The Chive fan (or "Chiver") who had Murray's face tattooed on his calf.
Members had been asked in advance to not hound Murray, attendees told Decrypt, but he didn't appear to mind being in the mix during his three-hour stay. He even jumped on the mic to emcee a pie-eating contest, describing the flavors and quality of the pastries to the crowd.
"These are from Julian, California. Don't accept any substitute. They even try to sell pies in the same shape and design of Julian pies. Make sure you get the real thing," Murray proclaimed. "Let's hear it for the people of Julian: a proud, proud city of pie-makers and drug dealers."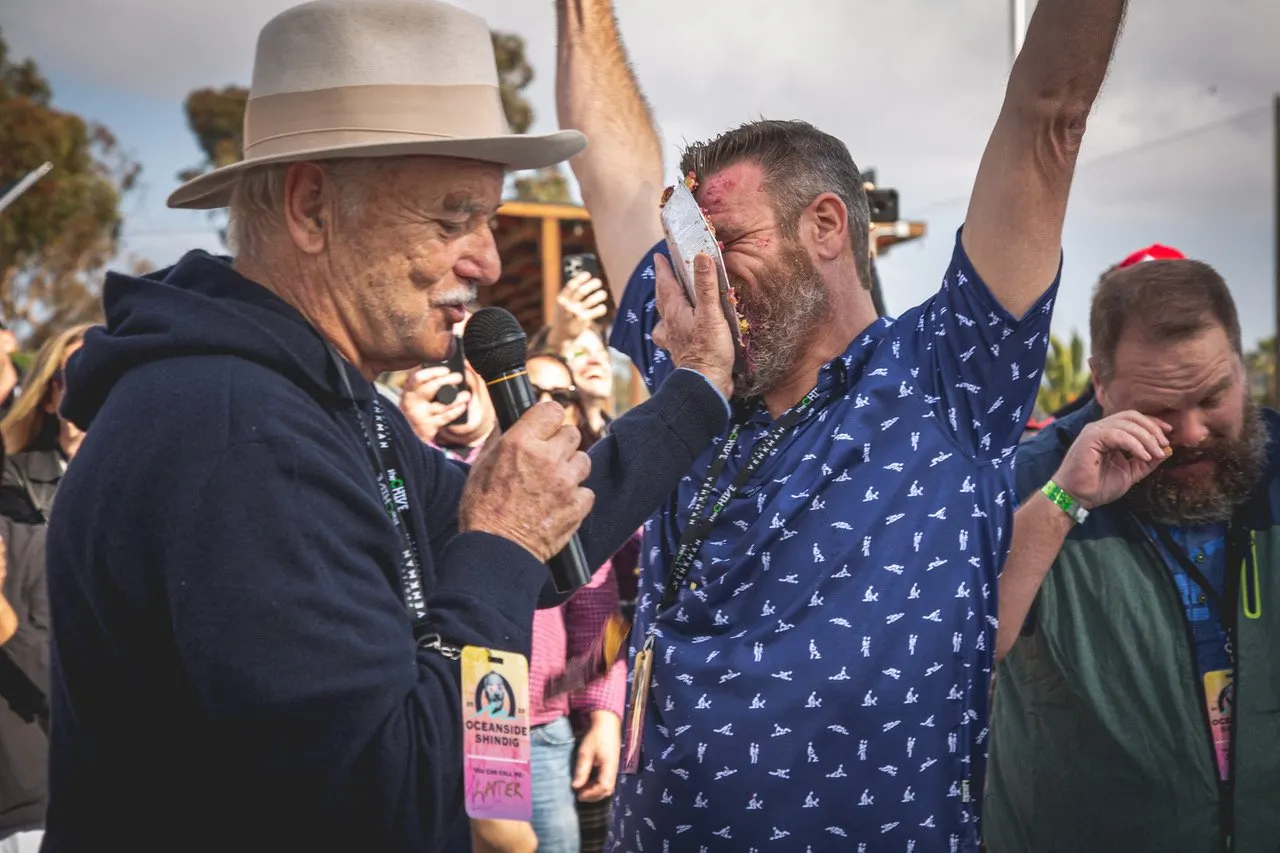 He proceeded to goad the participants—all bearded men, at his insistence—as they devoured the desserts to the backing of Don McLean's "American Pie." Murray then smashed the remains of a pie into the face of the winner, who called himself "Jabberjaws," and then kissed the fan on his gooey lips.
"It tasted sweet with kind of a citrus finish," Murray told Decrypt of the kiss. "But the blueberry really gave me those special, essential nutrients that you only get from blueberries."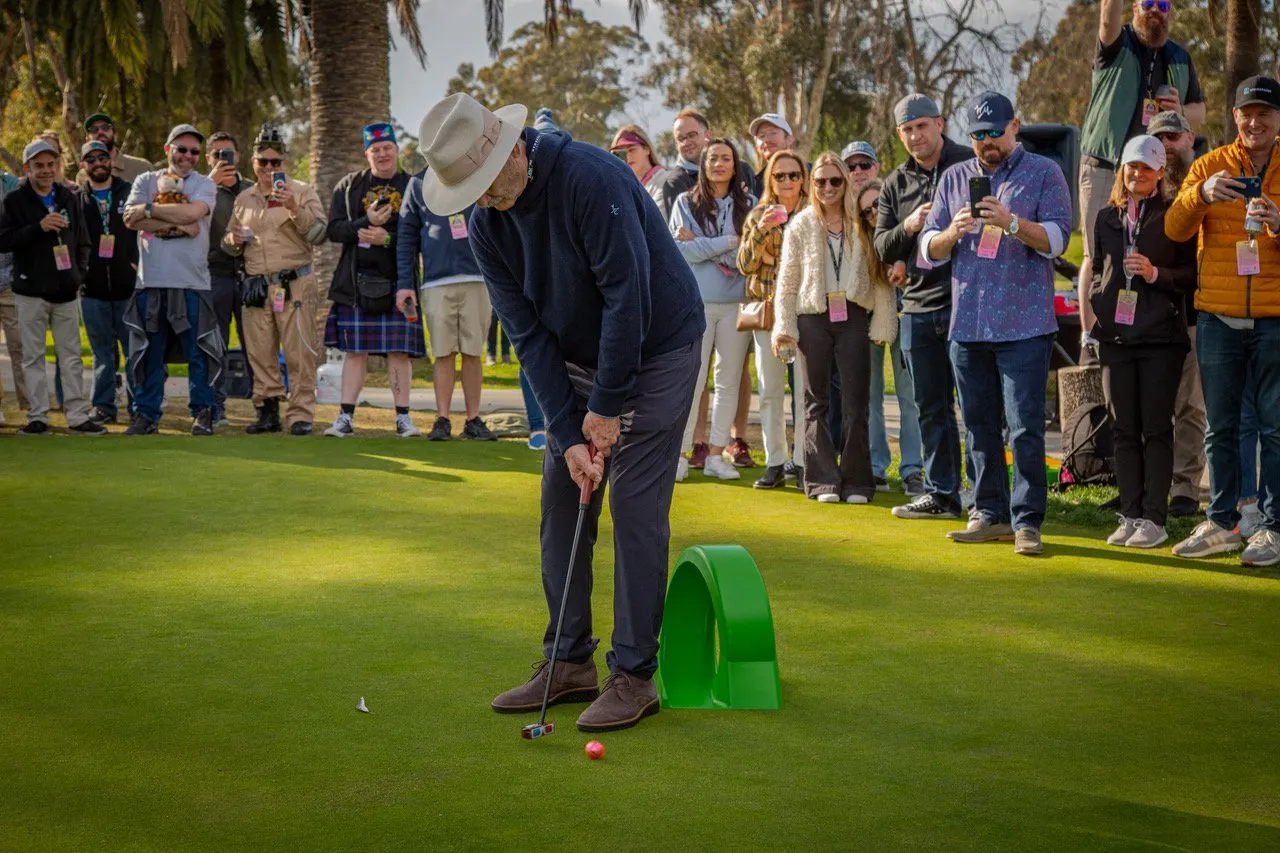 The "Caddyshack" icon later competed in a putting contest against fans, and after sinking a long shot, tossed his putter and kicked over a motorized gopher plush inspired by the film. He then ignited fireworks and pyrotechnics on the course—echoing another "Caddyshack" moment—as Tchaikovsky's "1812 Overture" blared over the explosives.
"Is anybody hurt?" he deadpanned at onlookers.
'Everyone's OK'
Murray, who despite his easygoing vibe has a reputation as a challenging collaborator, told Decrypt that he only wanted to do NFTs if it could be fun and do some good in the process.
The sale benefitted Chive Charities and other causes, while the event supported Goat Hill, which locals took over and rehabbed in 2014 after beating out rich developers eyeing the land. The NFTs themselves also highlighted stories and urban legends from Murray's life and career, all co-written by the man himself before being put on the blockchain.
"It didn't seem like such a horrible, mercenary thing for me to do. You know, I'm not much of a mercenary. I try not to work for money, but I do accept it," he joked. "It seemed like it might be something of an interesting project, and it made me focus on trying to remember stories of my life before I forget them."
An NFT is a blockchain token that represents ownership of a unique item, and while it can be tied to things like artwork and digital collectibles, it can also serve as an access pass. In Murray's example it's all of the above: generative artwork of the actor, access to a written story from his life, and a ticket into a private community and live events.
The Bill Murray NFT drops on Coinbase NFT last year generated 857 ETH worth of primary sales—over $1.4 million worth today. The initial drop of Original Bill ("OB") NFTs that provided access to the first event sold out in 30 seconds last July, Project Venkman CEO Gavin Gillas told Decrypt, and the creators take a 10% fee on secondary market sales, as well.
Murray said that amid the crypto industry contagion of the past several months, with the fall of major exchange FTX and sinking crypto prices, he remained confident that his project would survive because it "deserves to exist" and "it's fine and it's fun."
"I don't think anyone lost their fortune, or their home, or their car, or their baby's crib or anything like that," he said of the Bill Murray 1,000 project. "I think everyone's OK. I don't think anybody got hurt at all."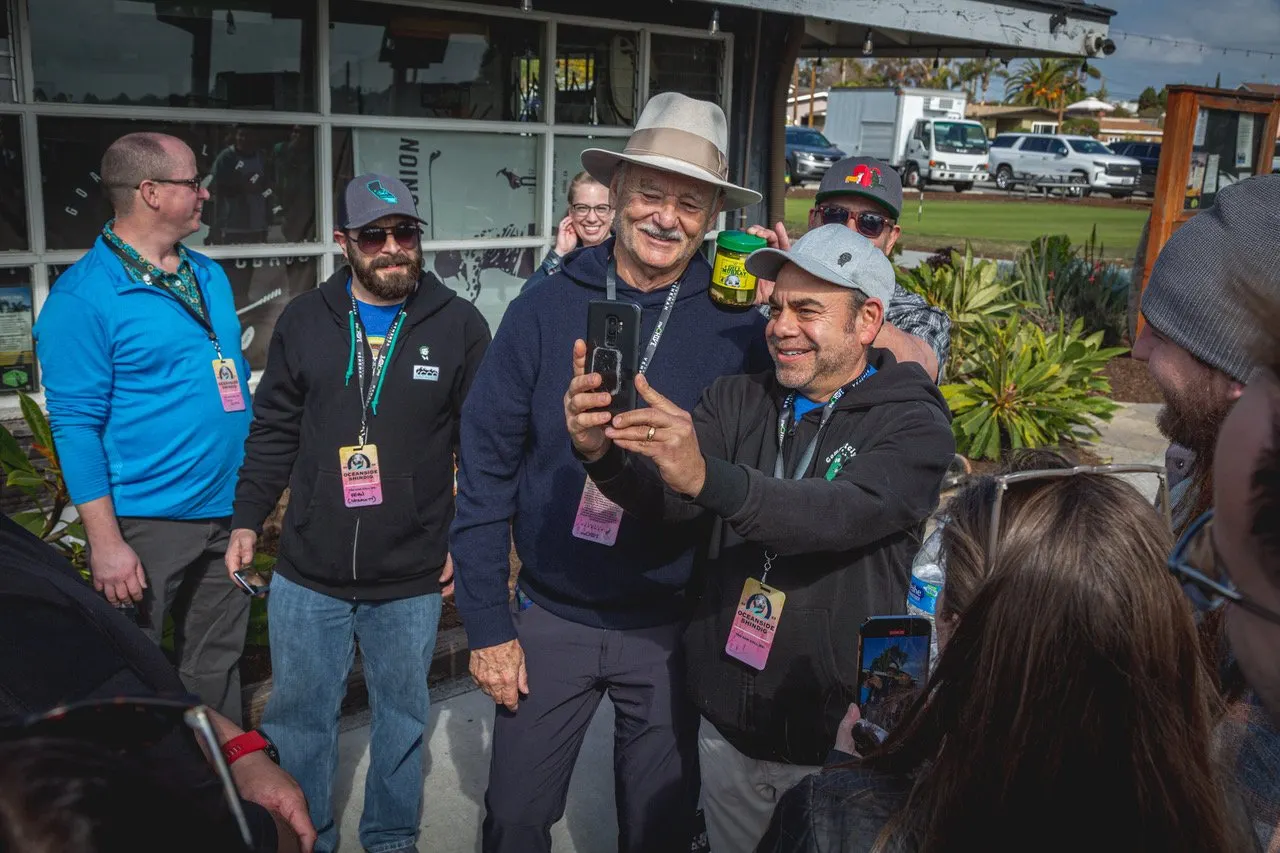 Murray described his role in the day's event as akin to being on a film set and ad libbing on top of the script, adding his personal flavor to what his partners planned out. He admitted to being unsure of what the crowd would be like, but ultimately said the NFT owners remind him of other pop culture devotees that he's encountered during his career.
"When I finally went to Comic-Con and met everyone, I thought there was a very, very sweet, very inclusive crowd of people—it opened my eyes quite a bit," he recalled. "So this is my first real NFT experience here. And everybody's very similar to Deadheads or Comic-Con people in that they have a sweetness about them, and they bring a friend or they bring a loved one."
Repeat success?
Most of the attendees that spoke with Decrypt were not NFT devotees, however. They're not "degen" traders flipping JPEGs for profits. They're Bill Murray fans, and many have been part of The Chive's community for years. Some described challenges minting the NFTs, and said that other members have been helping each other learn the ropes of Web3 and avoid scams.
Fans said that the project had brought them into the NFT space, and some have gone on to buy into other collections; some haven't. It's an onramp into Web3, in that sense. But Murray is a unique force and personality, and his long-established ties to The Chive (which he backed) added a layer of confidence when OB buyers spent 1.5 ETH (about $1,850 then) to join.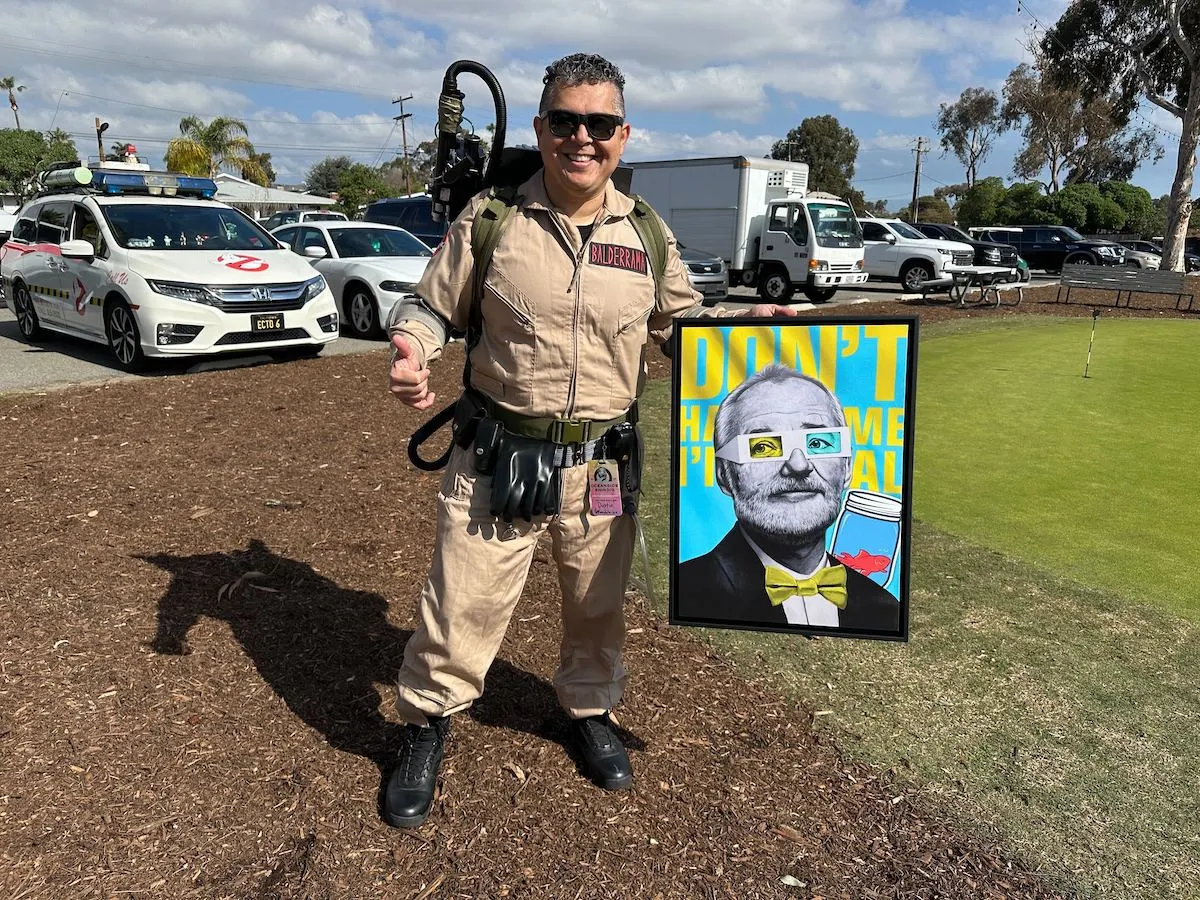 Project Venkman, named after Murray's "Ghostbusters" character and also backed by him, was founded around blockchain enterprise solutions. But after the NFT launch, it has pivoted entirely to supporting and expanding this project while developing similar clubs for other stars, along with other celebrity NFT models with a charity angle.
But does any of this really need an NFT? Fanclubs and members-only events predate Web3, of course. Venkman's Gillas pointed to the benefits of accountability and transparency on the blockchain, along with "flexible utility" for owners and the potential for network effects—that is, that secondary market prices will pump as the project grows.
"If we're not doing a good job of keeping our community updated, or doing a good job of delivering, you can see a drop in price," Gillas told Decrypt. "That keeps us honest and it keeps us invested long-term in growing this community and working with our holders."
Only "OB" NFT holders were given a pass to attend the first event, while owners of the 882 later "Destinations" NFTs will be given access to select future events. The secondary collection's theme suggests locations beyond Oceanside, and Gillas teased that the next live event will be "nothing like this one."
Venkman aims to expand the Murray NFT community further with another drop focused entirely on digital storytelling and experiences. Given that the biggest hook of the project is arguably the ability to meet and party with Murray, however, that could be a nonstarter for fans.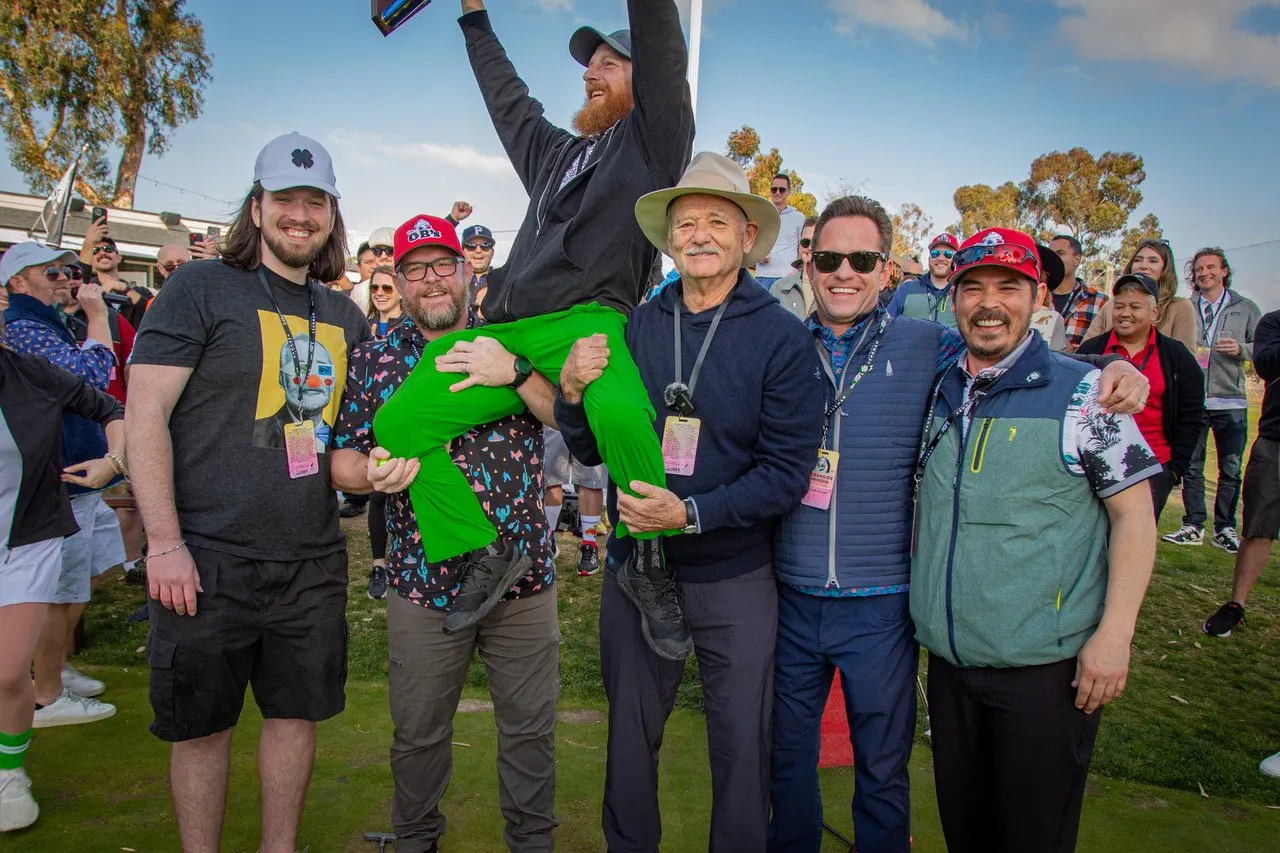 From there, Gillas and team plan to launch other celeb-centric NFT projects with tiers of access and benefits, using the Murray learnings as a template. Most celebrities aren't Bill Murray, however, who has been in the spotlight for nearly 50 years yet still comes off as a relatively normal (albeit very funny) and relatable guy. He's unique even among entertainment icons.
Based on the excited reactions and comments, Murray succeeded in charming Oceanside attendees. Now the challenge is to sustain the project while throwing further lavish parties, attract more fans without a live events hook, and then try to partner with other celebrities that can turn their own cult-like fandoms into tokenized clubs.
"We've set the bar high today," Gillas said. "Damn it, I've gotta deliver beyond that."