Metaverse hype peaked early last year, but if the future internet does turn out to be a place where the masses are going to own digital property and establish businesses, then they're going to need a property sales platform made for more than just speculative flipping.
In other words, a Zillow or Redfin for the burgeoning metaverse.
That's what Metahood is building, and it just raised seed funding to bring that vision to life. The startup announced today that it raised $3 million in a seed round led by crypto VC firm 1confirmation, with participation from Volt Capital, Flamingo DAO, and Neon DAO.
The startup also secured funding from notable angel investors in the space, including The Sandbox co-founder Sébastien Borget, SuperRare co-founder John Crain, Sorare Growth Lead Brian O'Hagan, and VC and blogger/podcast host Packy McCormick.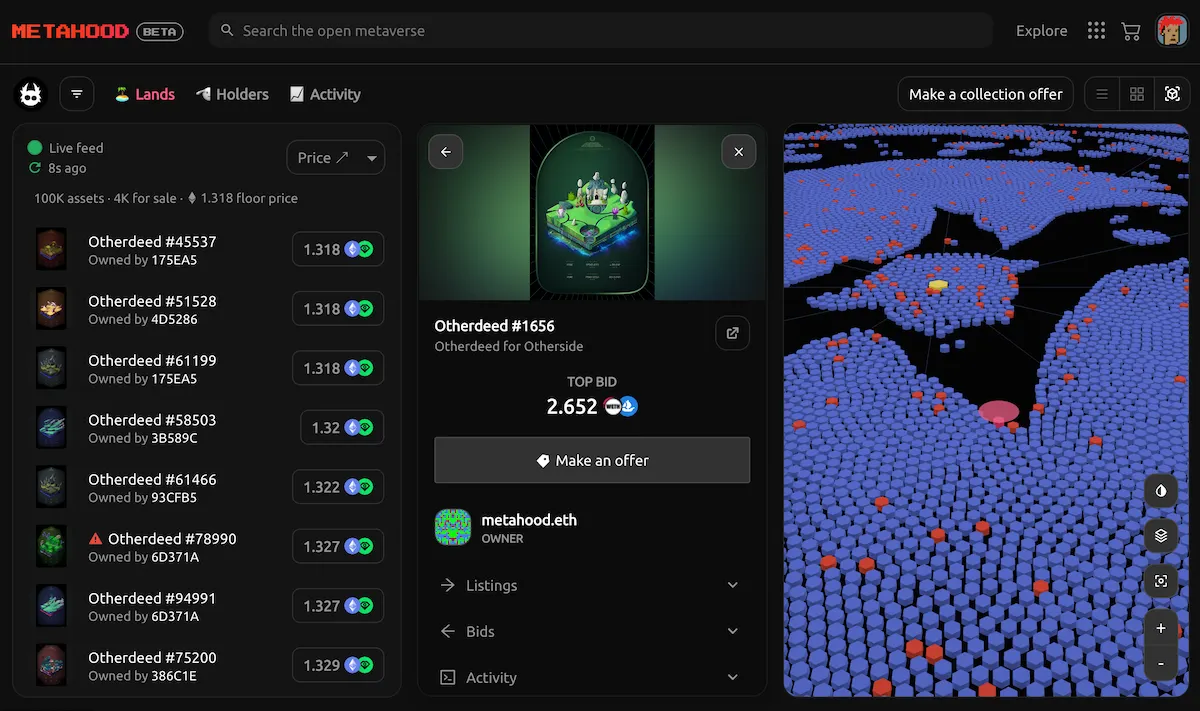 Metahood's platform is designed to deliver more context for metaverse land buyers than a general-purpose NFT marketplace. It uses a map-driven interface to show available land plots in relation to those around it, providing a sense of the wider neighborhood or district while pointing out landmarks and highlighting sales trends, nearby land owners, and more.
"We really want to provide as much information and context as possible when you buy land," founder Gwendall Esnault told Decrypt.
At this point, the reality of the metaverse still falls well short of the ambitious vision of builders both within and outside of Web3. Decentraland is bland and sparsely populated, The Sandbox has only launched limited beta test experiences, Otherside appears to be far from release, and Meta's Horizon Worlds is a far cry from its eventual, robust metaverse vision.
Would-be metaverse inhabitants may not need to weigh real-world considerations like school quality or walkability scores, but if you're going to spend real money on digital property as an investment, or with plans to build out an experience, then you'll want to know where you're buying into. That's a void Metahood aims to fill, one a broader marketplace like OpenSea doesn't.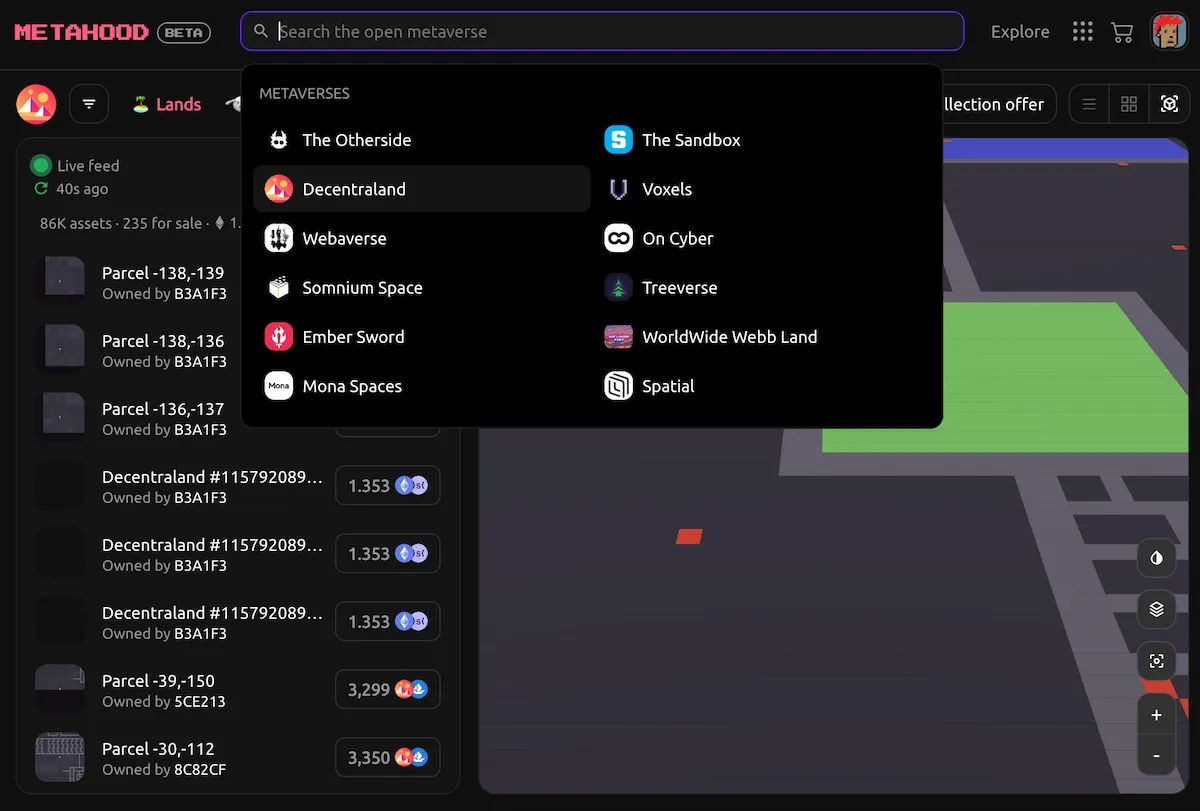 Metahood supports early and in-development metaverse game worlds like Decentraland, The Sandbox, the Bored Ape Yacht Club's Otherside, and Somnium Space. The platform will support native NFT land plot listings from individual users, as well as aggregate listings from marketplaces like OpenSea and LooksRare, while layering in added context.
The platform plans to add more metaverse worlds as they emerge, while also building up its feature set and developing a hub for Web3 users to more easily discover metaverse experiences. Esnault, a solo founder, currently leads a three-person team and plans to use the funding to expand head count and enhance the platform in time.
In some Web3 metaverse worlds, land plots are represented as NFTs—blockchain tokens that represent ownership of a unique item—that users can freely buy and sell. These plots can typically be used to create and deploy digital properties and experiences, such as interactive games, and can even be rented out or monetized in other ways.
Hype around the metaverse soared in late 2021 when Facebook rebranded itself to Meta and unveiled its own vision for an immersive evolution of the internet. Prices of Web3 land plots soared in the months that followed, and Yuga Labs' Otherside land drop in April 2022 yielded $561 million worth of sales in the first 24 hours.
However, amid cooling crypto and NFT prices and broader pushback over the realistic value of the metaverse, demand and prices have fallen sharply.
Esnault admitted to Decrypt that it was "not the best moment" to raise funding and roll out a metaverse-driven project, but said that it didn't make sense to try and time the market, either. He sees value in an approachable marketplace that lets prospective land buyers get a sense of a virtual neighborhood as it's taking shape.
Nick Tomaino, founder and general partner at 1confirmation, told Decrypt that his firm "loves to support good founders building in categories after the initial hype period," and added that "that's what Metahood is."
Tomaino pointed to the notion of the metaverse being overhyped as a sign that "the trend is real," even if some of the people jumping in weren't there for the long haul.
"Metaverse hype is down a lot, no doubt, but the trend isn't going anywhere," he said. "Games and worlds are continuing to offer virtual real estate, and there's a need for a marketplace that makes these assets more accessible."