$80, electroneum.com
On the face of it, the Electroneum M1 is one of the worst-specced smartphones we've ever used. Its screen is terrible, the camera is awful, and it can't handle any modern 3D games without stuttering and lagging like crazy. But there's a very good reason for that: it's not really aimed at us privileged Decrypt writers. Look beyond the traditional smartphone criteria, and you'll find an intriguing concept…
For starters, the Electroneum M1 is a handset that costs a staggering $80—around what you'd pay monthly for a contract with a high-end smartphone. With such a low price tag, it's much easier to forgive the M1 for its many shortcomings.
Look beyond the super-budget price and specs, and you'll find the ambition of Electroneum itself: "The phone that pays you back". 
Electroneum M1: Mining made simple
Electroneum (ETN), if you're not familiar with it, is a mobile cryptocurrency that's designed to give non-technical users a hassle-free entry point into the world of crypto. Its iOS and Android apps provide a smartphone cloud mining experience that negates the need for expensive, powerful mining hardware.
While any iPhone or Android user can download and use the Electroneum app, the M1 is aimed at people in developing countries or with low incomes, enabling them to jump into the world of crypto mining at minimal expense. In Electroneum's words:
"For many in the developing world, where monthly income is often less than $50 per month, an additional $3 per month can make a significant difference to their daily lives, allowing them to have a little more each day.
Cryptocurrencies reward "miners" for running the blockchain. Rather than the ETN all being earned by a handful of users with warehouses of powerful computers, we distribute an ETN reward to users of our free app."
A few button taps is all it takes to kick off cloud mining, and once it's up and running, you can earn up to $3 a month in ETN. Not only that, but users in Brazil, Nigeria, Turkey, Tanzania, Uganda, and South Africa can use their mined ETN to top up their airtime and data on selected networks. The maths will differ from country to country, and person to person, but ultimately, with enough time, this setup should eventually pay for the cost of the phone itself, with interest.
It's a novel concept, and we applaud Electroneum for thinking outside the box and making both crypto—and technology in general—more accessible to the masses.
With those foundations out of the way, it's time to look into whether or not M1 is actually useable as a smartphone. Low price or not, an $80 brick is still a brick. Can such a cheap phone offer enough of the basics to make it worth using? Let's find out.
Electroneum M1: Design and build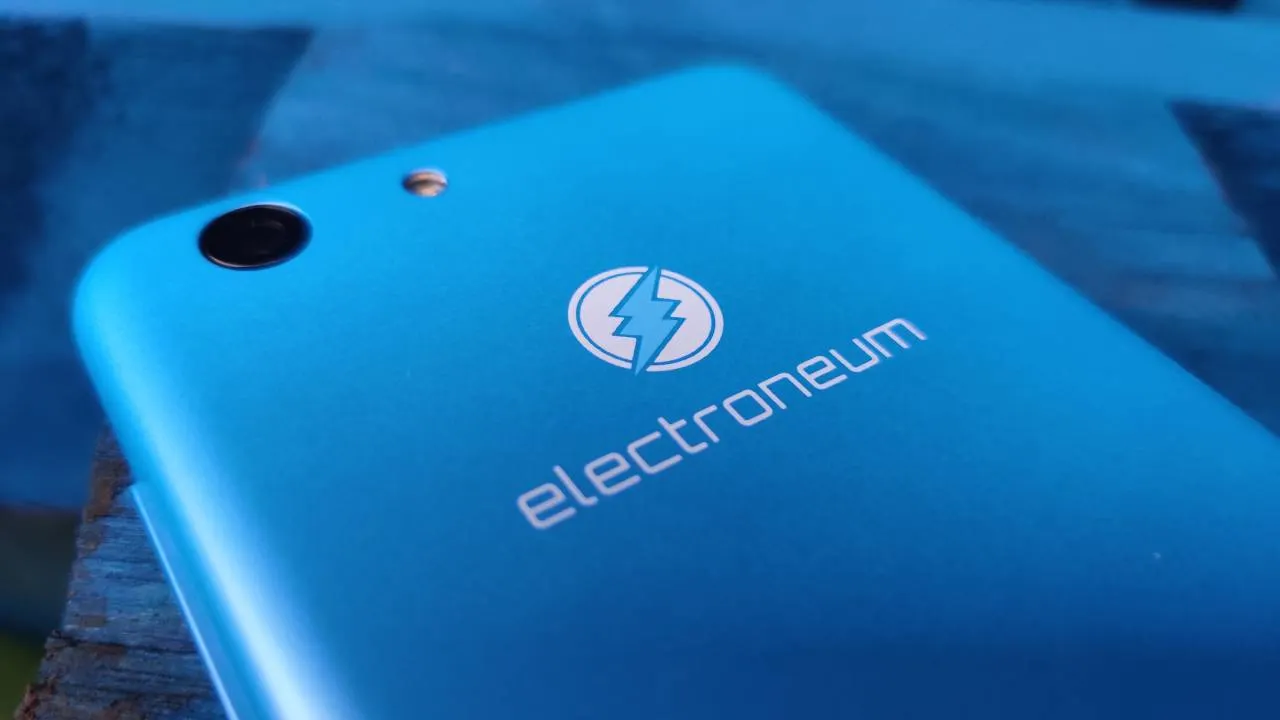 For the price, this is actually quite a well built, solid handset. Sure, it's made from plastic, and there aren't any fancy curved screen edges in sight, but it feels good in the hand and actually packs some features that trump most of today's far more expensive glass and metal-slathered flagships.
There's a standard 3.5mm headphone jack, for starters, which is a coveted feature that's been all but abandoned on high-end smartphones like the Google Pixel 4 and the Apple iPhone 11. The M1's plastic back can be easily removed too, revealing more features that tech fans are likely to miss from the golden days—a removable 1,600mAh battery, dual SIM slots, and a microSD slot for expandable storage. Take that, fancy iPhones and Pixels.
Electroneum M1: Screen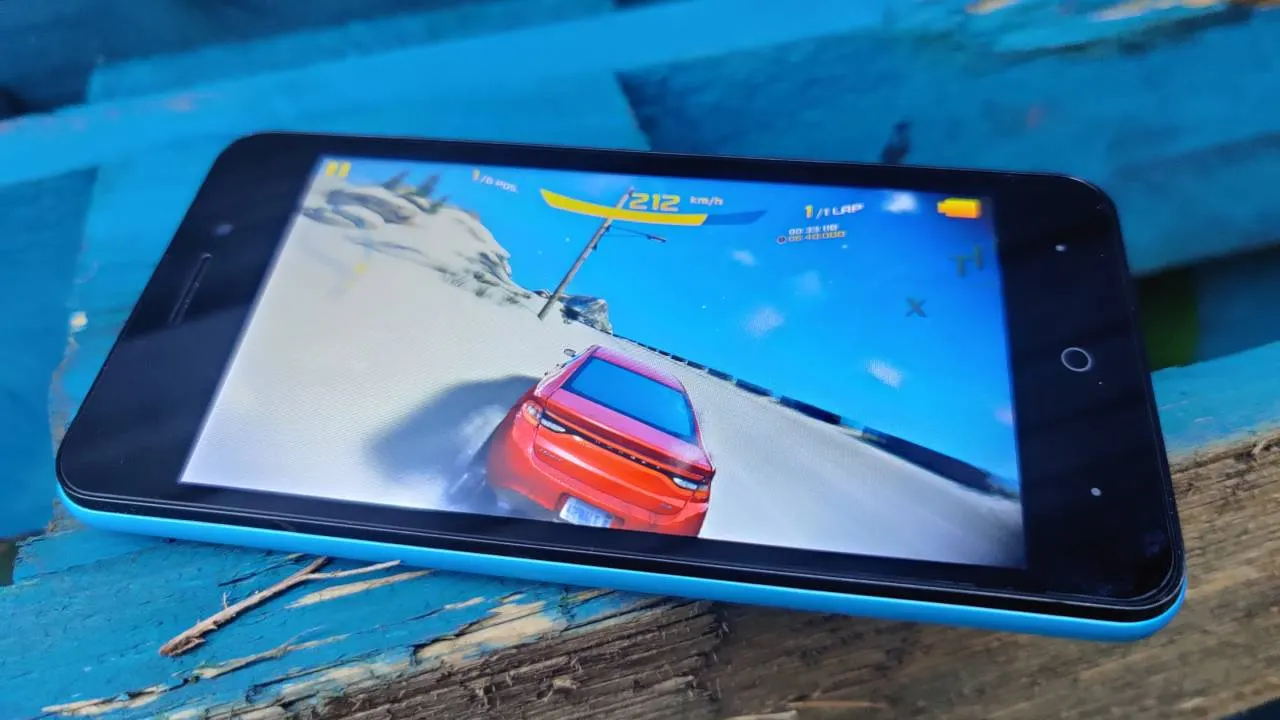 This is, simply put, the worst aspect of the M1. The size—4.5in—isn't the issue. In fact, we rather like being able to grip and use the handset comfortably with one hand, without the constant fear of dropping it.
The problem isn't the resolution either—at this price we're not expecting a 2K screen, and the 480 x 854 resolution is more than enough for regular use and reading text.
The issue is the horrific viewing angles. If you tilt the handset even very slightly vertically, you'll hardly be able to make anything out on the screen. The vertical viewing angles are so bad, that the effect essentially has a negative effect on the screen, as if you were viewing an undeveloped roll of film.
It's so terrible, in fact, that taking photos is a massive challenge, as you can barely see anything on the display to frame subjects properly. At first we thought this was due to the pre-applied screen protector, which we thought was one of those privacy overlays that stop people from seeing your screen over your shoulder or from the side. Removing it, however, had no effect whatsoever. The viewing angles really are just that horrific.
Does this make the phone completely useless and unusable? No. The problem isn't quite as extreme with brighter or white content, and you can adjust how you hold it accordingly to achieve the best viewing angle, but overall, it's not a very pleasant experience. Again, for $80, we can let this go, but our time-addled brains are struggling to remember if screens from ten years ago were this unpleasant to use.
Electroneum M1: Camera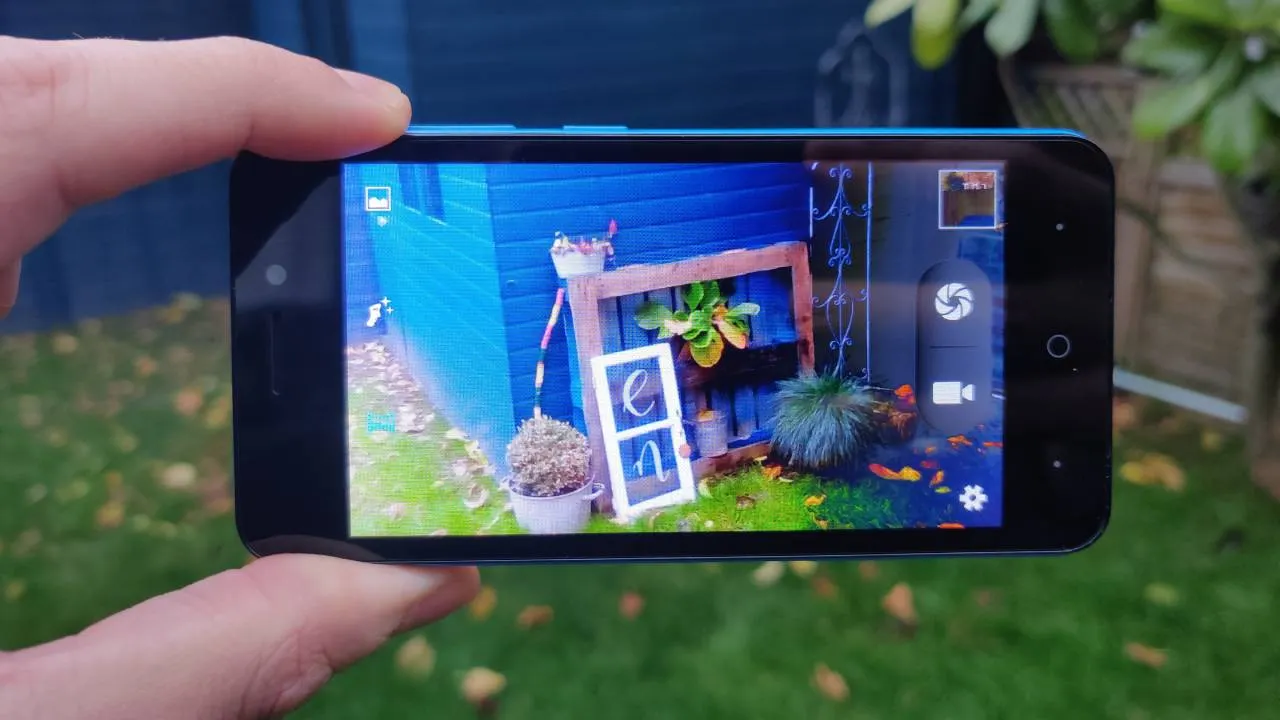 In a world where smartphone rears are slathered in three or more lenses, the single lens on the back of the M1 is a minimalistic treat.
Packing only 5MP however, photos are about as clear as you'd expect—namely, very grainy, even in bright conditions. Once the light starts to drop off, it gets even worse, and you can forget about shooting anything in low light without using the flash, unless you want an all-black shot with nothing in it. The front-facing 2MP selfie cam offers similar grainy performance.
Again, this is no surprise, given the price and specs, and as long as you're shooting in well-lit conditions, you'll have photos in which other people can at least make out the subjects.
Electroneum M1: Performance and battery life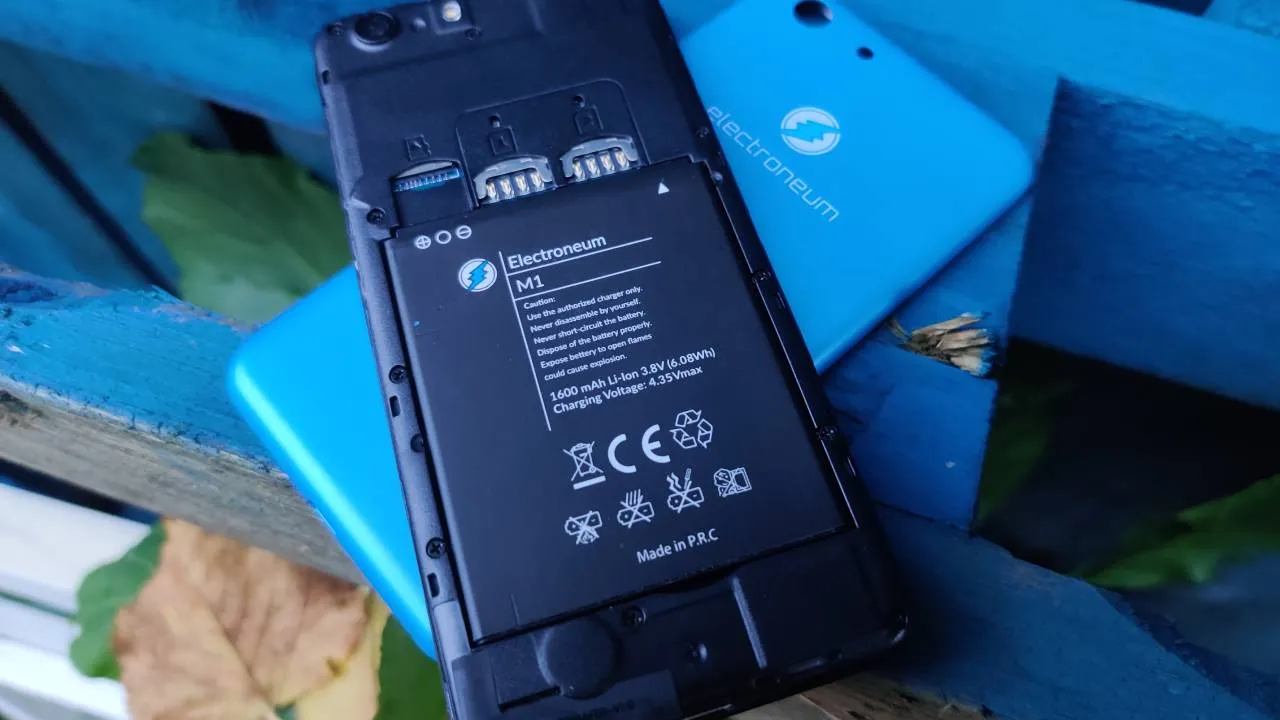 The 1.3Ghz quad-core processor and 1GB RAM aren't going to set the world alight, but for basic tasks like web browsing, messaging and sending emails, the M1 actually does pretty well.
This is likely due to the fact that it's running Android Go—a version of Android designed for low-end devices, with modified lightweight apps designed with lower powered devices in mind. Basic games run relatively smoothly too, though fancier 3D titles like Asphalt 8 are completely unplayable, due to the huge amount of lag and stuttering.
On a more positive note, the combination of low specs, small low-res screen and 1,600mAh battery all result in a battery that lasts for days with use, and at least a week on standby. That's entering old-school Nokia territory, and it's a far more relaxing experience than the one that power-sucking flagships provide.
Electroneum M1: Verdict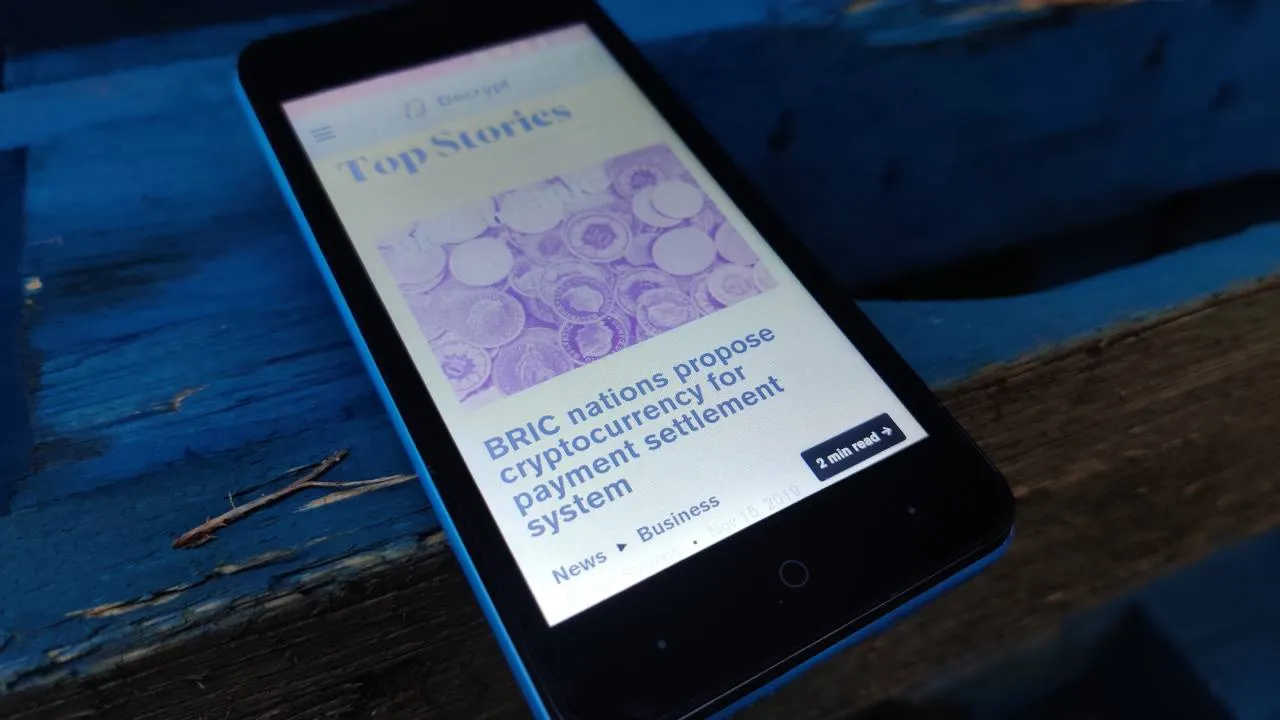 This was never going to be a standard phone review. The M1's low specs and poor overall performance were always going to be weighed against its insanely low price tag, its intended user base and its refreshing ambition to pay itself off in ETN rewards.
There's no doubt that the app itself is a great way to introduce people to crypto and mining. It's easy to use, and receiving up to $3 worth of ETN a month could be genuinely useful for low-income users—especially as it can be put towards airtime and data in supported countries. In Turkey, for example, 31% of the 83 million population remain unbanked. Of those, 10 million live below the poverty line. With sobering stats like these, you can only applaud Electroneum's ambition to help include more people and make it easier for them adopt technology.
On the other hand, handsets like the Xiaomi Redmi 7A make this verdict a little trickier. At around $100, it's undoubtedly a better handset in every single aspect, from the larger, higher-resolution screen, to usable camera and general overall power. 
Having said that, while a $20 price difference that doesn't seem much to us, it's likely to be a much larger stretch for those living in poverty—for some people, that's half their monthly income. With that in mind, for the specific people that the M1 could help the most, we can only applaud what Electroneum is striving to achieve.
For those of you simply shopping around for a budget handset however, we'd advise spending that little extra on a more capable device like the Redmi 7A, as there's nothing stopping you from installing the Electroneum app, dipping your toes into the world of crypto, and reaping all the benefits that come with it.