Blockchain sleuths Chainalysis estimates that more than two-thirds of all stolen funds across the crypto space have come from cross-chain bridge hacks this year. 
These sorts of attacks refer to exploits or hacks that occur on so-called bridging protocols connecting different blockchains.
In a recent report, the firm said that theft on bridges has amounted to $2 billion worth of stolen funds, posing a "significant threat" to the credibility of blockchain technology. 
This analysis comes in the wake of Monday's Nomad hack, which saw $200 million wiped from the bridge platform. Nomad functions as a pathway between different blockchains, allowing investors to move their funds between blockchains such as Ethereum, Avalanche, and Moonbeam (GLMR) platforms.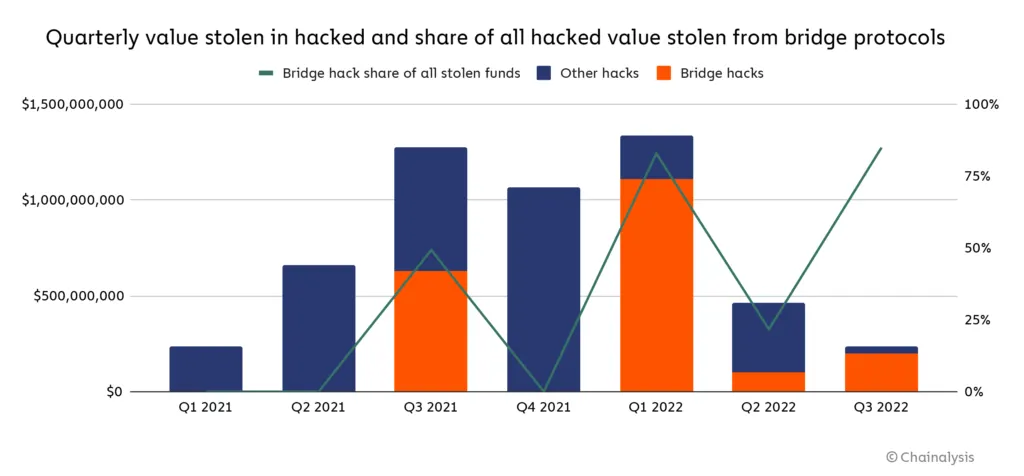 The Nomad heist also represents the seventh major hack for crypto bridges this year, begging the question: What makes them such a glaring target?
Crypto bridges and liquidity
According to Arda Arkantura, a threat analyst at crypto data and compliance firm Elliptic, the issue with cross-chain bridges is their liquidity.
"You freeze up a token on one side of the blockchain and then unfreeze it from the other side. This means you have a lot of liquidity and smart contracts with funds stored on them," says Arkantura. "In crypto, when something is liquid, it is lucrative."
These cross-chain bridges have been so lucrative that cross-chain hacks have accounted for 13.5% of all theft within decentralized applications (dApps), according to Elliptic. 
In March, blockchain gaming company Axie Infinity also experienced a $622 million hack as its Ronin side-chain, which connects it to the Ethereum network, succumbed to theft. A month prior to the Ronin heist, Wormhole, a bridge that connects Ethereum and Solana, was bereft of $320 million dollars. 
Chainalysis also suggests that cross-chain bridges have become the prime target for activist or terrorist hacks, with criminals from North Korea having reportedly stolen roughly $1 billion worth of crypto this year.
The irony with cross-chain bridges is their prevalence within the DeFi ecosystem. By centralizing smart contracts with funds and transactions written on them, they provide a focal point for criminals to exploit. 
"It's an interesting paradox," says Arkuntura. 
"There are some individuals who will say that centralization for smart contracts allows them to immediately fix issues [on the bridge]. On the other side, centralization makes it a lot easier for illicit actors," he added.