MicroStrategy took a non-cash digital impairment charge of $917.8 million in the second quarter of 2022, according to its Q2 2022 earnings call on Tuesday.
An impairment charge describes a drastic reduction or loss in the recoverable value of an asset. In the case of MicroStrategy's Bitcoin holdings, the impairment charge reflects the decline in the price of Bitcoin compared to when MicroStrategy purchased it.
Impairment can occur because of a change in policy or economic circumstances like the current crypto winter.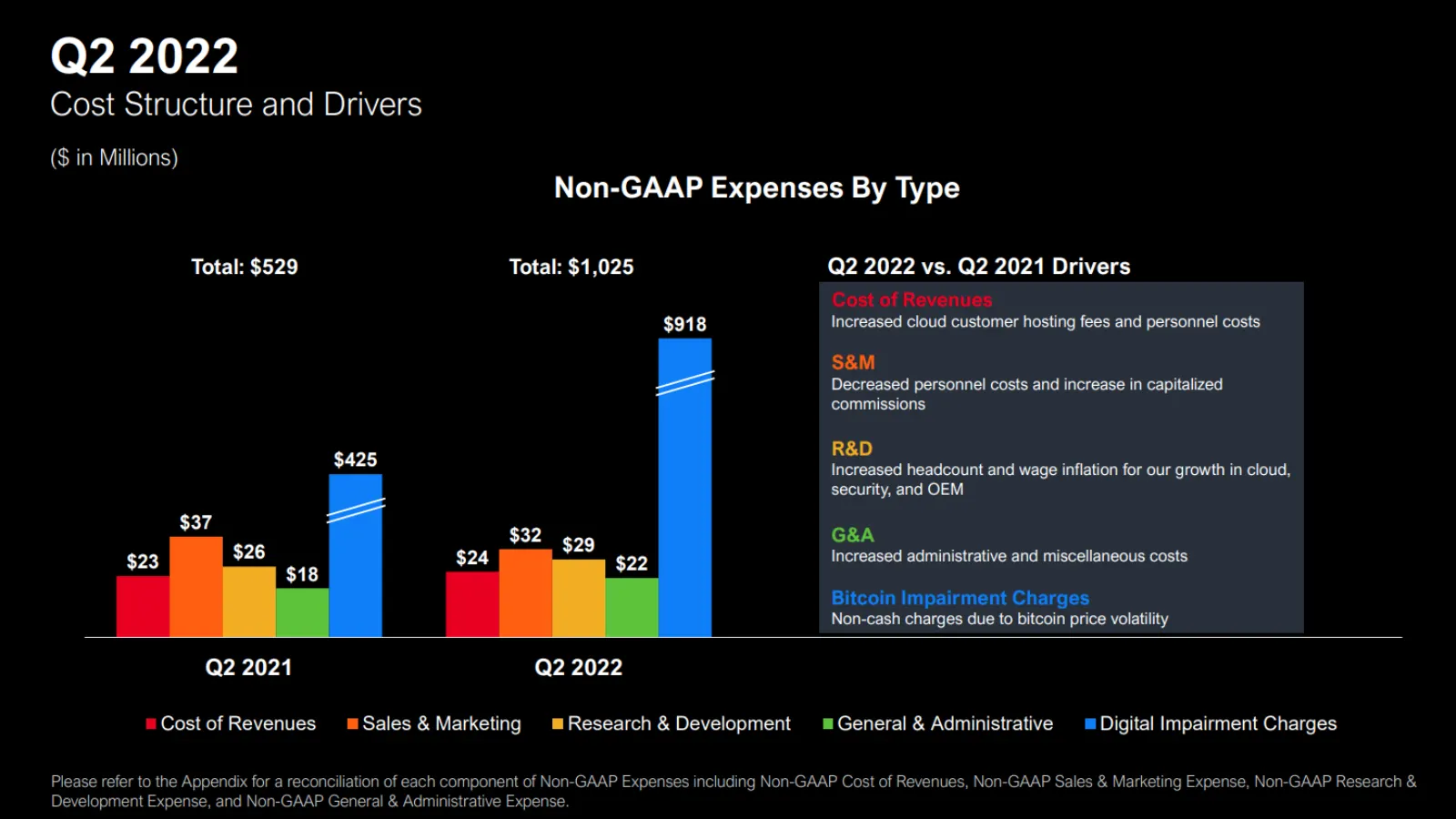 MicroStrategy's 2022 Q2 Non-GAAP (Generally Accepted Accounting Principles) expenses.
MicroStrategy's $917.8 digital asset impairment charge is a sharp increase from its $170.1 million charge in the first quarter of 2022.
Since August 2020, MicroStrategy has bought 129,699 Bitcoin at an average price of $30,664 a coin. When Bitcoin hit its all-time high of $68,000 per coin in November 2021, the total value of the company's Bitcoin holdings was around $8 billion. With Bitcoin trading at $23,000 per coin, those holdings would total about $2.9 billion.
The company has also acquired 421 Bitcoin at $20,000.
Chief Financial Officer Andrew Kang said that 14,000 Bitcoin are being held by MicroStrategy's parent company, with the remaining 115 Bitcoin held by subsidiary MacroStrategy. Of those, 85,000 Bitcoin are unpledged and unencumbered.
"We have more than sufficient collateral for any price volatility," he said.
"Digital asset impairment charges in every quarter have always been greater than non-GAP operating loss," added Kang, meaning that Bitcoin volatility is the main factor on the loss side of the company's balance sheet.
"We anticipated Bitcoin volatility," said Michael Saylor, who has served as the company's CEO since its launch in 1989 before the company announced his transition to Executive Chairman earlier today.
"Volatility means Bitcoin is more interesting, and so Microstrategy is more interesting," he explained. "Volatility is vitality."
Founded in 1989, MicroStrategy is the largest independent publicly-traded cloud software company and claims to be the most prominent company holding Bitcoin.
"Because people are afraid of volatility and off-put by the accounting, we have been able to develop a lead as the largest operating company on a Bitcoin standard, and that gives us a competitive edge and differentiator to build shareholder value going forward," Saylor said.
Saylor is being replaced by Phong Le, formally President & Chief Financial Officer, who becomes Chief Executive Officer effective Monday. During the Q2 call, Le said it had not sold any Bitcoin to date.
"Microstrategy is in a category of one; we are the largest corporate holder of bitcoin in the world," he said. "Our strategy is buy and hold for the long term, and that's it."