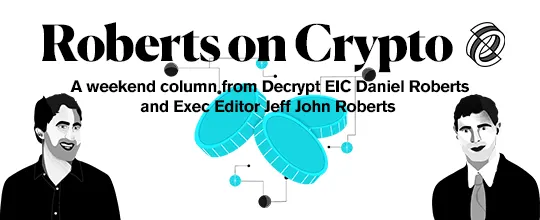 The NFT boom appears to have peaked for the moment. Trading volume on OpenSea is down 22% in the past month, according to metrics from DappRadar. CryptoPunks volume is down 26%, despite Christie's jumping in; NBA Top Shot is down an eye-popping 61%.
But tell that to the bands, brands, pro athletes, and celebrities who are still boarding the NFT bandwagon at a frenzied pace. Weezer, Snoop Dogg, The Rolling Stones and Dave Grohl, TIME Magazine, Edward Snowden, and the creator of Dilbert have all announced NFTs in the past week. Every day at Decrypt we are inundated with press releases announcing new celeb NFT sales, and launches of new NFT marketplaces. We don't cover them all.
Amid this recent parade of NFT offerings, a new trend has emerged: sweetening the deal with physical items and in-person perks.
Luka Garza, the men's college basketball player of the year, listed an NFT the second he was no longer bound by NCAA eligibility rules, and it comes with a litany of physical bonuses: an autographed pair of sneakers Garza wore in the Feb. 22 game when he broke Iowa University's all-time scoring record; a private meditation session with Garza; dinner and a movie with Garza, a game of HORSE against Garza; and lifetime VIP passes to any basketball camp Garza hosts. (The NFT was listed two weeks ago and has no bids yet.) Gonzaga University star Jalen Suggs, also heading to the NBA, listed an NFT commemorating his game-winning buzzer-beater in the Final Four, and the NFT also comes with his autographed sneakers from the game. (No bids yet.)
NFL veteran turned actor Vernon Davis listed an NFT series that includes a "golden ticket" to meet him in person. Kings of Leon's NFT album included physical vinyls and concert tickets. When SNL sold an NFT of its skit about NFTs, the NFT included two passes to a live taping of SNL. Eminem's new NFTs are "high-quality animations with an original beat" that also come with physical prints. 
There's some obvious irony here.
The value proposition of NFTs (non-fungible tokens) is supposed to be that they are blockchain-based title deeds carrying verifiable proof of digital ownership. Dallas Mavericks owner Mark Cuban says value has gone digital, and told Decrypt that traditional collectors just need to "get over that perception that I have to physically be able to touch it." Decrypt's Tim Copeland frames NFTs as the latest development in the new virtual economy, and compares them to early in-game tokens.
NFT doubters have questioned the idea of paying hundreds of thousands of dollars to own an NBA video clip that can be watched by anyone on Twitter or Instagram, or paying $69 million for a virtual artwork that everyone else can see for free. The retort from the crypto crowd has been that you can look up the Mona Lisa on Google, but that's not the same as owning it.
Associating NFTs with a physical item is certainly not new. Christie's auctioned off an NFT linked to a massive physical sculpture last fall, long before the auction house handled the $69.3 million sale of Beeple's digital pastiche. But linking a physical artwork to a digital contract feels higher-value than adding extra swag to a digital item to help sell it.
If you buy into the concept of paying big money for a URL parked in your digital wallet, you shouldn't need Cracker Jack bonus prizes tossed into the offer. And these physical goodies are not typically coded into the smart contracts. 
Of course, it was inevitable that Hollywood types, rookie athletes looking to capitalize on their fame, and marketers would water down this revolution with quick-buck efforts, tossing additional party favors into each goodie bag. 
The money-grab part of the NFT trend detracts from the legitimately interesting use cases we're seeing for the tech, from tokenizing a novel (Emily Segal and others on Mirror) to rewarding NFT holders with in-game rewards for use in a digital game (Bratz). Model Emily Ratajkowski frames NFTs as a landscape "where women can share their likeness as they choose, controlling the usage of their image and receiving whatever potential capital attached." 
In a step toward my ongoing effort to reclaim and control my image, I'm thrilled to announce my first conceptual artwork to ever come to market, an NFT entitled Buying Myself Back: A Model for Redistribution.

— Emily Ratajkowski (@emrata) April 23, 2021
As Bitcoiners like to say, the tech is agnostic. Some people will use NFTs for real-world utility; others see a chance to cash in quick by selling the same old souvenirs—now on blockchain!
But you don't need blockchain to sell a pair of autographed sneakers. 
This is Roberts on Crypto, a weekend column from Decrypt Editor-in-Chief Daniel Roberts and Decrypt Executive Editor Jeff John Roberts. Sign up for the Decrypt email newsletter to receive it in your inbox in the future. And read last weekend's column: 7 Lessons from Coinbase's Public Listing.