In brief
Bitcoin mining in China is projected to peak in 2024, per a new study.
Researchers claim that Bitcoin's growing energy consumption could undermine global sustainability efforts.
If left unchecked, China's Bitcoin mining industry could generate as much as 130.5 million metric tons of carbon emissions by 2024, according to a study published in the scientific journal Nature. Per 2019 aviation figures (the last year not impacted by COVID travel restrictions) this would equate to roughly 14% of the world's annual carbon footprint from flying. 
The Nature study, "Policy assessments for the carbon emission flows and sustainability of Bitcoin blockchain operation in China," predicted the impact of China's Bitcoin mining industry through to 2024. 
The study was published by Shangrong Jiang—a member of the University of Chinese Academy of Sciences in Beijing—along with six others. The researchers argued that "the growing energy consumption and associated carbon emissions of Bitcoin mining could potentially undermine global sustainable efforts." 
Were China's Bitcoin mining to reach the levels predicted by the study, its carbon emissions would exceed the carbon footprint of countries including the Czech Republic and Qatar. It would also rank in the top 10 among 182 cities and 42 industrial sectors in China. 
The study recommends moving away from what is described as a "punitive carbon tax policy" in China to a site regulation policy, which, the researchers claim, would be a more effective means of limiting Bitcoin's carbon footprint.
"Miners need power and while renewables are usually the preference due to longevity and cheaper prices, if coal is the only option provided by authorities, what choice do they have?" Jason Deane, Bitcoin analyst at Quantum Economics, told Decrypt.
Bitcoin's growing thirst for energy
The study goes on to claim that without policy interventions, the annual energy consumption of the Bitcoin blockchain in China is expected to peak at 296 terawatt-hours (TWh) by 2024—over double the entire network's current annual energy consumption, by today's estimates.
With Bitcoin's energy consumption rivaling that of entire countries, Cambridge University researchers constructed a Bitcoin Electricity Consumption Index that tracks this figure.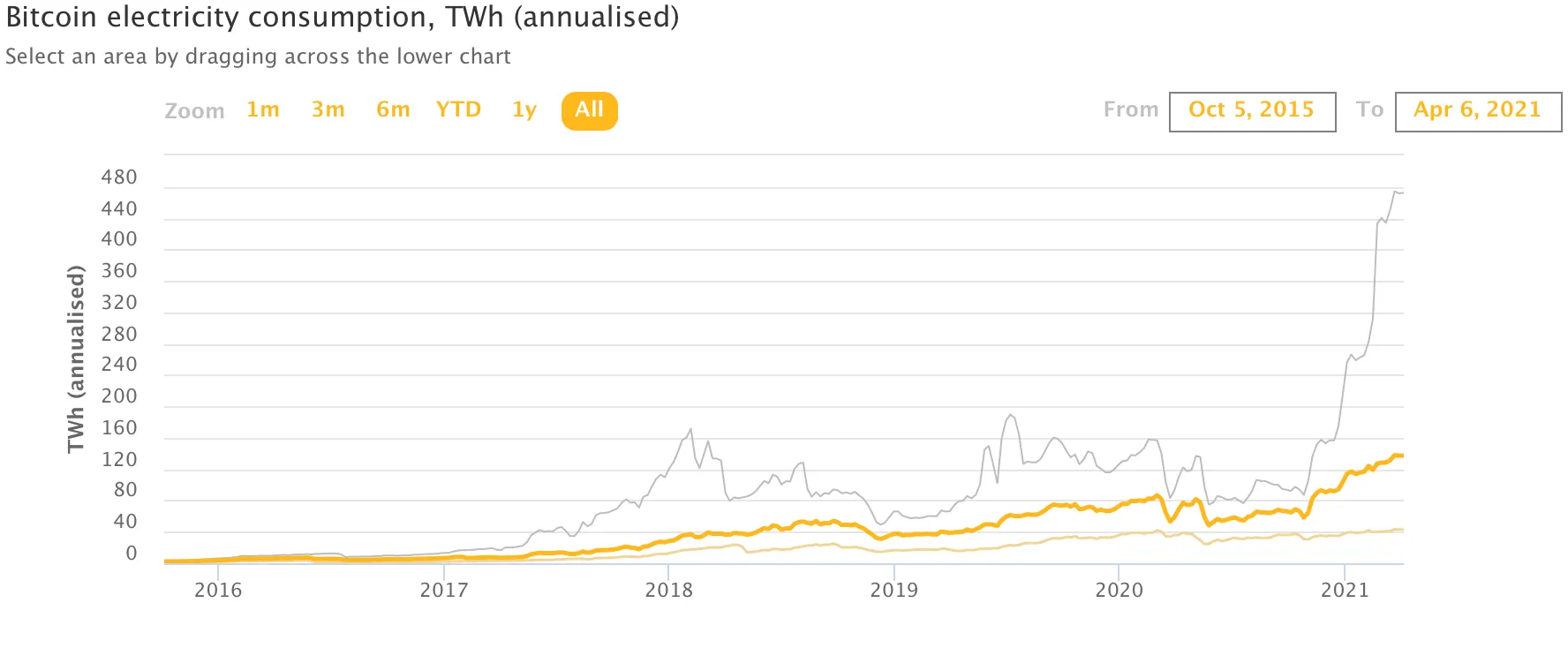 Today, Bitcoin's estimated annual energy consumption is 137 TWh, per the Cambridge index. This means that Bitcoin eats up more energy than the country of Argentina. What's more, if Bitcoin itself was a country, it would be in the top 30 countries by energy consumption. 
Using Bitcoin's TWh figure, it's possible to estimate the network's annual carbon footprint and compare it to other, more tangible impacts on the world's carbon footprint. Last month, Decrypt reported that Bitcoin's carbon footprint—after factoring for renewable energy sources—was broadly equivalent to 61 billion pounds of burned coal, 9 million homes' average annual electricity consumption, or 138 billion miles driven by a passenger vehicle. 
But now, the problem is getting worse—at least in China, where Bitcoin trading is outlawed but mining is fair game. China has pledged to peak its carbon emissions by 2030, but according to Quantum Economics' Deane, China "often publicly reinforces its commitment to specific carbon reduction goals while rapidly increasing its coal-fired power generation capacity."