In brief
Ethereum transaction fees have reached a new all-time of $23 on average in terms of dollar value.
ETH miners have consequently earned over $22.75 million in fees over the last 24 hours.
The ecosystem's metrics are largely driven up by key industry leaders, experts noted.
The average Ethereum (ETH) transaction fee broke a new all-time high today, reaching over $23 per transaction, according to crypto metrics platform Blockchair. This means that it's more expensive than ever to use the Ethereum blockchain for making transactions and using decentralized applications (dapps).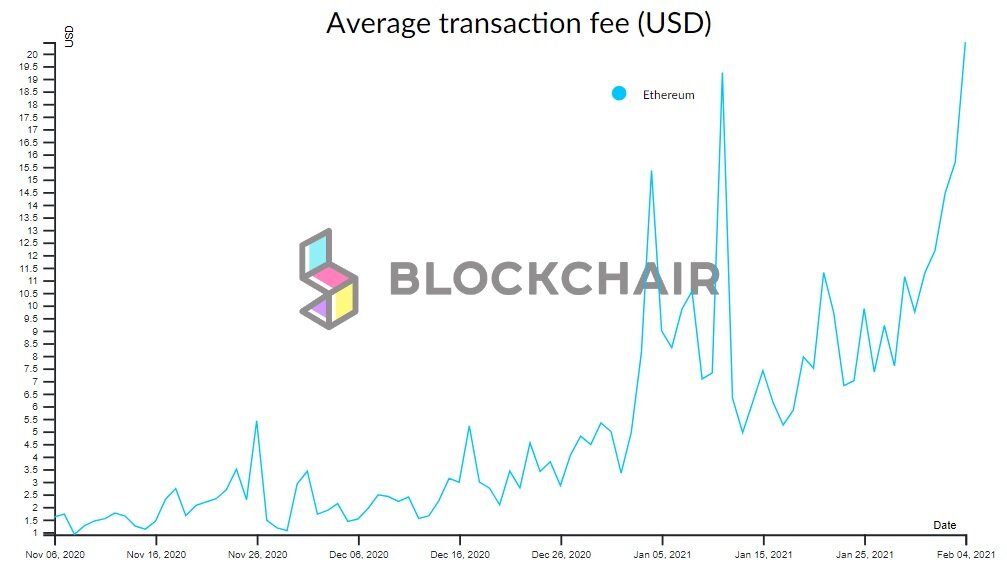 The rising fees have made it more expensive to use DeFi apps, such as Uniswap, which tend to charge even higher fees for making swaps between different coins. Plus, transactions that use Ethereum-based coins, such as DAI, tend to have higher transaction fees than sending Ethereum itself.
I've easily paid 5k in gas fees this week. Disaster.

— The Wolf Of All Streets (@scottmelker) February 4, 2021
The spike in transaction fees has been largely caused by the rising price of ETH, which has brought in a lot more demand for the cryptocurrency. The price of ETH itself set another record by exceeding $1,688 today—its all-time high so far, CoinGecko's data shows.
"Transaction fee volume on the Ethereum chain is reflective of a wide range of activities—from buying and selling of the ETH token itself to the infrastructure it provides," Martin Köppelmann, CEO of permissionless decentralized exchange Gnosis, told Decrypt.
He added, "In fact, many of the top projects run on the Ethereum chain so the fees pictured for Uniswap, Sushiswap, Compound,  Aave, Balancer, Curve, etc. are actually reflected in daily Ethereum fee volume."
Following the surge in both transaction fees and ETH's price, Ethereum miners have similarly earned over $22.75 million in fees over the last 24 hours—over four times more than Bitcoin (BTC) miners ($5.116 million), according to tracker CryptoFees.info.
On average, both Ethereum and Bitcoin miners are currently earning $15.81 million and $4.485 million per day, respectively. Notably, fees currently make up roughly 50% of ETH miners' revenue, with the second half being block rewards.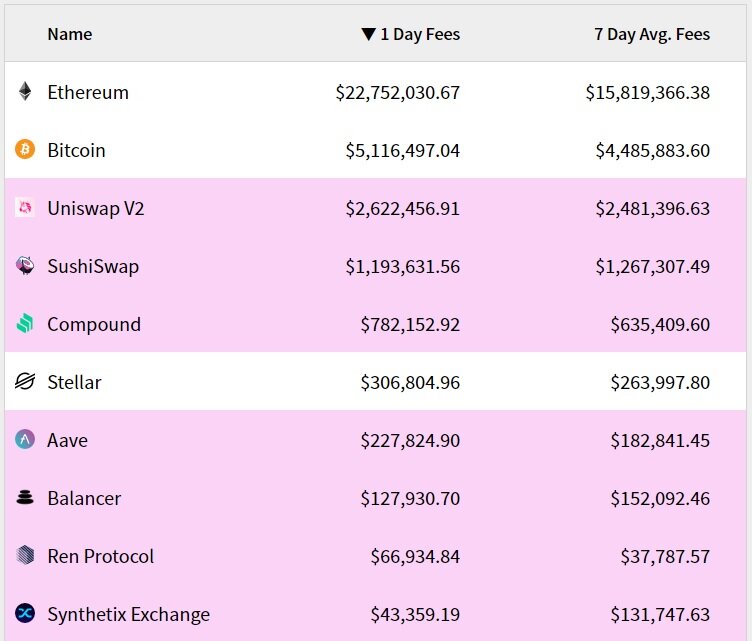 Speaking to Decrypt, Alexi Lane, spokesperson of analytics platform Ethplorer, noted that skyrocketing Ethereum transaction fees and miner revenues can be attributed, for the most part, to several key platforms in the ecosystem.
"Behind this, key industry leaders are spending gas which drives these figures up to another level. Uniswap, TetherUSD, 1inch Exchange and USDC with their heightened activity, have all played a part in this," Lane told Decrypt.
He noted that Uniswap and TetherUSD alone spend roughly 30% of total gas on Ethereum, and this figure shows how just a few projects can impact the whole sector.
Ethereum miners earn record revenues
However, one group of people benefits from these high fees. In January, ETH miners saw revenues that were twice as high as the previous month.
"A staggering $325 million in transaction fees were paid on Ethereum in January, almost doubling the amount of its previous record month (Sept 2020)," Glassnode tweeted yesterday, adding, "In comparison: Bitcoin January fees were $114 million (2.8x difference)."
But are these fees a good sign of Ethereum's growth—or a stumbling block?