In brief
The FEW token was created in a Telegram group and airdropped to key DeFi people.
But messages leaked from the chat caused controversy.
The creators of the token now claim it was all a joke and many have since burned their tokens to make amends.
A group of DeFi enthusiasts have been criticized for creating a worthless token and discussing—either jokingly or not—to dump it on the market. They claim that the whole thing was just a humorous experiment.
The controversy follows a previous airdrop of MEME tokens, which, when handed out, were practically worthless. But after some people had sold their tokens, they soared in value—leaving them with a bitter taste. The FEW token was created on the back of this, in the hope of redeeming their lost fortunes. But the whole project went belly up.
Shawn Westrick, founder of Westrick Law Firm, told Decrypt that, as DeFi continues to grow, "It's hard for small participants to know what projects are legit and what projects are not," adding that Twitter is "where a lot of people get information from people who are knee deep in crypto projects and these individuals become trusted for good or ill."
This is disappointing to see from people I know & trust. While some would've been doing it as a laugh, others were malicious & looking to profit whether they'll admit it or not.

Actions of the few, can have repercussions for the many.$FEW - Forget everyone winning... 😕 pic.twitter.com/N2yXHUShaC

— Alex Saunders 🇦🇺👨‍🔬 (@AlexSaundersAU) September 22, 2020
That kind of power comes with great responsibility. "Whether FEW was a joke or a serious attempt to pump and dump on people, the people involved should be ashamed for making this space worse and not better," Westrick added.
FEW understand this
Sam Ratnakar, co-founder of Idea Markets, initiated the FEW experiment. He set up a Telegram group on September 22, which included big names in the DeFi space, including Alex Masmej, founder of Rocket NFT, and Anthony Sassano, co-founder of EthHub. Other crypto notables, including Meltem Demirors, chief strategy officer at Coinshares, and Taylor Monahan, founder and CEO of MyCrypto, were invited to the chat.
Ratnakar tweeted that the project was "created as an experiment to create value for the ecosystem" and that the first 52 holders of FEW were airdropped 769.23 tokens. Speaking with Masmej via Twitter DMs, Ratnakar added the first holders would get two percent of the token each, vested over one year.
It started when I invited a few people to join an experiment.

Get some of the industry's smartest people together, equally distribute tokens and see what happens.

The telegram chat was called "The Experiment". pic.twitter.com/37sWGATQ6j

— Sam Ratnakar 💡🍍 (@mrdotboson) September 22, 2020
According to the leaked Telegram screenshots, FEW was designed for those who missed out on the success of the MEME token. Sassano himself sold 350 MEME tokens, as they were worthless at the time. However, the decision caused him to lose out on a potential $300,000. With FEW, a second chance to make amends on the missed financial opportunity was on the cards.
Masmej told Decrypt, "The goal was to emulate MEME and build something out of a token. For the first hour, there was an ongoing call with people buying a domain name and building a website to foster a community. I was excited."
But, according to Monahan, hundreds of hopeful crypto investors soon piled into the Telegram group hoping to get their hands on the airdrop. In less than an hour, the group ballooned from less than 100 people to nearly 600. Then someone set up a "fake"  FEW token, which caused confusion.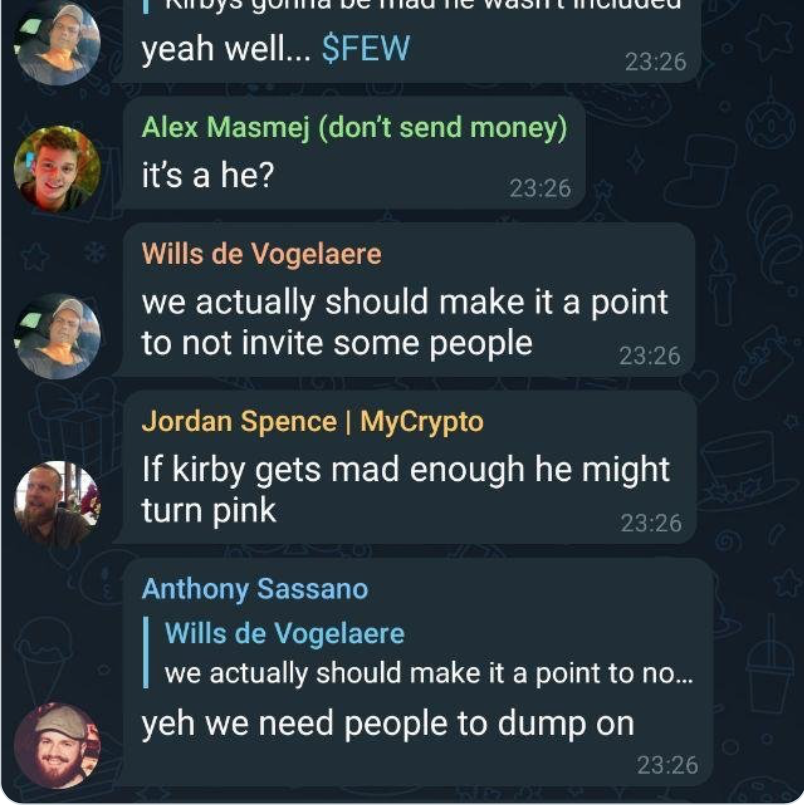 Then the messages from the channel started to leak on Twitter and other forums. These included messages such as Sassano saying, "we need people to dump on."
Monahan described the furore by tweeting, "Yet an hour later I'm blasted on all sides by outraged anon degen dudes." (Degen is used as a reference to those in the DeFi space.)
A backlash on Twitter
When the project came under fire, the initial founders downplayed the situation, claiming that the token was just a joke. However, by this point they had gone so far as to create the token and airdrop it—so many of them burned the tokens to make amends.
"As soon as I saw the community response, I burnt all my tokens, which never even listed on Uniswap," Masmej said.
Okay seeing push back on $FEW, I totally understand.

I don't even know what's going on myself

There is no liquidity. No one was harmed.

This is *a joke* unless a real product is made, just like $MEME

If nothing happens, so be it.

I can't control this, nor started this thing.

— Alex Masmej ☄️ (@AlexMasmej) September 22, 2020
Masmej defended those who were involved in the short lived FEW project. "I knew many people in the group and know their integrity in the space. Most of us met during the bear market because we genuinely believe in this technology's potential to improve our financial system," he said.
He added that one of his ideas for FEW was to donate to Gitcoin Grants to receive the token for free, "using our social capital to sustain open source projects."
2/ First, a recap on what happened with the FEW token.

I woke up to a flurry of messages on Telegram from a group that I was invited to. I signed up on a form for an airdrop with my public ENS (sassal.eth), made an obviously regretful comment (+ tweet), then muted the chat.

— Anthony Sassano | sassal.eth ⛽ 🏴 (@sassal0x) September 23, 2020
Sassano addressed his actions via a thread on Twitter. He said "I woke up to a flurry of messages on Telegram from a group that I was invited to. I signed up on a form for an airdrop with my public [Ethereum name], made an obviously regretful comment, then muted the chat."
"I know for some, the "I was just joking" defense is a weak one and I totally understand why people are skeptical of it," Sassano added, "I realize that I will need to rebuild trust with some people and that's something that I commit to doing."
If only there was a token for that.