In brief
A popular Hong Kong paper supported the use of Bitcoin after its founder was arrested.
It said Bitcoin does not differentiate among users, taking an aim at local banks.
For Hong Kong protestors, Bitcoin serves as a political statement.
Weeks after Jimmy Lai, the outspoken China critic and founder of Hong Kong tabloid Apple Daily, was arrested (and later released on bail) by authorities in Hong Kong—as part of the ongoing tussle over the controversial security law—his paper delivered a political statement involving Bitcoin.
"Bitcoin will never ditch you," said the full-page ad on the front page of Apple Daily. It further added in Cantonese, "Banks, it's not you ditching me today. It's me ditching you."
Today's full-page ad on the front of Apple Daily says: "Banks, it's not you ditching me today. It's me ditching you."

Not sure the people whom the ad is aimed at would buy this newspaper though... pic.twitter.com/DEcMckxBvY

— Aaron Mc Nicholas (@aaronMCN) August 24, 2020
Lai's arrest earlier this month came as a shock for some political observers. His stance on pro-democracy and his paper, with a daily online readership of 500,000, found massive supporters who vowed to fight on after his arrest.
The ad took aim at the city's banks which, as per earlier reports, are clamping down on customers supporting Hong Kong's independence. It wrote, "Nobody can stop you from transacting on the network and it cannot be shut down. Bitcoin is available to anyone regardless of their gender, identity, or beliefs."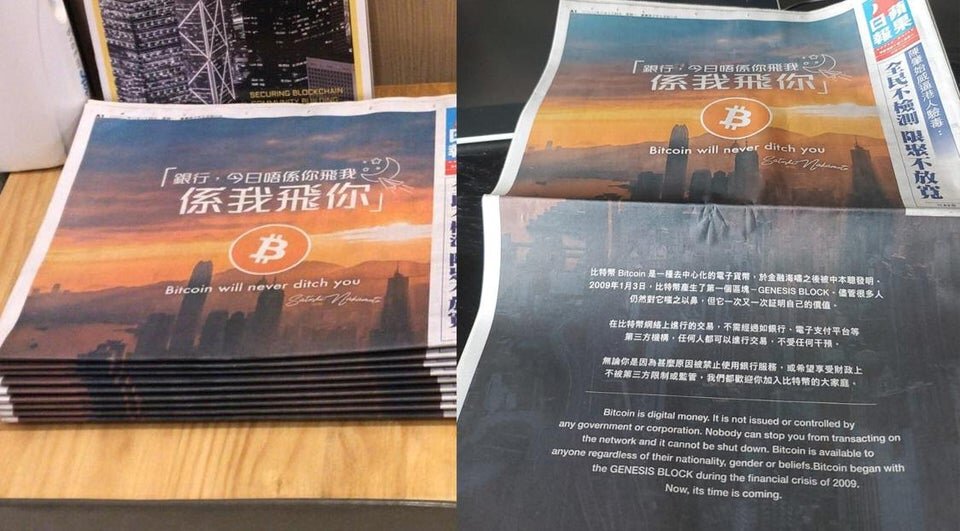 The ad went on, "Bitcoin began with the genesis block in 2009. Now its time is coming."
Unrest in Hong Kong over the National Security Law, which would see Hong Kong citizens lose their rights and come under the strict legislation of China if imposed, has been ongoing for a year.
Until Lai's arrest earlier this month, only students and protestors had been arrested by local police. His arrest served a new reality for Hong Kongers—that no one, not even the city's famed billionaires, would be spared if they criticized China publicly. And Lai got caught up in that.
For some, Lai is the posterchild of the Hong Kong success story. Born to a middle-class family in nearby Guangzhou, he came to the city on a rundown boat aged 12, worked as a laborer in a clothing factory, and worked his way to founding international brand Giordano and then influential publication Apple Daily. As of press time, he is worth $1.2 billion.
For a city battling censorship and the ill-effects of government sanctions, it's not surprising that some are finding respite in Bitcoin.