In brief
China could be losing its grip on the Bitcoin mining industry.
It's not using as much electricity as the rest of the world as it used to.
An analyst at TokenInsight thinks it won't get any better.
China is losing its dominance over the Bitcoin mining industry, according to analysis published today by crypto analytics firm TokenInsight. 
TokenInsight cites data from Cambridge University's Centre for Alternative Finance, which estimates that the overall electricity usage of Bitcoin miners that comes from China had fallen from 75.63% in September 2019 to 65.08% by the end of April. 
Cambridge's estimations provide a rough indication of the hash rate produced by China, Johnson Xu, chief analyst at TokenInsight, told Decrypt. The hash rate is the overall computational power that secures the Bitcoin blockchain.
In the same time frame, Cambridge's data shows that electricity consumption from Bitcoin miners in the US has increased from 4.06% to 7.24%. Bitcoin mining in Kazakhstan also appears to have boomed: back in September, Kazakhstan's mining industry accounted for 1.42% of the hash rate; by May 7, it accounted for 6.17% of the hash rate.
Bitcoin halving blues
Xu said that China's dominance over the Bitcoin mining industry will continue to fall. Due to price fluctuations and last month's Bitcoin halving, a "greater proportion of miners in China shut down their rigs compared to the rest of the world," he said. 
Xu explained that the Bitcoin halving made things hard for China's mining industry. "China has a fair amount of older generation machines because there's a limited incentive for miners to switch to the latest generation," he said; in China, lower electricity costs make for healthier profit margins. 
Xu said that miners are leaving China to set up shop elsewhere. "The mining landscape in China is quite unstructured," he said, "limiting opportunities to access capital." 
His comments echo those made by industry experts ahead of the Bitcoin halving.
Ethan Vera, a pool operator at North American Luxor Mining Pool, told Decrypt last month that "Chinese miners are generally more leveraged than North American." The cheapest electricity in the world won't make a difference if their revenue goes toward repaying debts. 
China is beginning to accept crypto mining as an industry—the government has taken it off a list of industries to shun, and, in April, Sichuan listed several mines among those that would benefit from hydro-electric power. 
But while the Chinese government wavers on cryptocurrency, Xu said that the "structured and progressive legal framework" of other countries, as well as "increasing awareness of Bitcoin and cryptocurrency outside of China on the national level" make the country less attractive for Bitcoin miners. 
The weather in China
After the Bitcoin halving, the overall hash rate collapsed. It's since bounced back, and that's more than just a market correction, said Xu—it has something to do with the weather in China.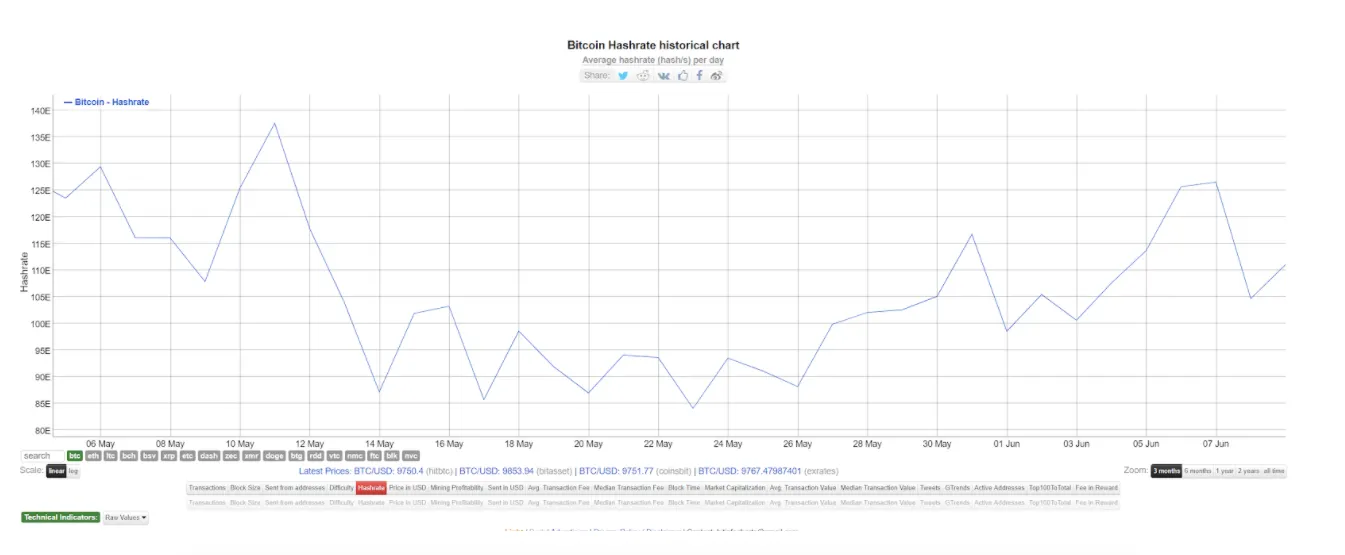 Around this time of year, the wet season starts in Sichuan province, meaning that Bitcoin miners close down farms in chilly Xinjiang province and up sticks to Sichuan, which has cheap hydroelectric power. 
Because the electricity is cheaper in Sichuan during the wet season, "more miners are incentivised to turn on [old] machines because they can make reasonable margins," said Xu. The decline? It could partly be due to "a transportation gap," he said. 
But Xu doesn't think that this means that the Chinese Bitcoin mining industry is back on the track to victory. Once the rain dries up and the electricity becomes more expensive again, China's mining industry will have to battle deeper issues.