With fresh funding in hand, Stackr is looking to make building on blockchains a whole lot easier.
The latest $5.5 million round was led by Archetype, and joined by Scalar Capital, Lemniscap, and Spartan Group among others. The money will be used to build out its team, launch the product's first iteration, and attract developers looking to make the leap into crypto.
Stackr's plan is simple: Let Web2 developers build out any crypto app they want without needing to learn a new programming language.
This is thanks to Stackr's flexible software development kit (SDK) and will start first with JavaScript, but aims to add a host of other languages like Python, Go, and C.
"We want to provide a Web2 way for building Web3 applications and building a system such that devs can use familiar Web2 tooling for building decentralized applications," Stackr's business operations lead Hiten Patel told Decrypt. "Our SDK at the start will support Web2 programming languages like Javascript and Typescript which is pretty accessible to most developers in the world today."
And getting more developers to join the crypto industry is crucial.
Per Electric Capital's Developer Report, there are an estimated 19,279 crypto developers as of October 1, 2023. That figure pulls from full-time, part-time, and one-time developers–or those who only contributed code to GitHub once over a three-month rolling window.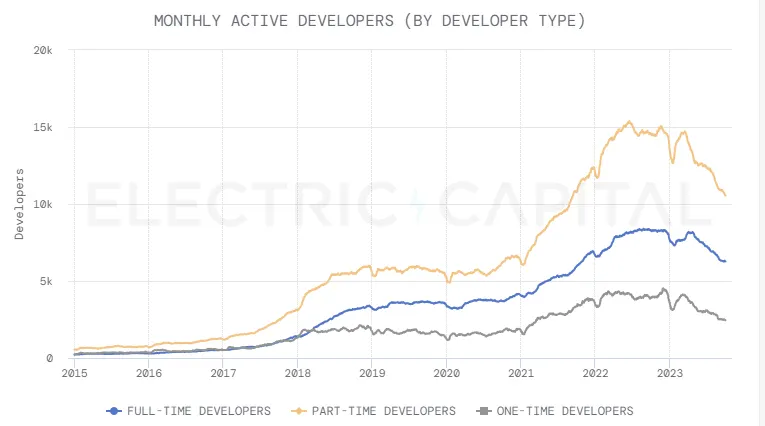 The number of crypto developers is also down nearly 30% since October last year. And without new builders, the industry's future looks bleak.
More developers, more modularity
Besides getting fresh blood into the coding ecosystem, Stackr also offers users a more modular development experience.
This means they can pick and choose which portions of their application they'd like to put on the blockchain, and stands in contrast to typical crypto development which operates within a monolithic design space.
It's a growing debate in the crypto community, but members of the modular tribe say it's going to be the next big thing.
Monolithic blockchains like Bitcoin and Ethereum basically means that transaction execution, data availability, and consensus are all locked into one place. Modular blockchains are different, letting users mix and match those components.
"Going modular means you can choose what part of the stack you want to go with what provider," Stackr's founder Kautuk Kundan told Decrypt. "It all depends on what kind of security you want. If you want faster confirmation, but with less ecosystem overhead, you could go with a custom relayer like Celestia or something like that."
And that also means, choosing which components to decentralize, which Stackr's team bet will be an interesting draw for Web2 companies looking to experiment with Web3 technology.
"Suppose you're Shopify, and you want to decentralize the accounts, you could do that all on-chain," Patel told Decrypt. "They're using our software development kit, and they don't have to change anything else about the rest of their product, just that piece."
Edited by Stephen Graves