Grammy-winning electronic musician RAC recently teamed up with HIFI Labs to launch the CULT Pass, a dynamic, blockchain-enabled membership pass for his Web3 supporters.
Rather than a static digital image, the NFT orb morphs depending on the contents of an owner's wallet, using special generative seeds based on the artistic vibe of digital artist Andres Reisinger plus visual prompts from text-to-image AI model Stable Diffusion—and audio triggers by RAC himself, of course.
"This project tests what's possible at the intersection of Web3 and AI," Joe Barham, co-founder and CEO of HIFI Labs, told Decrypt.
i'm so proud to announce ↴

CULT Pass ✨

an experiment in online identity i've been building over the past year with @hifilabs

a dynamic membership that visually changes and morphs based on what is in your wallet pic.twitter.com/m7iVkbCr9E

— rac.eth ⌐◨-◨ (@RAC) May 4, 2023
The CULT Pass was officially announced last week, but RAC (real name André Anjos) started distributing them to his biggest fans several months ago.
"We're not trying to sell a product with these. It's more about the concept and building that out," he explains. It's the latest in a long line of Web3 projects undertaken by RAC in an attempt to bridge the gap between artist and audience, as well as help fix what he calls a "broken music industry."
In 2017, RAC allowed fans to purchase "Ego," the first-ever full album released via the Ethereum blockchain, and then did the same in 2020 with his album "Boy." About 150 fans took him up on the latter offer, and he said that it's the closest he ever felt to the people who really valued his art.
In the years that have followed, he's experimented with his own ERC-20 token, RAC, and released several NFTs alongside the use of Patreon and Discord in a bid to further build a community around his music.
"I've spent so much time building networks and trying to connect with audiences on social media," says RAC, "only for these companies to start putting things behind a paywall."
It's happened on SoundCloud, Facebook, and most recently Twitter.  These CULT Pass orbs are designed to act like a membership token to the RAC fan club, and morph depending on which RAC tokens you already own.
"It's a way to take ownership of our community. It's a layer above social networks," he continues, likening it to wearing a t-shirt of your favorite band. "It's not always about the 'thing.' It's about belonging to something."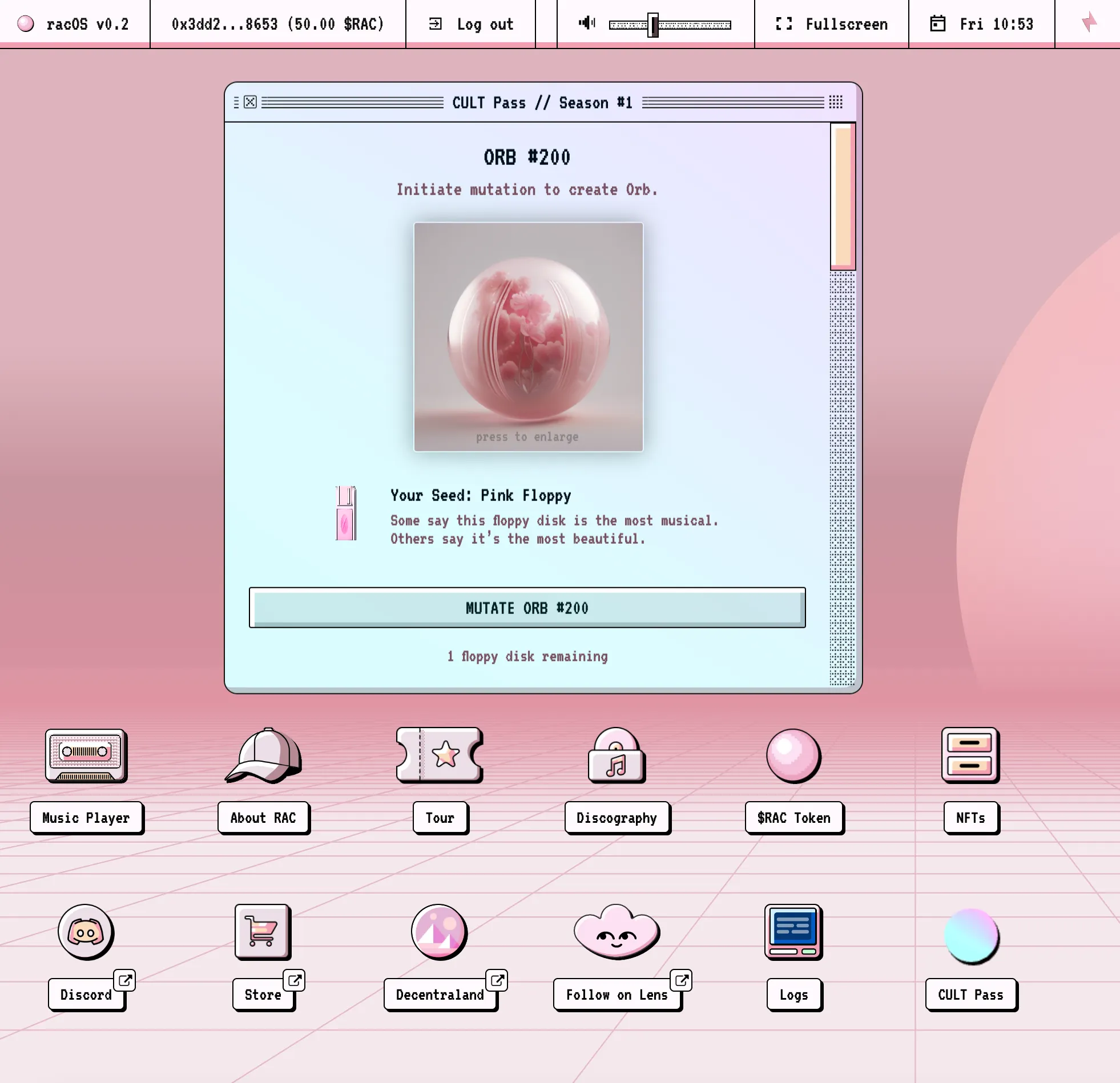 The CULT Pass orb is an early version of the technology and, with four different iterations of visuals available, is currently very "on the rails" according to RAC—but he and HIFI Labs have big plans for where it goes next.
As well as imagery, RAC wants to incorporate generative music and video in future versions of the orb, while off-chain activities such as streaming music on Spotify, buying gig tickets, and watching livestreams will also impact how the orb evolves.
"The system is built in a way that recognizes and supports organic, authentic engagement," explains Barham. 
As well as leveling-up the orb, this data can also be used by the artist to reward fans with things such as pre-sale access or unreleased music. As the orb evolves, so will the access and utilities it unlocks. Heavy metal band Avenged Sevenfold recently pursued a similar initiative with its TicketPass NFT and an integration with Ticketmaster.
"It's transactional, but not exploitative," says RAC of his approach. "Even within our ecosystem, I think some people get caught up in the trading aspect of these things. I wanted to move away from that and create a membership that allows you to build upon it."
love my orb.
it's kind of funny because I technically don't own my more rare releases so it's fairly low tier, still gorgeous though. pic.twitter.com/g3oBWxHTjq

— rac.eth ⌐◨-◨ (@RAC) May 4, 2023
Right now, the orb is centered around RAC and his career, but he's very much the test case. "Now we've built the infrastructure and framework, we're able to iterate pretty quickly," he explains. "We can apply this technology to anyone."
"Every artist has their own version of audio and visual DNA, their own engagement style and unique community," adds Barham. "The framework we rolled out with CULT Pass—while replicable and broad—is meant to reflect the unique expression of each artist and their community."
In the future, this framework can also be applied to clutches of like-minded Discord communities or subreddits. There's no firm release date for future versions of the orb because, as RAC explains, they're still "figuring this out as we go."
"My approach with this stuff has always been 'come be a part of it.' I know there's a whole class of fans who don't care about any of this, and that's fine. I do want to reward the fans who are invested though because it's about building a fairer system for all of us," RAC continues, adding that he wants to make sure that both art and the audience is valued.
"We're very early, but I really do believe in what we're doing," he adds. "When else do we really have the opportunity to shape the future like this?"