FTX used to have a D.C. office across the street from the White House and Treasury Department, according to court documents.
That's closer—physically, at least—than either the Blockchain Association or Coin Center's offices were to key lawmakers, which are 25- and 10-minute drives away, respectively.
The office has come up in court filings because FTX's legal team is trying to get the judge's permission to mutually terminate a lease with the property owner, Metropolitan Square Associates. It's typical for a company to terminate leases and sell property it doesn't think will be essential to its restructuring after entering Chapter 11 bankruptcy protection.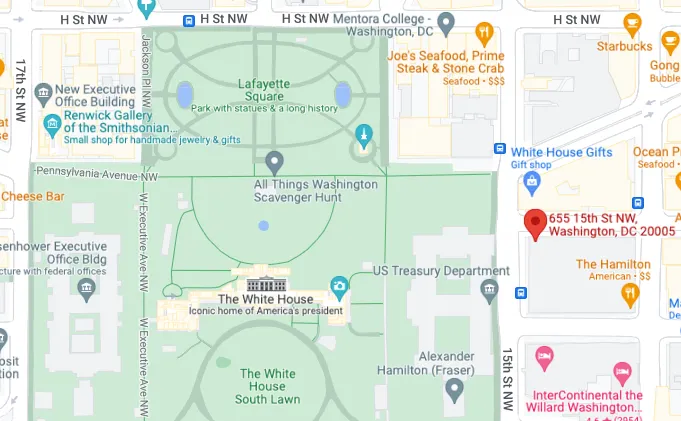 West Realm Shires, parent company of FTX's U.S.-based businesses, signed a lease for 655 15th Street N.W. in D.C on August 3, 2022, that was set to expire August 2028. West Realm Shires paid a $32,000 security deposit for the "nonresidential real property," according to court documents filed on Monday.
The location, referred to as Met Square on Google Maps, appears to house a WeWork co-working location, where companies can sign leases for permanent, private work spaces.
The terms being proposed by FTX's legal team would mark the lease as "mutually terminated" as of December 21. Metropolitan Square would keep the security deposit on the condition that it waives its rights to all other claims against FTX.
FTX's draft agreement would also allow the bankrupt crypto exchange to abandon personal property at the office—but not business or financial records—as long as some third party doesn't have a claim to it.
FTX, once the second-largest centralized crypto exchange by volume behind Binance, took a big hit when a report revealed that Alameda Research, its trading desk, held billions worth of illiquid FTX Token (FTT) on its balance sheet against billions in liabilities. The ensuing rush to sell FTT, including by former FTX investor Binance, and withdraw funds from FTX eventually forced the company to admit it did not hold one-to-one reserves of customer assets, freeze withdrawals, and file for bankruptcy.
Before things fell apart for FTX, the company seemed pretty optimistic about its ability to wield influence in D.C.
That often meant that Bankman-Fried was stepping on others' toes and talking at, rather than to, other crypto industry lobbyists, according to Blockchain Association Executive Director Kristin Smith.
"There was a situation when a group of lobbyists and advocates were meeting to have a strategy session, and he showed up in the middle of that and basically spoke for 45 minutes at us and then left," Smith told Decrypt in December. "And so I think my understanding is that a lot of the conversations were sort of one-sided. But at the same time, I think people were very interested in Sam. They thought he was approachable."
Smith was very clear in saying that neither Bankman-Fried nor FTX were ever members of the Blockchain Association. But she did get a sense of how he liked to operate in D.C.: He was diligent about creating opportunities to rub elbows with lawmakers, like hosting breakfasts with senators and going to happy hour with congressional staffers.
The White House, meanwhile, has been reluctant to comment on its interactions with Bankman-Fried. In mid-December, White House Press Secretary Karine Jean-Pierre refused to answer questions about donations made by Bankman-Fried to President Joe Biden's campaign. Last week, the White House confirmed four meetings with the FTX founder throughout the course of 2022, but claimed those meetings were merely about pandemic preparedness programs and "general information" regarding crypto markets.
Bankman-Fried made what appeared to be his first big splash in Washington in December 2021, when he testified before the House Financial Services Committee along with Coinbase, USD Coin issuer Circle, and other industry players.
I'm honored to be testifying before the House Financial Services Committee today about the future of the digital asset industry, along with colleagues from Coinbase, Circle, Paxos, Bitfury, and Stellar.https://t.co/ODB285Yuvq

— SBF (@SBF_FTX) December 8, 2021
At the time, he shared a link to FTX's policy website on Twitter. The website, which is still live, was updated as recently as October with a blog post including a draft of "a set of standards that we as an industry could enact to create clarity and protect customers."
A month after the blog post was published, the FTX empire had crumbled and Bankman-Fried was days away from being arrested and charged with conspiracy, wire fraud, and campaign finance violations, among other crimes. He's since been extradited to the U.S., where he was placed under house arrest at his parents' home and pleaded not guilty to all criminal charges. His trial date was set for October 2, 2023.