During the first day hearing for BlockFi's bankruptcy proceedings, the company revealed that FTX and Alameda Research owe it more than $1 billion—$671 million on a now-defaulted loan to Alameda and $355 million in funds frozen on the company's crypto exchange.
BlockFi, a New Jersey-based crypto lender, filed its petition for Chapter 11 bankruptcy protection on Monday after weeks of speculation that it would no longer be able to operate in the wake of FTX filing for bankruptcy on November 11. 
BlockFi had a lot of exposure to FTX after it received a $400 million line of credit in July—a deal that the company's legal team said on Tuesday was approved by 89% of its shareholders. BlockFi needed the lifeline because of lingering turmoil from the collapse of Terra's algorithmic stablecoin, TerraUSD (UST), in May.
It's not the first time it's been revealed that FTX or its sister company, Alameda Research, owed money to the companies with which they inked so-called bailout deals in the wake of the Terra collapse. 
In June, Alameda Research offered a $500 million line of credit to Voyager Digital. But when Voyager Digital filed for bankruptcy a month later, court documents showed that the quantitative trading firm owes Voyager $377 million.
"The Luna collapse really was the start of everything," Joshua Sussberg, an attorney and partner at Kirkland & Ellis law firm, said during the hearing. A slide deck he was presenting showed the Luna collapse in May, then the subsequent defaults or insolvencies of crypto firms: crypto lender Celsius Network, hedge fund Three Arrows Capital, asset manager Voyager, Bitcoin miner Core Scientific, and finally FTX.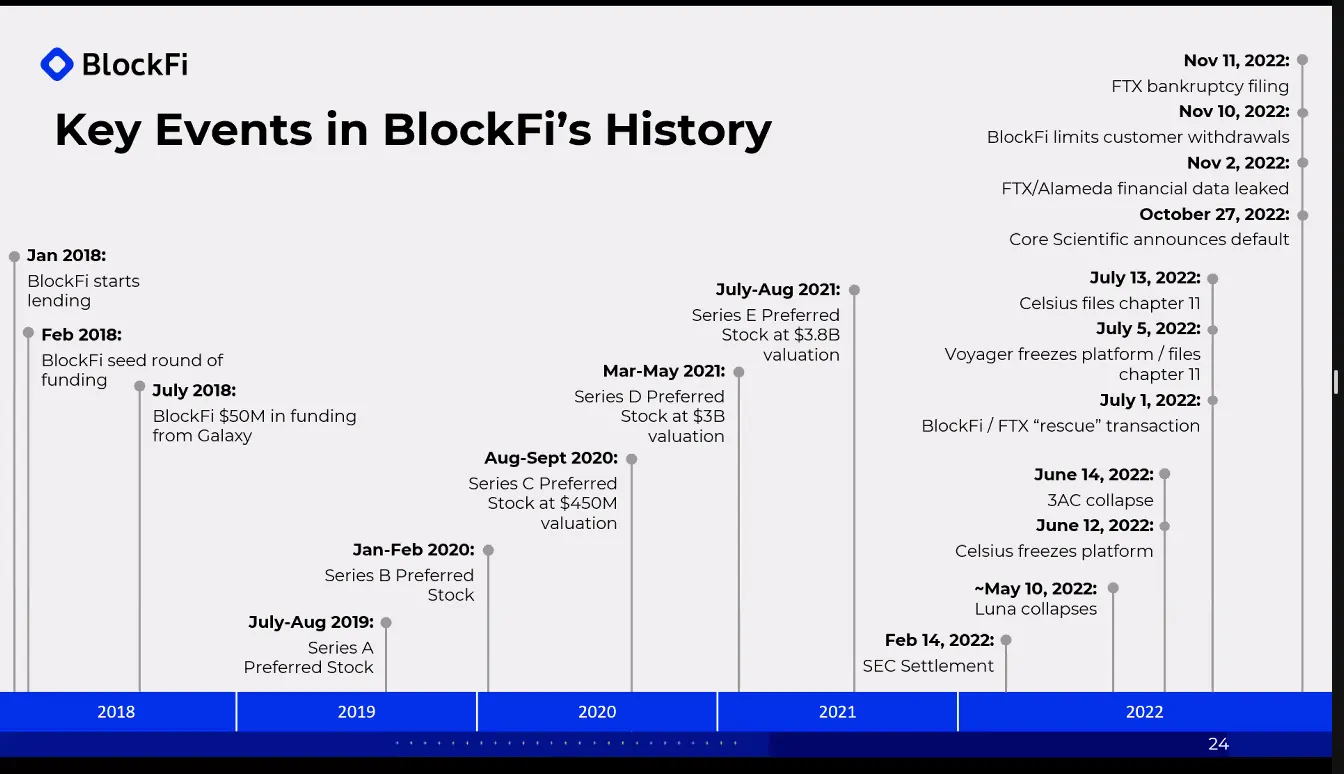 It's worth noting that the law firm is also leading the bankruptcy proceedings for Voyager Digital (which has had to cancel its deal to sell $1.4 billion worth of distressed assets to FTX) and Celsius Network.
Kirkland & Ellis has been a mainstay in high-profile bankruptcy cases. In 2020, when the start of the COVID-19 pandemic caused a wave of insolvencies, the firm represented more than 40% of the publicly traded companies that filed for Chapter 11 bankruptcy protection, according to a Bloomberg Law report.
The BlockFi hearing took place on Tuesday morning in Trenton, New Jersey, but was viewable by the public over Zoom. The detail about the money owed to it by FTX was one of several times BlockFi's legal team brought up Sam Bankman-Fried's insolvent empire to demonstrate what they say are stark differences between the two companies.
When presenting a chart showing BlockFi's corporate structure, Sussberg said it was "very much unlike the corporate structure of FTX—this is designed with specific purpose where there was a business reason and regulatory reason to form an entity. FTX has 130 entities that they're still trying to figure out the morass and reason for why those entities were filed."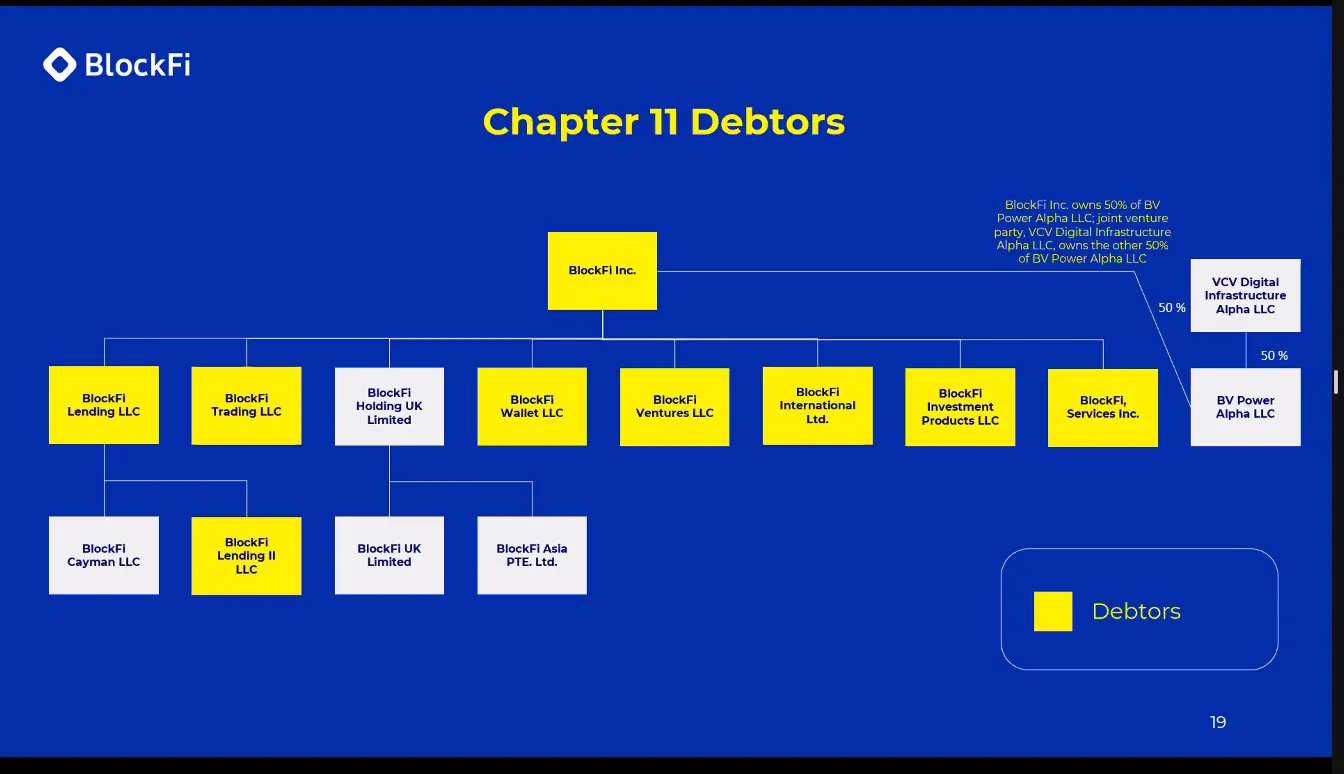 Later during the hearing, Sussberg called out different BlockFi entities that transact with one another, saying that the legal team has examined the governance structure to "deal with the review and investigation of any claims related to the FTX transaction," referring to the $275 million outstanding balance on the $400 million loan.
He also addressed a motion that BlockFi submitted seeking court approval to continue paying the remaining 292 employees—most of whom live in the U.S.—saying that the company needs to retain them in order to maintain momentum throughout its restructuring.
In the motion, BlockFi estimated that its average monthly wage and benefit obligations are $6 million and that it owes workers $2 million in back pay.
When BlockFi filed for bankruptcy on Monday, a source familiar with the company told Decrypt that it had plans to lay off a large portion of its staff. An attorney for the company said on Tuesday that WARN notices, which are legally required ahead of mass layoffs, to two-thirds of employees.