The Netherlands Crime Agency (FIOD) today announced it had arrested a "suspected developer" of Tornado Cash, the Ethereum-centric mixing service sanctioned by the U.S. Treasury earlier this week.
"On Wednesday 10 August, the FIOD arrested a 29-year-old man in Amsterdam. He is suspected of involvement in concealing criminal financial flows and facilitating money laundering through the mixing of cryptocurrencies through the decentralized Ethereum mixing service Tornado Cash," the agency said in a statement.
FIOD said that "today the suspect is brought before the examining judge, adding that "multiple arrests are not ruled out."
FIOD also said that the Financial Advanced Cyber Team (FACT), which is part of the agency, had started a criminal investigation against Tornado Cash in June 2022.
"FACT suspects that through Tornado Cash has been used to conceal large-scale criminal money flows, including from (online) thefts of cryptocurrencies (so-called crypto hacks and scams). These included funds stolen through hacks by a group believed to be associated with North Korea," read the statement.
The Tornado Cash saga
Launched in 2019, Tornado Cash is a privacy tool that works to obfuscate the origin of Ethereum transactions by pooling together large numbers of transactions and mixing them to prevent them from being tracked on the public blockchain.
The privacy offered by Tornado Cash, however, has long drawn close attention from authorities, many of which are concerned that the tool is being used for money laundering and other illicit activities.

When the U.S. Treasury Department on Monday added Tornado Cash—along with a slew of addresses associated with the service—to its Specially Designated Nationals list, it effectively banned Americans from using the tool and transacting with the noted addresses.
The Treasury justified the move by citing numerous instances in which Tornado Cash had been used for money laundering by organizations like the North Korean state-sponsored hacking organization Lazarus Group.  
The Tornado Cash website has been inaccessible since then, with the project's last tweet coming on Tuesday when it shared a list of companies and projects that had complied with the ban.

These include the financial services company Circle, GitHub, which removed the source code for Tornado Cash from its platform, Alchemy, Infura, and the decentralized exchange dYdX, which began blocking addresses associated with the service.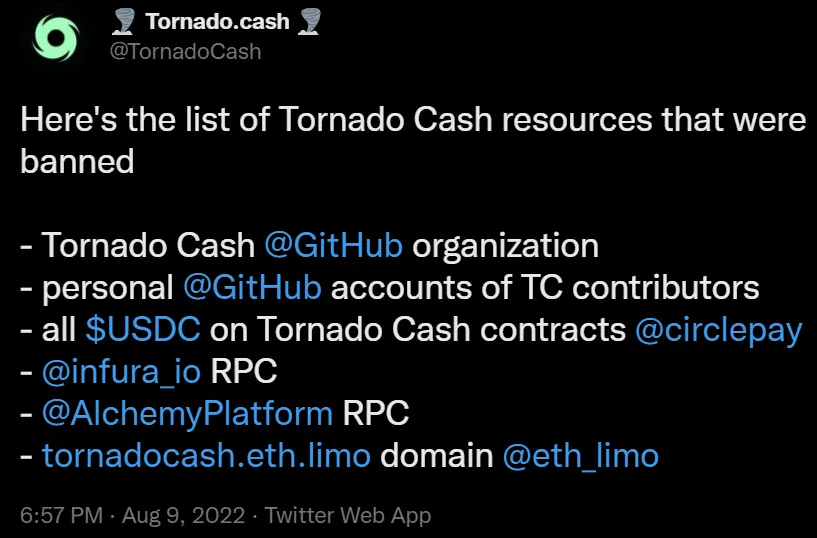 In the days following the announcement, many prominent figures in the crypto industry condemned the Treasury's decision, decrying the ban not just as illegal, but as an existential threat to user privacy.

Among them was Ethereum cofounder Vitalik Buterin, who said that he personally used the blacklisted service to make donations to Ukraine, which since the end of February has been fighting Russian invasion.

According to Buterin, he used Tornado Cash with the intent of protecting the recipients, not himself.