People who transact with cryptocurrencies were twice as likely to be unbanked as people who don't use them at all, according to a new survey from the Federal Reserve.
The Fed found that 13% of Americans using crypto for payments do not have bank accounts, up from the 6% among people who don't use crypto at all. Meanwhile, 27% of people using crypto for payments report they don't have a credit card, up from 17% of people who don't hold or use crypto. 
It's the first time the U.S. regulator posed a question about cryptocurrencies to its 11,000-person survey panel in October and November. The Fed has been conducting its annual survey to gauge the financial well-being of Americans since 2013.
On the whole, the Fed survey estimates that 12% of Americans held or used assets like Bitcoin and Ethereum last year. 
Earlier this month, hawkish comments from the Federal Reserve's Open Market Committee sent markets—traditional and crypto—into a free fall as the regulator announced that it would be raising interest rates half a percentage point.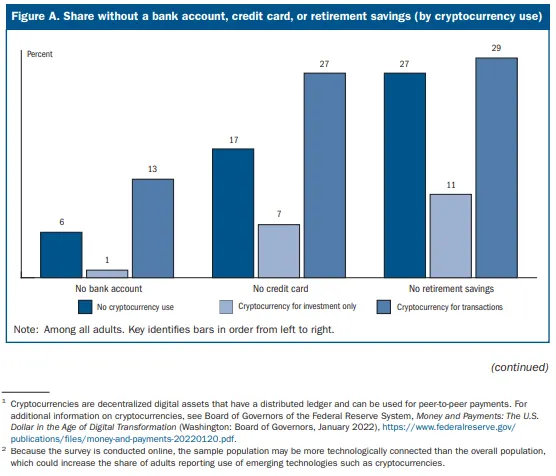 The new survey found that people who use crypto for payments are also far less likely to have retirement savings. But the rate of retirement savings was roughly the same among people who don't use crypto, 27%, and people who use it purely as an investment, 29%.
It also remarked that people who use crypto assets like Bitcoin and Ethereum as investments tend to be wealthy.
"Those who held cryptocurrency purely for investment purposes were disproportionately high-income, almost always had a traditional banking relationship, and typically had other retirement savings," the Federal Reserve wrote. 
The survey found that 46% of crypto investors had incomes of at least $100,000. People with an income of less than $50,000 made up 29 percent of crypto investors.