What looks like a tech stock and acts like a tech stock but isn't a tech stock? The answer, increasingly, is Bitcoin—at least when it comes to its market value.
The price of the cryptocurrency is more correlated with share prices on the tech-heavy Nasdaq stock index than at any point since July 2020. According to a new report from Arcane Research, the 30-day correlation between Bitcoin and Nasdaq is 0.70.
Correlation is measured on a -1 to 1 scale, where -1 means the prices always move in opposite directions and 1 means they are in perfect synchronization. A 30-day correlation smooths out some of the day-to-day noise by using a longer time horizon.
While Bitcoin is increasingly correlated with risk assets like Google and Tesla stocks, it's moved into a negative correlation with gold. It's -0.45 is right around an all-time low point. In August 2020, BTC-to-gold hit an all-time high, though the pair has historically fluctuated between positive and negative correlations, providing little guidance to market speculators.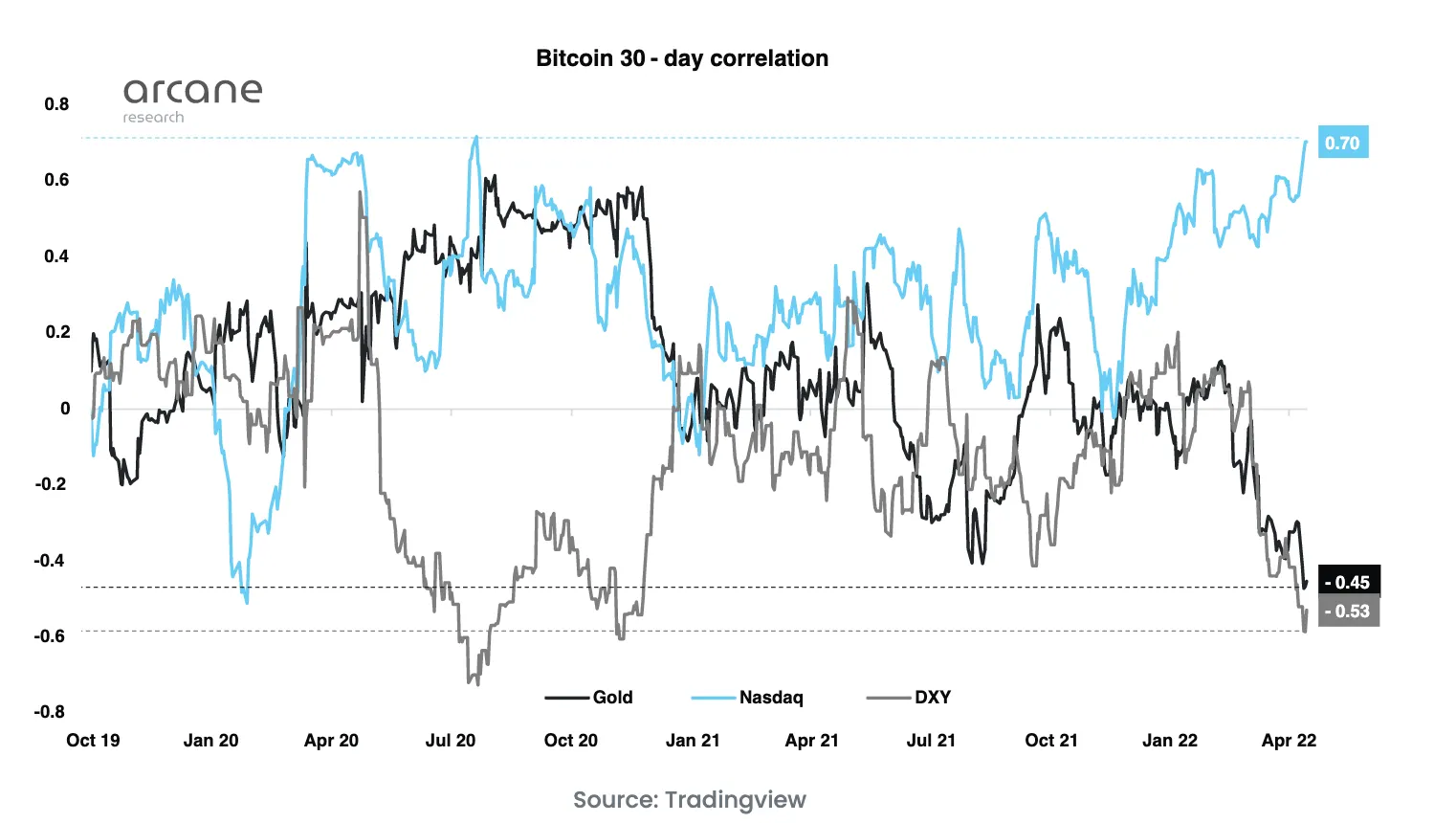 The price of gold has traveled from $1,805 per ounce at the beginning of 2022 to $1,952 today, per data from Monex; it's remained roughly static over the past month. Since the start of the year, Bitcoin has gone from $46,730 in value to $41,326, according to data from CoinMarketCap; it's also even for the month, but has experienced sharper volatility than gold.
Ironically, Bitcoin is often referred to as "digital gold" because some proponents see it as a hedge against inflation. 
Inflation is certainly at play in today's markets. The most recent U.S. Consumer Price Index, published by the Bureau of Labor Statistics, put annual inflation at 8.5%—the highest it's been since Ronald Reagan's first term. That means that consumer items cost more than they did a year ago; the dollar doesn't go as far. 
Neither, it seems, do Bitcoin or equities. After a stellar 2021, the Nasdaq is down 13% on the year. No surprise that that's almost the same as Bitcoin, which has lost nearly 12% of its value.