In brief
Block Tackle is a new Web3 gaming startup that has raised $5 million in seed funding.
The studio is working on SkateX, a Solana-based video game with NFT skateboards.
Veteran video game developers are pouring into the blockchain space, if recent studio funding announcements are any indication, and here's another to add to the list. Today, startup Block Tackle announced that it has raised $5 million to develop a Solana-based skateboarding game called SkateX with a team of experienced developers.
The $5 million seed round was led by Play Ventures and Cadenza Ventures. An array of other notable investors also participated, such as Coinbase Ventures, Solana Ventures, leading metaverse investor Animoca Brands, and Twitch co-founder Kevin Lin.
Block Tackle is a new Web3 gaming studio co-founded by Ben Topkins and Rob Oshima, who previously worked together at mobile gaming firm, Kabam. The 13-person team also includes veterans of Electronic Arts, Apple, Roblox, Lucasfilm, and Supercell.
While working on hit free-to-play mobile games like Kingdoms of Camelot, the co-founders saw how players poured countless hours and dollars into games for years, but had nothing they could ultimately sell or bring into another game. If they moved on to a new game at some point, then they'd start back at zero.
In other words, developers capture all of the value in those games. With Web3 games, users can sell their NFT assets or potentially use them in other games and metaverse worlds. An NFT acts like a deed of ownership to a unique digital item, ranging from profile pictures and artwork to interactive video game items.
"When we saw that there was potential for players to participate, both in shaping communities but also in the value that they create through play, we just saw that there was a huge opportunity there," Topkins told Decrypt. "We wanted to be early there, and be some of the first game makers making great games using blockchain tech."
Block Tackle is developing SkateX, an NFT-driven skateboarding game that is being built on the Solana blockchain. SkateX will offer up one-of-a-kind skateboards as NFT collectibles, which are owned by players and can be bought and sold as they please. But it'll also bring NFT owners into the community to help potentially influence the game along the way.
"Players can have a seat at the table and own an NFT that gets them participating in community conversations as we build the game," said Topkins, "and then they get to skate on that board and complete tricks, quests, and challenges, and level it up."
Citing the Tony Hawk's Pro Skater series as his favorite childhood games, Topkins said that SkateX will similarly have an accessible feel to its gameplay, letting players connect online to skate, grind, and pull off tricks together.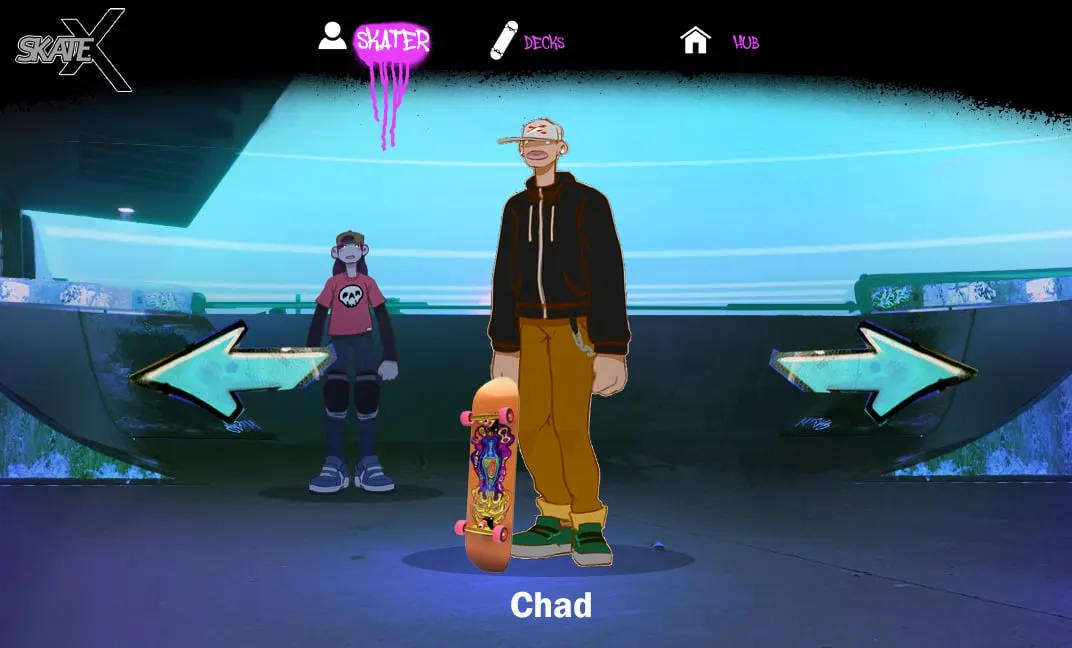 Block Tackle will release the first 1,080 Solana NFT skateboards in April ahead of the game's own launch later this year, with more boards (and board types) to come. Concept Art House, which has worked with Dapper Labs and Gala Games on other Web3 projects, is designing the boards for the game.
The NFTs will also be interoperable and potentially usable in other Solana metaverse games and apps. Topkins said that his team is talking with other game developers building on the platform, and will also ask the eventual SkateX community about where they'd like to take their NFT boards within the budding metaverse.
He pointed to Solana's low transaction fees and purportedly carbon neutral status (as a result of offsets) as reasons why Block Tackle chose that platform. "We've also just seen a lot of folks that we admire and like working with that are working in the Solana space," he added.
Block Tackle plans to grow its team to about 30 people while continuing development on SkateX, thanks to the seed funding. Topkins said that team members are already kicking around ideas for other crypto gaming projects, and that beyond SkateX, Block Tackle will "potentially launch other games in the not-too-distant future."