It's no secret to veterans and newly indoctrinated DeFi "degens'' that memes are as native to Web3 as Satoshi's Bitcoin white paper is to Bitcoin. And when it comes to anthropomorphic characters nestled throughout the NFT world, there's nothing more at home in crypto than Pepe the Frog. 
While Pepe may not be getting the kind of buzz and attention these days that Bored Apes and CryptoPunks are, look no further than this for a sign of Pepe's lasting appeal in the NFT world: In October, a one-of-one Rare Pepe NFT called "Pepenopoulos" (created in 2016) sold at a Sotheby's auction for $3.6 million.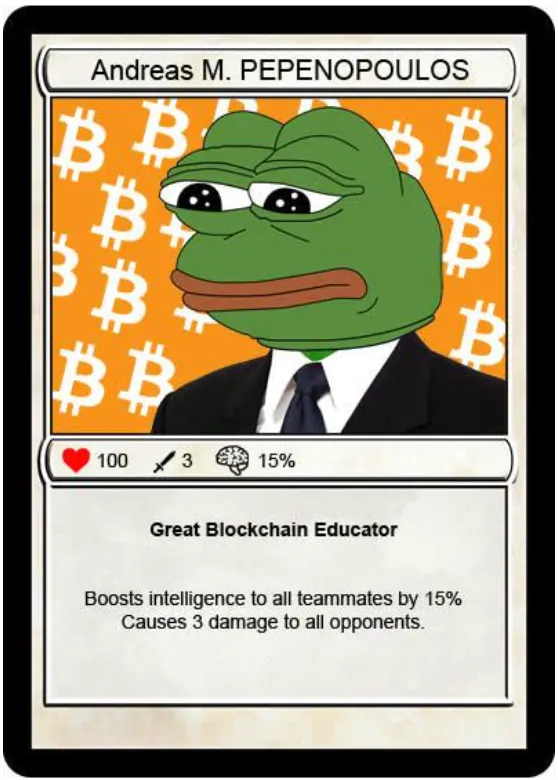 First released as NFTs in 2016 on a peer-to-peer marketplace called Counterparty, Pepe the Frog dates back to 2006, when it appeared in a Matt Furie comic called "Boy's Club." Several years later, due to the Cambrian-like explosion of social media, the character quickly evolved into a standalone meme, gaining popularity on Myspace and 4chan. 
By 2015, variations of the cartoon amphibian, called Rare Pepes, started to emerge with watermarks like "RARE PEPE DO NOT SAVE" to indicate that the artists behind each design had not yet published the meme for public use. That year, a collection of 1,200 rare Pepe images was listed on eBay, reportedly reaching a price of $99,166 before being removed from the site.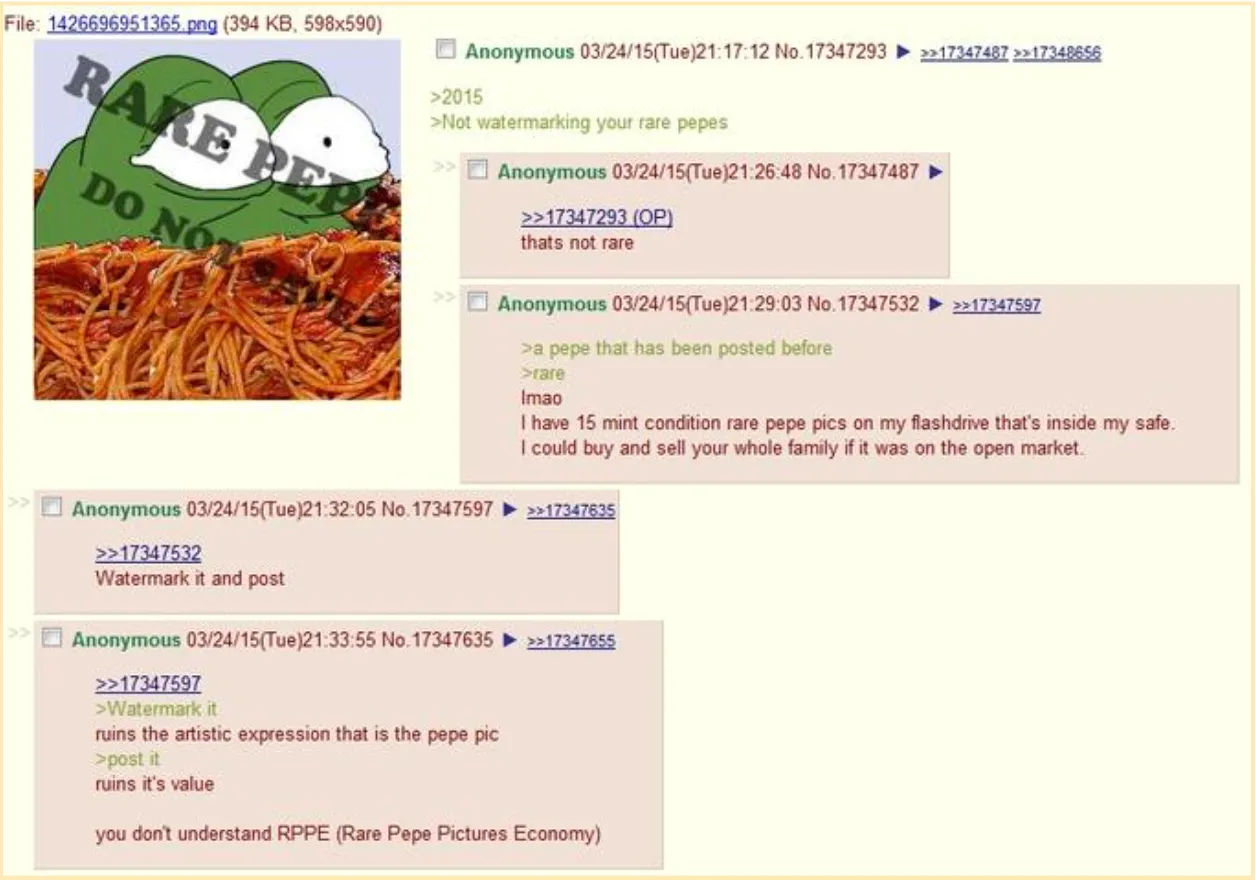 Along with the many obscure and bizarre renditions of Pepe smoking joints or eating animated flying pizzas, designs included the occasional crypto culture satire as seen by a froggy version of the infamous twins from Stanley Kubrick's adaptation of "The Shining," called Winkelpepe.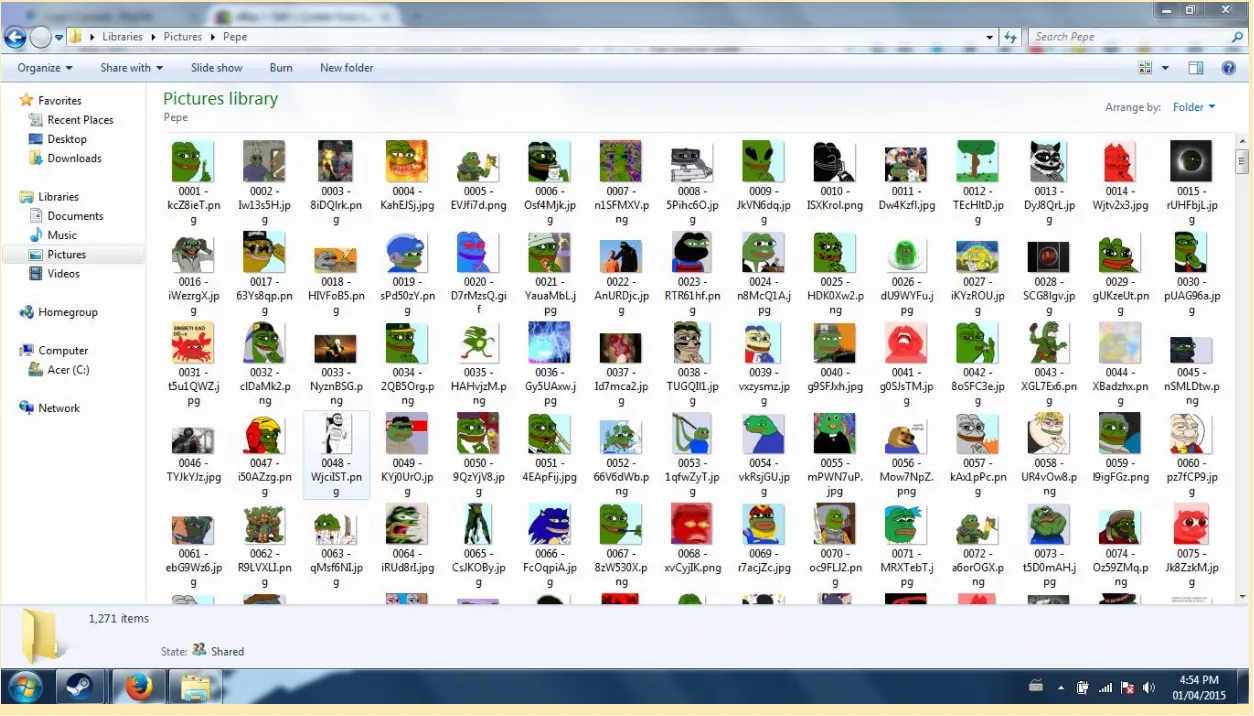 Alt-right appropriation
But Pepe also got dark in 2015, the same year that Donald Trump announced his bid for the presidency, the start of a contentious era in American politics.
Variations of Rare Pepes arose during this time that included links to the alt-right movement with themes like Nazi Germany, Ku Klux Klan, and white power. Despite the relatively innocuous nature of Pepe itself, such associations between the meme and politics solidified even further after Trump won the election. Notable instances included a parody movie poster of "The Expendables" posted on Instagram by Donald Trump Jr. In the image, Pepe stands with Trump, Trump Jr., and other men as a response to Hilary Clinton's comments that Trump's supporters belonged in a "basket of deplorables."
A blog post on Hillary Clinton's website later criticized use of the cartoon, calling it a "symbol associated with white supremacy." However, Trump Jr. denied any knowledge of the frog's dualistic cross-cultural role. 
In a September 2016 interview with Esquire, Matt Furie responded to Pepe's usage as a hate symbol: "It sucks, but I can't control it more than anyone can control frogs on the Internet." Furie's publisher, Fantagraphics Books, also issued a statement condemning the "illegal and repulsive appropriations." 
That month, despite adding Pepe to its hate symbol database, the Anti-Defamation League stated that most instances of Pepe were not used in a hate-related context.
In an op-ed in Time in October 2016, Furie wrote, "I understand that it's out of my control, but in the end, Pepe is whatever you say he is, and I, the creator, say that Pepe is love."
Pepe's progression to NFT
Pepe the Frog and its derivatives, Rare Pepes, transitioned into non-fungible tokens with an appearance on the marketplace Counterparty. Founded in 2014 by Robert Dermody, Adam Krellenstein, and Evan Wagner, Counterparty was built on the openly distributed Bitcoin network and allowed users to create tokenized assets. 
Due to the growing demand for on-chain collectible assets, the first Rare Pepes were mined in block 428,919 on the Bitcoin blockchain, September 2016, long before the term "NFT" was common usage, and actually predating the revered 2017 Ethereum based NFT collections like CryptoPunks by Larva Labs. 
With the progression and increasing market support for Ethereum in 2017, a larger community started to grow around digital collectibles, spurring developers to create more platforms to help catalog and exchange their digital images. In the burgeoning art-centric crypto market, creators could publish their work in the form of digital tokens with a fixed circulation and then issue the art to collectors who then sold, traded, or stored their collections. (And later, in September 2020, the Ethereum Emblem vault would allow traders to wrap early 2016 Rare Pepes inside of an Ethereum ERC-721 token to transfer and sell to Ethereum-compatible wallets.)
Amongst this flurry of activity, which included a growing Rare Pepe telegram chat group, Jason Rosenstein—founder of auction house portion.io—hosted the first live Rare Pepe auction at the inaugural Rare Digital Art Festival, selling a diptych of Salvador Dalí-inspired Pepes.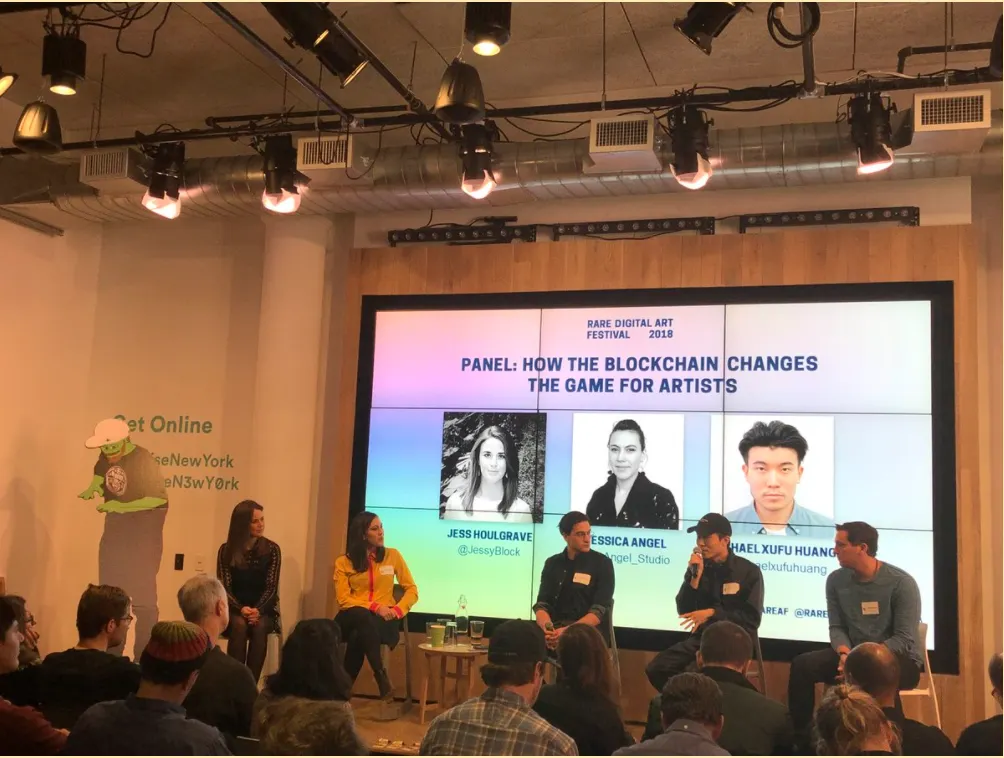 Wallets, cash, cards and documentaries
Once Pepe became an NFT, Pepe crypto applications and content took off.
The Rare Pepe Wallet, created by developer Joe Looney, is an encrypted digital storehouse that traders and collectors on Counterparty can use to buy, sell, gift, and destroy their Rare Pepes. 
The wallet also allows traders and collectors to use PepeCash as a medium of exchange. According to the Rare Pepe directory, PepeCash was created as the currency of the Pepesphere and is similar to other cards in the overarching collection, only with a much larger supply of approximately 700 million in circulation. PepeCash can be bought on the Counterparty DEX (decentralized exchange) or on exchanges like Zaif in Japan and TuxExchange in Canada. 
PepeCash is primarily used to pay fees when submitting Rare Pepes to the directory and into a wallet, but the Rare Pepe community has also integrated PepeCash into games.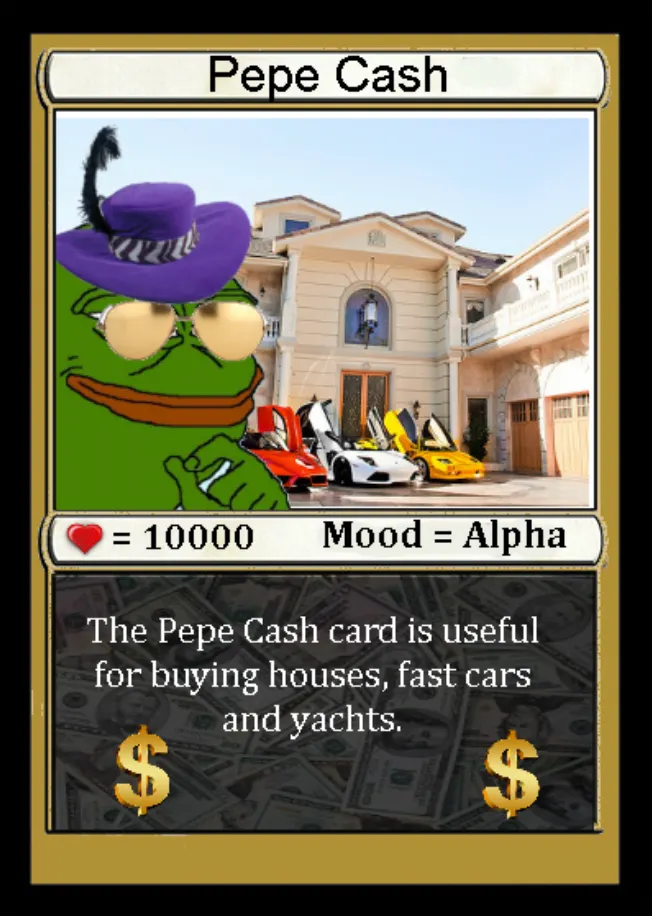 All of this can be, understandably, opaque and intimidating to newcomers. 
Although there are existing resources for first-time Rare Pepe collectors like Rare Pepe Directory, (a catalog of all known Rare Pepes), several enthusiasts in the Pepe community like Matt Garcia have taken to Twitter to help with a cursory buying guide. 
But some buyers didn't need any help, like Peter Kell, who bought a prized one-of-one Homer Pepe in 2018 for $39,000 at the first digital art auction of its kind in NYC, RareAF. While Kell has since said that he was well aware many considered it an outlandish purchase at the time, the emergence and popularity of early collections like CryptoPunks several years later helped Kell to sell his Homer Pepe in March 2021 for $312,000.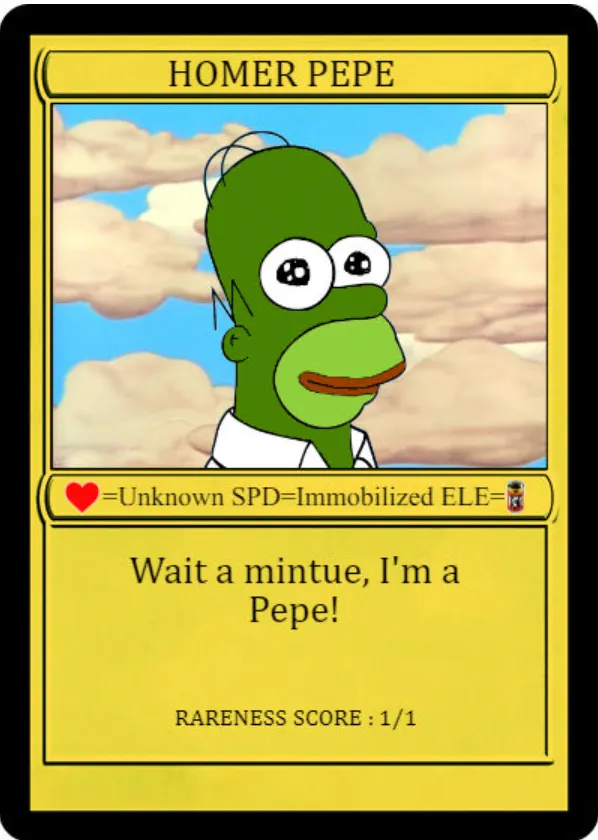 And then there was Pepe's premiere at Sundance.
In 2020 an American documentary film about the meme called "Feels Good Man" premiered at the Sundance Film Festival and won a Special Jury Award for Emerging Filmmaker as well as a research award at the News & Documentary Emmys.
The directorial debut of Arthur Jones, "Feels Good Man" follows Pepe creator Matt Furie as he attempts to reclaim control and redeem Pepe after it was co-opted by members of the alt-right.
Considering the online virality and the legacy of Pepe the Frog in crypto, it was fitting that in October 2021 Matt Furie worked with NFT marketplace chainsaw.fun to introduce the FEELSGOODMAN Rare Pepe card.
In recognition of the longstanding discrepancies between Bitcoin and Ethereum maximalists, the NFT's team of creators released it on both the Bitcoin blockchain (via Xchain) and Ethereum.
Following the announcement, Loonardo Joe Vinci, the pseudonymous creator of the Rare Pepe Wallet, tweeted about the card in an almost romanticized tone, saying: "With that, the Rare Pepe Directory is complete."