In brief
401K participants will be able to allocate up to 5% of their retirement funds to crypto.
Coinbase Institutional is providing the back-end of the investment platform.
Crypto is entering the financial mainstream, but you still can't find it in the US employee retirement funds known as 401K plans. The plans are a workplace benefit used by tens of millions of Americans and help workers invest in stocks and bonds—but not Bitcoin.
That's beginning to change, however, as 401K provider ForUsAll announced on Monday it will let employees add crypto to their portfolios. The offering, which ForUsAll says is the first of its kind, includes Bitcoin and more than 50 other digital tokens, including more exotic ones from the world of decentralized finance (DeFi) such as Algorand and Uniswap.
The crypto assets purchased by employees will be secured and managed by Coinbase Institutional.
In an interview with Decrypt, ForUsAll CEO Jeff Schulte says his firm provides the 401K plan for around 70,000 employees across hundreds of companies. Those include medium size firms as well as mom-and-pop operations with under 10 workers.
If the offering proves popular, it's likely other 401K providers in the U.S.—which include industry giants like Fidelity and Schwab as well as startups like ForUsAll—will follow suit. The ForUsAll offering also reflects how professional crypto products are beginning to become available to a broader segment of Americans.
"When we created our institutional platform our initial focus was making cryptocurrency accessible to institutional investors and high net worth individuals. The next evolution is to broaden our reach, "said Brett Tejpaul, head of Institutional Coverage at Coinbase, in a statement.
As shown below, the ForUsAll website lets plan participants toggle between screens that offer assets like stocks and real estate, as well as the new crypto offering: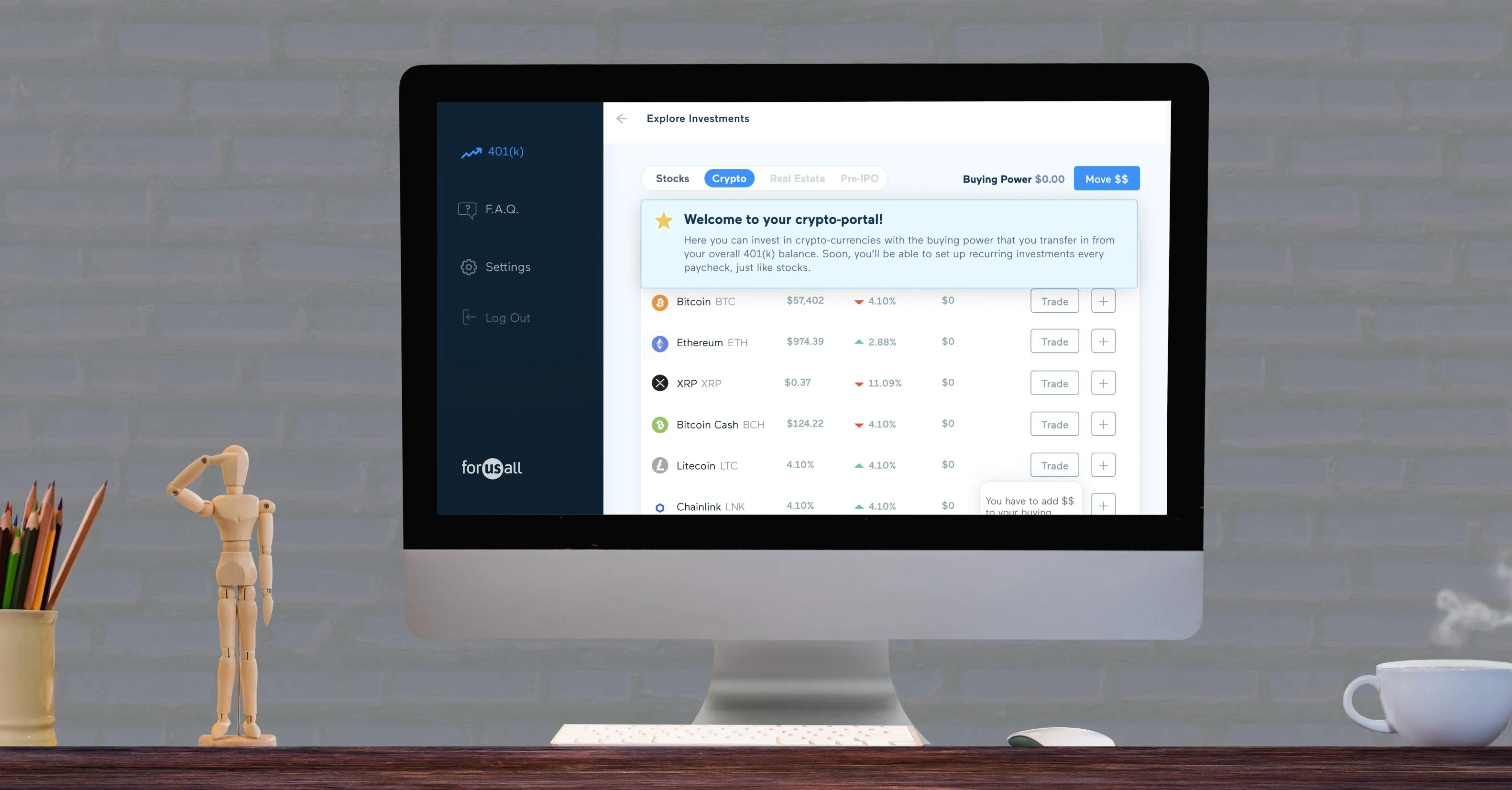 Notably, the offering includes a major guardrail: participating employees can't allocate more than 5% of their retirement funds into crypto. Schulte says this is not a regulatory requirement but instead reflects ForUsAll's advice concerning investments for retirement—advice that recommends allocating the majority of funds to stocks and bonds, and smaller portions to more exotic investments.
Schulte adds that, if an employee's portfolio exceeds 5% crypto as a result of market conditions, they will receive a notification suggesting they rebalance, but will not be obliged by the plan to do so. And significantly, those who do sell to rebalance their portfolio will not incur a tax liability provided they keep their money within the 401K plan.
As for fees, employees who elect to buy crypto will pay a 0.5% charge at time of purchase as well as an annual fee of under 1%.
More broadly, the new 401K crypto offering reflects a recent trend that has seen investors of all stripes seeking out higher yields in the form of so-called "alt-investments." These include crypto but also shares in things like art private companies, which were once available only to very wealthy investors but have since become more accessible thanks in part to new tech-driven financial platforms.
The announcement from ForUsAll and Coinbase also has implications for the larger crypto market. If other 401K providers—which collectively oversee trillions of dollars in assets—come to offer similar products, it could dramatically expand the amount of investment money pouring into crypto and likely drive up prices.