Updated with comments from Bart Stephens and Brock Pierce. 
On Wednesday, Decrypt received an urgent email from Blockchain Capital, one of the largest VC firms in the space and the financier of Augur, Coinbase, Bancor, BitGo, Blockstream, Block.One, among others. Blockchain Capital spokeswoman Joanne Lauer had taken issue with an article we had written, which described EOS co-founder, crypto celebrity and former child star Brock Pierce as one of Blockchain Capital's founders.
She wrote: "In your article, 'Bitcoin became more popular during bear market, new study suggests' you state that Blockchain Capital was 'set up' by Brock Pierce. This is incorrect. Brad and Bart Stephens started the company. Brock came in later and has long since left. By request of our outside counsel, would you please remove the reference to Brock in your article ASAP?"
Really? Pierce didn't found the company?
A cursory glance through the firm's Wikipedia page shows pretty straightforwardly that the firm was "founded in October 2013 by Bart Stephens, Bradford Stephens and Brock Pierce."

But Wikipedia isn't infallible. Perhaps news sites CNBC and Coindesk could corroborate. Coindesk reports that Pierce "helmed" Blockchain Capital and CNBC says he "founded" the firm.

Better yet, an early, archived version of the since dePierced Blockchain Capital website appears to fully confirm it.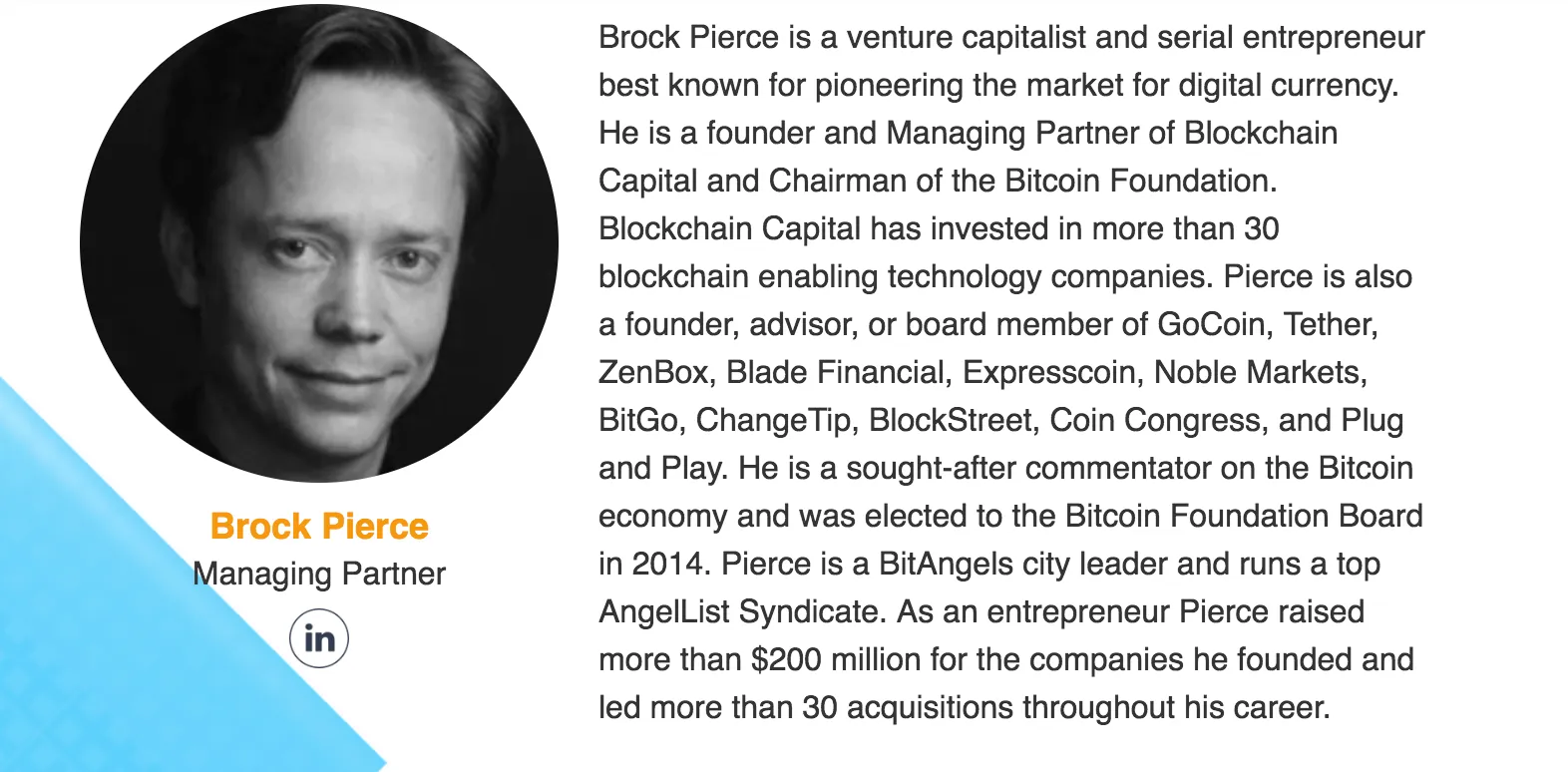 So why is Blockchain Capital trying to distance itself from Pierce? It could be that Pierce, who in 2000 faced several employee-related sexual misconduct lawsuits that were all settled or dismissed, was a blemish on the firm's reputation. Indeed, Pierce resigned from his several roles at EOS development firm Block.one, which he set up under Blockchain Capital's auspices, after comedian John Oliver raised the allegations in his legendary segment on blockchain in March 2018.
An early crypto investor who is familiar with Pierce's behavior said: "Brock's Google history [...] always causes headline risk problems. It's why he starts so many things, accelerates them, then ultimately steps aside. He's playing the hand he's dealt. I don't know that there's acrimony anywhere other than the fact that it sucks for Brock to hear 'we can't have this distraction / baggage' over and over."
A second source said that Pierce had been dropped for his unpredictable behaviour, but that he was still friendly with the founders. "After he put billboards on Times Square"—of the then ICOing EOS—"without [Blockchain Capital's] consent, they swore they'd never do business again with him," said the source. "Brock still has ownership in the funds he worked on, but isn't part of the newer funds, in which [general partner] Spencer Bogart now is a partner".
But Pierce remains "amicable" with the co-founders, the source added.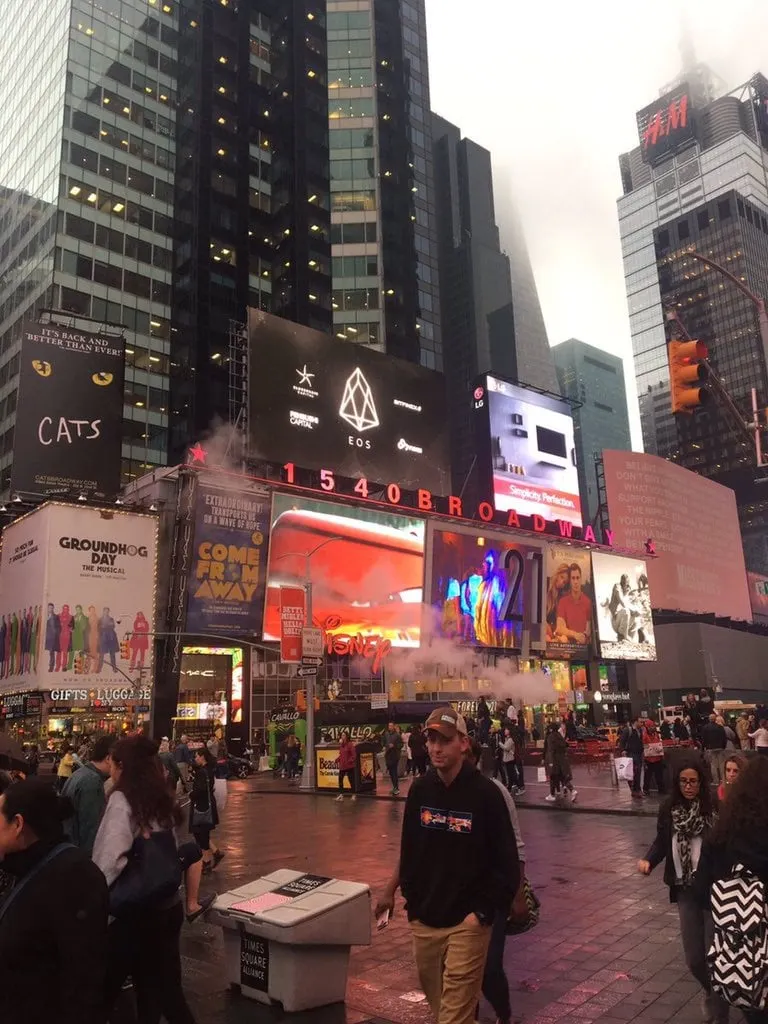 An employee at Blockchain Capital, who wished not to be named, dismissed the notion that the Times Square ad had spurred Pierce's removal. He said the founders were on good terms, attributing Pierce's departure to his serial entrepreneurship. 
"Yes, Brock was involved, in the sense that he's involved in many different efforts," said the source. "But Bart and Brad dedicated themselves full time to building the firm. A lot of hard work and dedication went into building the firm and the vast majority of that came from people other than Brock."
Lauer, the Blockchain Capital spokeswoman, later corroborated this. "Brock was considered a co-founder, after Bart [and] Brad started the firm," she said. "However, he's not been associated with the firm for over two years. He does not represent the firm in any way. Thus, there is no reason to mention him when you are reporting on anything about the firm currently—like the survey."
"If you must include the founders, it would be more accurate to include all three names," she added. "Or you can simply ignore who founded the firm for purposes of your article. It's really not relevant to the topic. "
Noted.
*Update: Bart Stephens confirmed to Decrypt that Pierce was, indeed, a founder. And Pierce himself tweeted in response to this article: "I started the firm, named the firm, brought in my friends as LPs, sourced almost all of the early investments, list goes on and on." (We had reached out to Pierce three times prior to his response, but were only told he would like to get in touch by his PR firm, and that he had unsuccessfully reached out to us in kind.)