In brief
Uniswap's new token, UNI, has logged about $4.7 in trading volume over the last 24 hours.
Uniswap also tops all DeFi protocols in terms of total value locked, at $1.6 billion.
But UNI's market cap is still much smaller than major coins and several DeFi competitors.
It didn't even exist 48 hours ago, but Uniswap's governance token is already the fourth-most-traded token on cryptocurrency exchanges.
According to data from CoinGecko, 24-hour trading volume for UNI stands at $4.7 billion, behind only Tether ($38.9 billion), Bitcoin ($20.7 billion), and Ethereum ($12.7 billion). That means that Uniswap isn't just setting the pace among DeFi platforms, but that it's running with the established players in all of crypto, at least for now.
UNI is decentralized exchange Uniswap's new "governance" token, released on Wednesday in something of a response to competitor/clone SushiSwap, which did all the same things as Uniswap with the added bonus of distributing its own SUSHI token as a reward to network users. Though ostensibly meant to bestow governance privileges to liquidity providers, such tokens have become valuable commodities themselves. Hence, UNI's current trading volumes.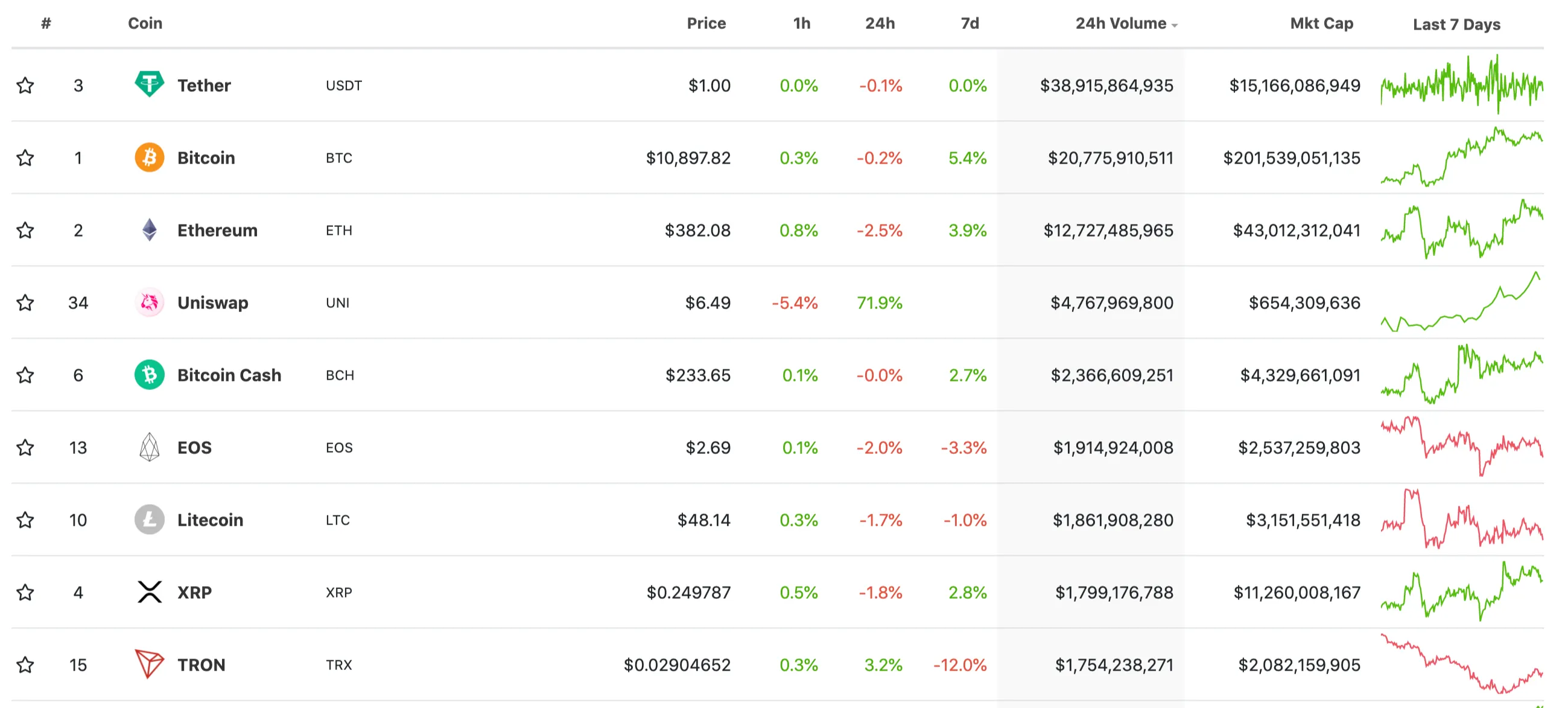 To be certain, some of the initial trading can be explained by the newness of the token, with some people choosing to sell the 400 UNI they received as network participants for $1,200 or more. Yet there have also been plenty of buyers, pushing the price up.
Still, despite its current good fortune, Uniswap's UNI token does not have the established pedigree of Bitcoin, the first cryptocurrency; the market dominance of Tether, the original stablecoin; or the ubiquitousness of Ethereum, the blockchain the UNI token runs on. 
That's evidenced by some of the other numbers. While Bitcoin, Ethereum, and Tether are also top-three in terms of market cap, UNI's market cap is $654 million, which is good enough for a top-40 spot behind DeFi competitors yearn.finance, Aave, and Dai.
But it's not terribly far behind them and given Uniswap's sudden ascendance in other variables, it may well rise through the market cap rankings as well.
Exhibit A? TVL, or total value locked, a measure of the dollar value of all Ether and Ethereum-based tokens a protocol holds in smart contracts. Though a controversial metric, it's widely used as a measuring stick to determine which DeFi products are capturing the most attention at the moment.
Earlier this week, before it launched the UNI, Uniswap had around $750 million in total value locked. Today it has more than double that. Its $1.6 billion was enough to overtake Aave for first-place in the metric, according to DeFi Pulse.
Again, however, historical figures are instructive, although "historical" only means a few months within the fledgling world of decentralized finance. Users have flocked to decentralized applications that allow them to earn interest and protocol tokens in exchange for putting up digital assets as collateral, turning a $690 million market at the start of the year into a $9 billion market today.
Within the volatile DeFi market, Aave has managed to remain remarkably steady, holding a TVL above $1 billion since August 15. Only Maker has been there longer; it initially broke the $1 billion barrier on July 27 and currently ranks third in TVL.
Uniswap's decision to distribute governance tokens has certainly shaken up the young DeFi landscape, but it's much too early to tell whether UNI is a tourist or a permanent resident at the top of the crypto charts.