Digital fashion startup MNTGE launched its initial access pass last December, and then rolled out its first digital apparel drop from designer Sean Wotherspoon in February. But now it's going physical with this week's drop of upcycled vintage jeans that are tied to NFTs.
The Fruits & Veggies jeans drop, which begins Wednesday, will see MNTGE (pronounced "Mintage") release just 100 pairs of vintage Levi's denim jeans that were outfitted with embroidered produce designs by Sean Wotherspoon. The MNTGE co-founder has previously designed apparel for brands like Nike and Adidas, and owns a popular streetwear store.
Each of the 100 total pairs, which span an array of sizes, will sell for $200 to MNTGE Pass owners, or $250 for non-holders once the public sale begins tomorrow after the window for passholders. The Fruits & Veggies drop marks the launch of the MNTGE Market storefront for physical apparel.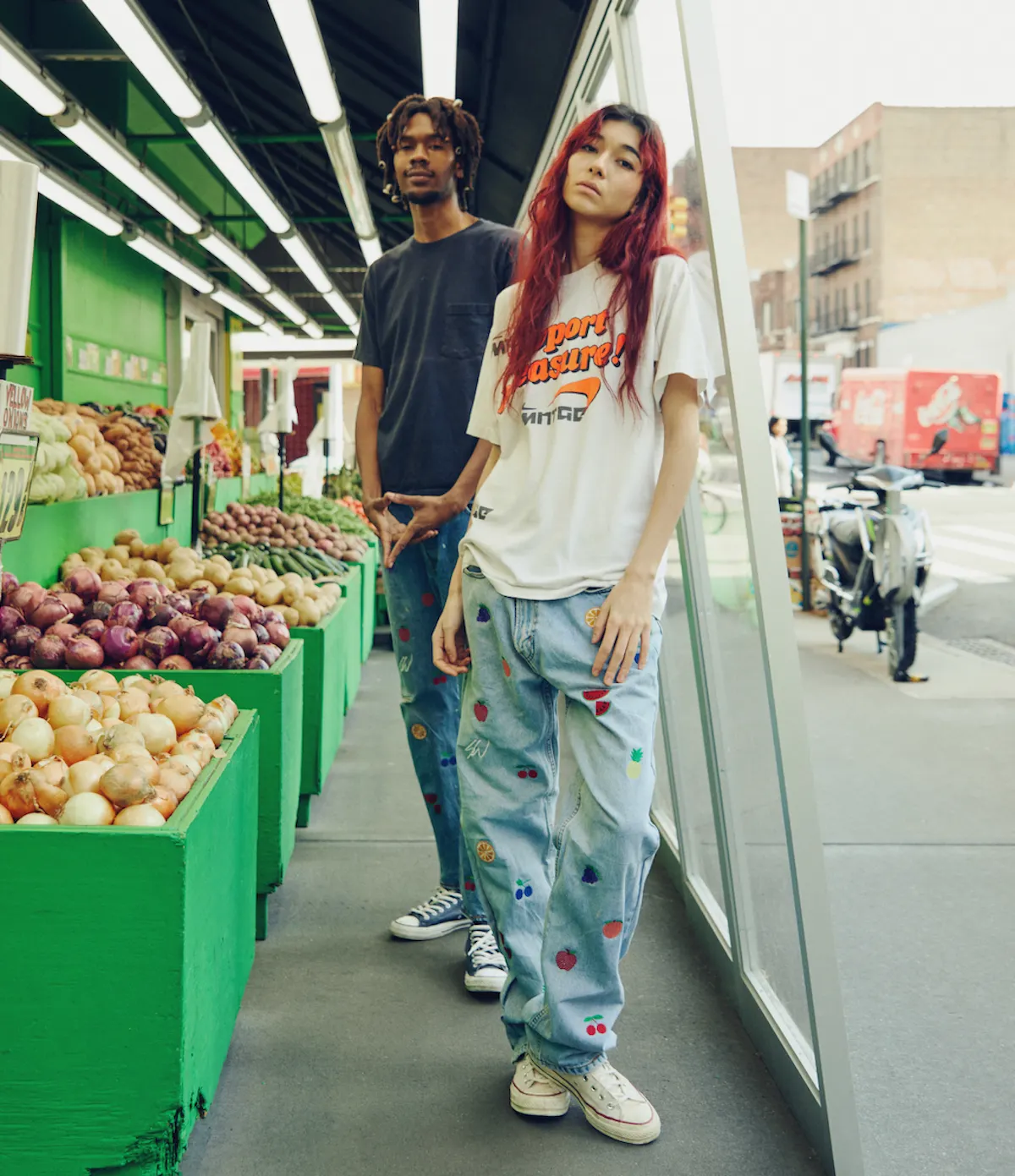 MNTGE co-founder Nick Adler, also rapper Snoop Dogg's business partner, told Decrypt that the startup targeted Web3 natives first to build a core community of collectors. With the debut physical apparel drop now, MNTGE is expanding with a larger goal in mind.
"As we've now kind of established that community," he said, "we really want to be something that can be broad and embraced culturally."
Adler pointed to Wotherspoon's status as a vintage enthusiast and tastemaker—someone who's tapped into youth culture and understands that more and more people want one-of-a-kind apparel. It fits the vibe of NFT culture and unique asset ownership, but is larger than that, too.
"We took a little bit of magic from Sean's thoughts around Fruits & Veggies, and he played with that and came up with this denim," Adler said. "We were really excited right away. We knew that this was something special, so we built our whole brand campaign around that."
There's an NFT component to the jeans, too. Each has an NFC (near-field communication) tag from Web3 startup IYK sewn in behind the Levi's tag—which itself features a sewn MNTGE logo on top—that can be scanned with a smartphone. Doing so lets the owner claim a free NFT minted on Ethereum scaling network Polygon.
That NFT can authenticate the MNTGE apparel as the real deal, but also potentially provide exclusive benefits to holders—whether it's future perks within the MNTGE ecosystem, or perhaps partnerships that provide token-gated access to events or other privileges. Adler mentioned concert festival partnerships as a potential target for the startup.
The perfect go-to market pair!

Our MNTGE FRUITS & VEGGIES JEANS will be available on 🗓️April 26th

w/ MNTGE Pass holders getting priority access and pricing!!! pic.twitter.com/oXOv4BOyKh

— MNTGE (@mntge_io) April 18, 2023
"We want you to walk to music festivals and get playlists. We want you to feel like you have special access or special seating," he said. "We want artists to think, 'I'm going to work with MNTGE because they're thinking about the future, and their products are more like a brand as opposed to a merch item.'"
MNTGE's future will be both digital and physical, Adler said, as the startup prepares the next digital fashion drop with another designer. It's also planning to work with famous Web3 artists to create patches that can be affixed to its customizable digital fashion and is exploring ways to bring its NFT-based apparel into major video games.
"We are continuing to move with culture and move with technology," Adler said.