Bitcoin's Lightning Network may be inching closer toward mainstream adoption, as LDK—one of the main implementations of the network—sets forth on an ambitious new roadmap to improve functionality and accessibility for users.
Lightning Development Kit, also known as LDK, is a project from Bitcoin open-source development entity Spiral, which is funded by Jack Dorsey's Block. LDK plays a significant role on Bitcoin's Lightning Network, and the project's team recently showcased tech improvements during a Twitter Spaces that they plan to work on over the next year.
It's significant given the belief among Bitcoin supporters that if anything takes Bitcoin mainstream, it'll be the Lightning Network, which makes payments cheaper, faster, and more scalable. But though the Lightning Network is functional, it's rough around the edges and is not always easy for new users to send payments.
For one, there's a difference between custodial and non-custodial mobile Lightning wallets. Custodial wallets require the user to trust the wallet provider with the funds, while non-custodial wallets give wallets sole control over their own funds. 
"The Lightning Network is a pretty good user experience today for custodial Lightning Network wallets. However, there remain substantial problems with UX, privacy, and scaling for non-custodial Lightning wallets," Spiral lead Steve Lee told Decrypt.
The LDK roadmap, compiled of a number of features, aims to tackle this problem—with the goal of making the Lightning Network more appealing to mainstream users.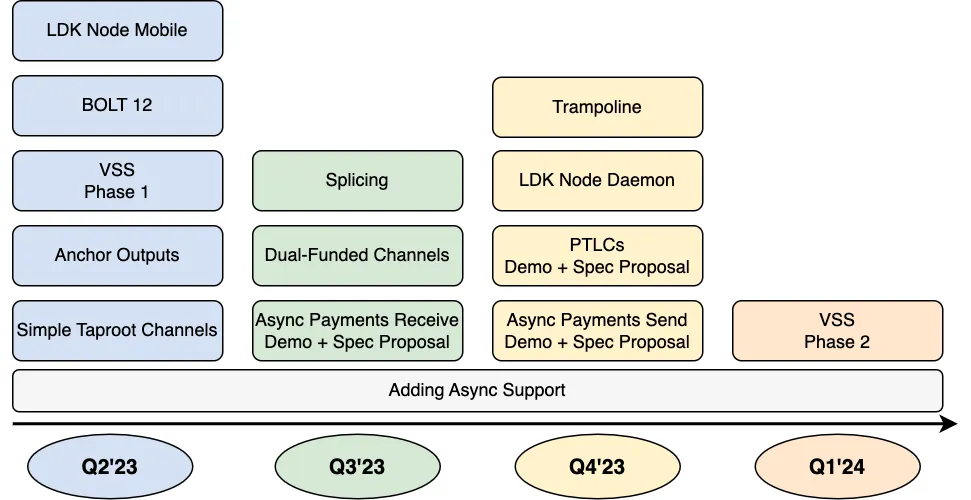 Bitcoin UX improvements
LDK is different from LND and C-lightning, the most-used software implementations of the Lightning Network. The LDK team aims to be more modular and flexible to make developers' lives easier when building (particularly mobile) Lightning wallets and apps. And there are two features on the roadmap, in particular, that are unique to LDK.
Though LDK isn't a node per se, developers can build custom Lightning nodes that suit their needs with it. But the freedom LDK provides is too intimidating for developers who are newer to building on the network, Lee noted in the Twitter spaces. 
A key feature on the roadmap is LDK Node Mobile, which offers an easier set-up for creating a node. Nodes are a key piece of any Lightning app. They connect the app to the rest of the network, allowing users to send and receive payments. Instead of it taking developers days or weeks to build a node with LDK, Lee argues LDK Node will shrink down this time to hours. 
Another unique feature LDK is working on is what's called "async payments." One of the irritating problems mobile users of Lightning face is if they try to send a mobile payment to a friend, the friend needs to be online to receive the payment, otherwise the payment will fail. Hovering over a phone to wait for a payment sort of defeats the purpose of Lightning-speed payments. Users don't have to deal with this issue when sending a Venmo payment, so why the need with Bitcoin?
Spiral developer and long-time Bitcoin contributor Matt Corallo released a proposal for dodging this problem in 2021. And as the LDK roadmap shows, putting async payments into practice is a chief focus for the LDK team over the next year.
Lightning's decentralized future
Then there's a slew of other changes LDK developers are working on that will boost usability of the payment system. If you've been following the whirlwind of Bitcoin and Lightning Network development, you might have heard of some of them, since other implementations are also adopting these changes to make them more widespread.
LDK is working on adopting BOLT 12, a proposal for making it easier to invoice and accept Lightning payments. It's a mishmash of features with uncomfortably technical names (like "onion messages" and "blinded paths"). But the short of it is that BOLT 12 will allow for a better user experience where users can reuse Lightning invoices to accept payments. BOLT 12 also boosts privacy. With "blinded paths" a user can accept payments without revealing their identity. Normally, the sender knows the public key, which is the identity of the node they are sending a payment to. But with blinded paths, this information is shielded.
Another big win is coming support for privacy feature Taproot. In 2021, Taproot was Bitcoin's largest upgrade in years. Slowly, the effects of Taproot are rippling out to Bitcoin projects like Lightning. Taproot will shield Lightning transactions, giving them invisibility so that they look exactly the same as normal Bitcoin transactions. If you look on a block explorer to see all Bitcoin transactions ever made, Lightning transactions usually stand out, since they use a technique called "multi-sig." This can typically be detected since the data will look more complicated than a normal Bitcoin transaction.
That's just scratching the surface of the roadmap. "There is no doubt it is an ambitious roadmap," Lee told Decrypt, noting that time estimates for development projects can be "tricky." But it provides an accurate window into what Lightning Network developers will be working on in the near-term.
Lightning developers have plenty of work ahead of them. Improvements to the network are as sprawling as the network itself. But with every change they make a piece is put into place to transform Bitcoin into an easier to use payment system.