Lee Mullican's physical paintings reside in the permanent collections of the The Museum of Modern Art (MoMA), the Los Angeles County Museum of Art (LACMA), and other prestigious institutions—but the late artist was also an early digital experimenter, and some of his decades-old compositions have been tokenized and released as NFTs.
On Thursday, NFT art platform Feral File released "LeeMullican.PCX," a collection of 12 digital pieces created by Mullican in 1987. Each piece was made using the PC Paintbrush app on an IBM 5170 in the titular file format and saved on 5 ¼-inch floppy discs. Mullican, who passed away in 1998, was 67 years old at the time.
Each NFT has now been minted on the Tezos blockchain, and contains the original PCX file plus a scan of the 35mm photo slide that Mullican took of his computer screen displaying each respective work.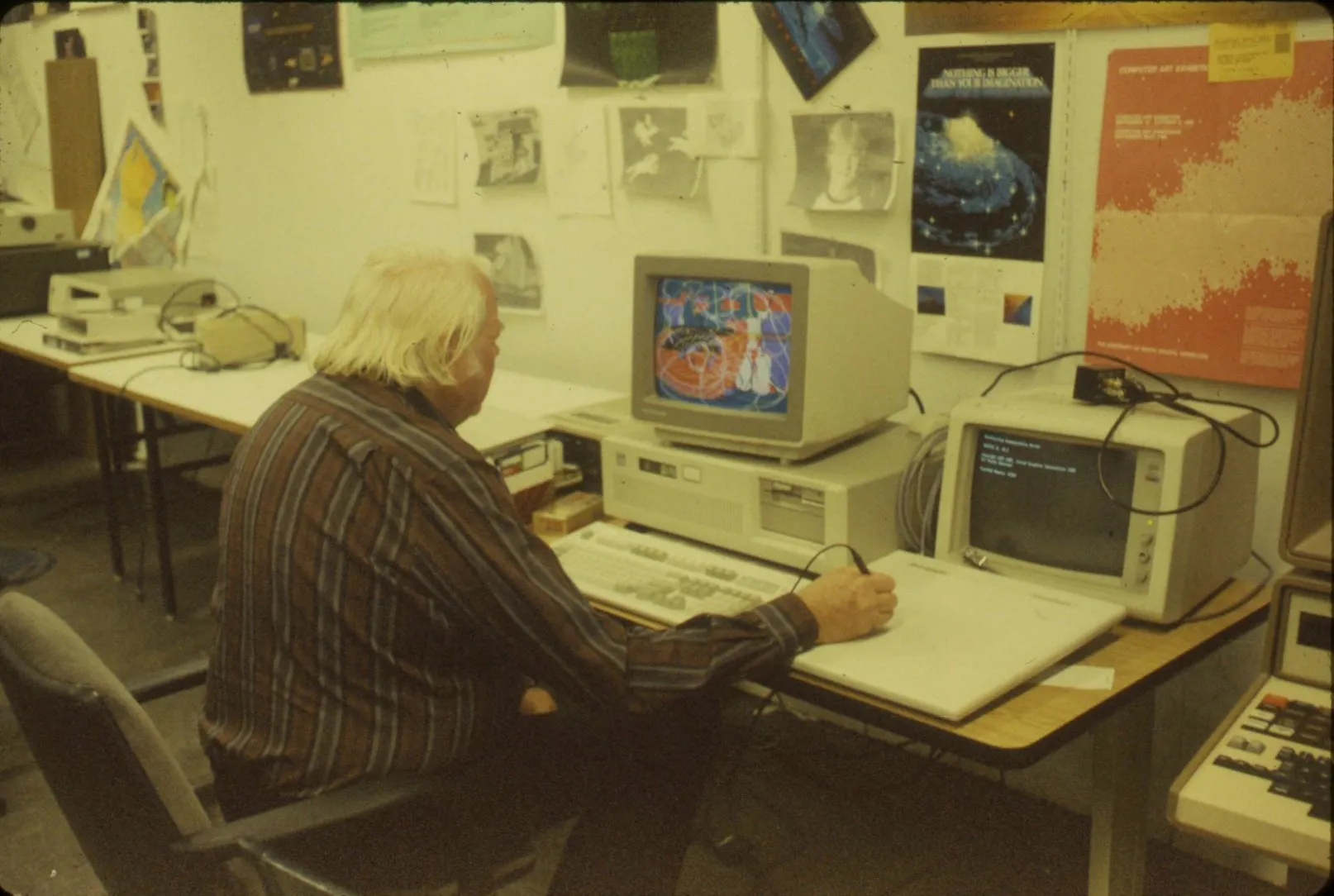 Feral File and the late artist's estate minted 20 editions of each piece for public sale and initially offered them as a bundle ($2,400) on Thursday, with the remaining pieces sold individually for $200 apiece the following day. The primary offering completely sold out on Friday, though some pieces are now listed on secondary marketplace Objkt.
Mullican is best known for his abstract physical work, in which scads of small, rhythmic marks—applied with a palette knife—collectively form a larger composition. He's one of the artists behind the brief Dynaton movement in the 1940s and 1950s, and the Los Angeles Times described him as being "most adept at creating forms of ambiguous temporality."
🧵5/5
"I examined why I thought the computer was for me. Even in my paintings, I was always working with pattern and line and color. I've had a built-in computer ever since I've been doing art." pic.twitter.com/sfvYIhWWK0

— The Estate of Lee Mullican (@LeeMullicanArt) March 21, 2023
He was introduced to digital art in 1986 via UCLA's Advanced Design Research Center's Program for Technology in the Arts, and traded his palette knife for a mouse and stylus. The resulting works, some of which are included in "LeeMullican.PCX," effectively translate his style into the digital realm with the kind of bold coloring you'd expect from late '80s graphic apps.
"I examined why I thought the computer was for me," Mullican is quoted by Feral File as saying. "Even in my paintings, I was always working with pattern and line and color. I've had a built-in computer ever since I've been doing art."
Mullican has been described as a digital art pioneer for exploring the possibilities with relatively simple early art software, helping to lead the way for future generations of digital artists—and the rise of tokenized artwork. "LeeMullican.PCX" curator Anika Meier told Decrypt that the painter faced resistance at the time for even entertaining the concept.
"Lee Mullican was relentlessly experimenting," Meier said. "Back then, there was no market for digital art. He kept going. He kept creating, no matter what people said. He was told that he was wasting his time working with computers. He didn't care."
She added that the growing recognition of the work of Mullican and other digital art pioneers like Herbert W. Franke serves as a signal to modern artists to continue creating and trying new things, regardless of market activity. It's "a reminder to keep experimenting and to keep going, even though there might not be immediate sales or recognition," she said.
"LeeMullican.PCX" is the second NFT collection based on Mullican's early digital work. A previous set, "Computer Joy," was released as Ethereum NFTs through Verisart in late 2021. Those pieces were released in combination with an exhibition of his physical work, as well, while the latest drop is a purely digital offering.
Mullican's own digital work has now been tokenized and released via NFTs, but there's also a throughline from his early experimentations to the modern NFT art world. The tools today are dramatically more powerful and versatile, and there's a thriving market as well. But it's still ultimately about artists finding new and distinctive ways to express themselves.
"The common ground is the excitement for entering new territory and pushing boundaries," Meier told Decrypt. "What has changed is that there aren't just a few pioneers, but many creating art with new technologies—and, by doing so, changing the history of art, bringing digital art to the forefront—creating abstract digital paintings using code as a medium."