In brief
The new ETF consists of a basket of 22 crypto-forward companies.
It will trade on the New York Stock Exchange under the ticker GFOF.
Grayscale Investments, which is best known for offering Bitcoin and other cryptocurrencies in the form of shares, is branching out into the traditional stock market.
On Wednesday Grayscale announced the "Future of Finance" ETF, which will hold a basket of shares consisting of 22 public companies that are deeply committed to cryptocurrency. Those include payment and tech firms like PayPal and Block (formerly Square), as well as pure crypto companies like Coinbase and investing firms like Silvergate Capital.
Here's a breakdown of the ETF's biggest holdings: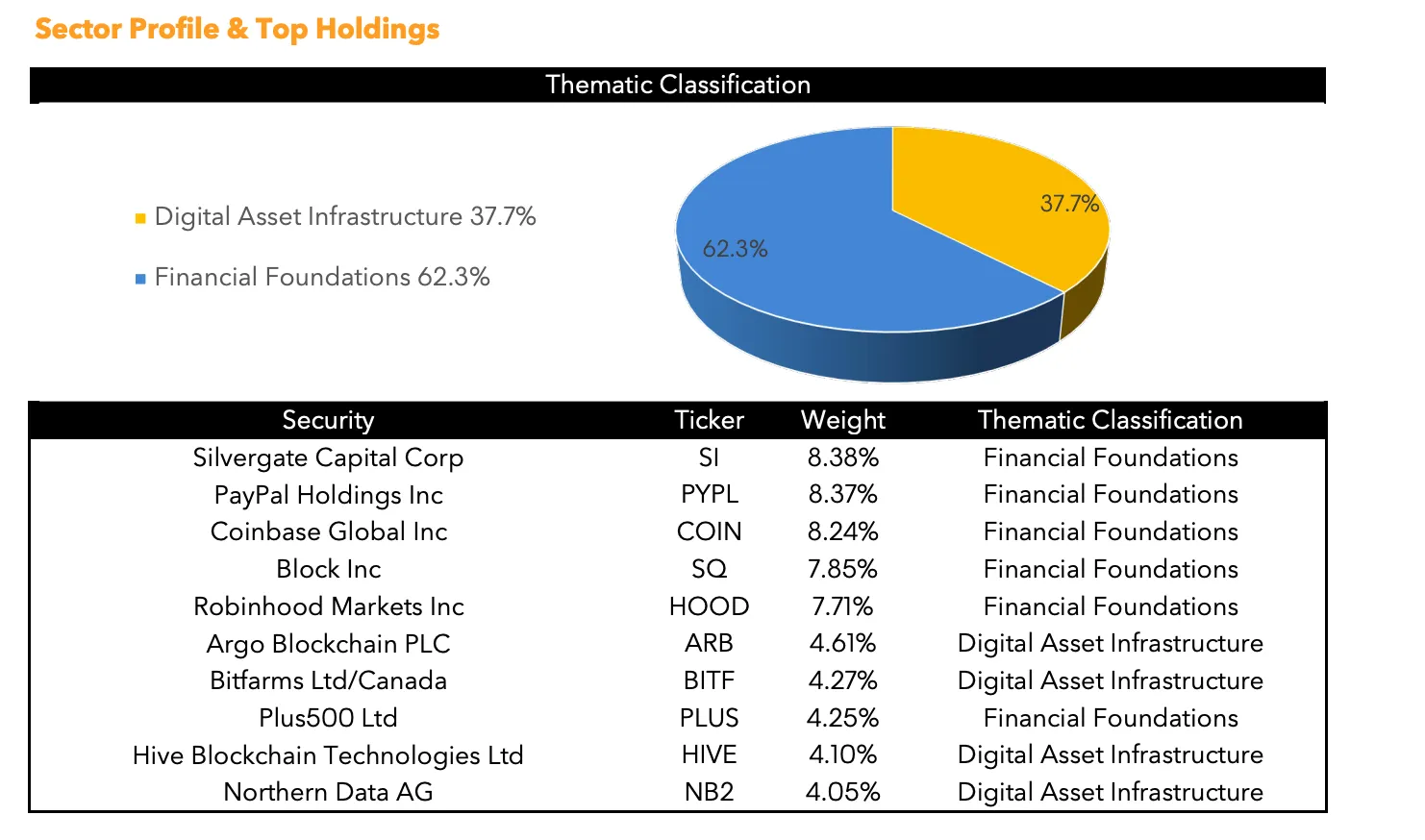 The fund does not contain shares of companies like Tesla or MicroStrategy that simply hold Bitcoin on their balance sheets or accept it as payment, according to a Grayscale spokesperson.
ETFs, short for "exchange-traded funds," are a popular type of investment that let people buy commodities or a basket of shares (such as the S&P 500) in the form of stock for a relatively low management fee. The new Grayscale ETF is thus a way for investors to make a single stock purchase to bet on the performance of a variety of companies heavily committed to the crypto economy.
"While Grayscale has established itself as a global leader in digital currency investing, the future of finance demands a much broader mandate," said Grayscale Investments CEO Michael Sonnenshein.
The new Grayscale ETF will trade on the New York Stock Exchange under the ticker symbol GFOF. A firm called Volt Equity launched a similar product in October.
The launch of the new company-focused ETF comes as Grayscale is locked in a bitter battle with the U.S. Securities and Exchange Commission over the agency's refusal to approve its application for a spot-market Bitcoin ETF. Grayscale has suggested it may sue over the refusal, which it claims is arbitrary, especially as the SEC has approved a more complicated version of Bitcoin ETFs tied to the derivatives market.
All of this has taken a toll on the price of Grayscale's core product, which is shares in a trust that owns billions of dollars' worth of Bitcoin. In theory, the trust shares should closely track the price of Bitcoin but in recent weeks, the trust price has fallen more than 25% below that—a situation that's come about as a result of the SEC's intransigence. The price is expected to bounce back in the event the agency reverses course.