Launched in August, Nouns stands apart from many other Ethereum-based avatar projects with a couple of unique hooks. It produces and auctions just one pixel character NFT per day, which consistently sells for hundreds of thousands of dollars' worth of ETH, and then all of the funds go into a shared treasury that Nouns NFT holders collectively oversee.
Since its debut, Nouns has flourished as it seeks to establish viable open-source intellectual property (IP). Nouns has its own DAO (or decentralized autonomous organization) of owners who vote on proposals for spending its pile of ETH. Plus, it has spawned collector DAOs like SharkDAO as well as derivative projects such as Noundles and 3D Nouns.
With more than $64 million worth of ETH amassed from NFT sales to date, the Nouns DAO's next move could make the project significantly more visible to mainstream audiences.
Nouns plans to work with David Horvath—co-creator (with wife Sun-Min Kim) of the popular, long-running Uglydoll toy, book, and movie brand—to expand Nouns into Hollywood and the traditional IP licensing world via a proposed initiative called Nouns Studio1.
Nouns isn't the first notable NFT project to attempt this move. Larva Labs, the creators of CryptoPunks and Meebits, signed with United Talent Agency (UTA) in August with plans to spread its creations into movies, TV, and more. Bored Ape Yacht Club creators Yuga Labs inked a deal with veteran music exec and tech investor Guy Oseary in October with similar aims.
What differentiates Nouns from those projects in this endeavor is that its creators lay no claim to the brand or randomly-generated characters seen in the NFTs. The project is governed by a Creative Commons CC0 "No Rights Reserved" license, which means anyone can use the Nouns name and characters to create anything. It's in the public domain.
There's Nouns merchandise sold by someone who doesn't own a Nouns NFT, for example, and derivative projects that have generated millions of dollars in trading volume—and that's allowed. In the same sense, anyone could take the Nouns brand and style and create their own movies, books, and toys.
The Nouns creators, or "nounders," like to think of the project as a protocol or application layer for others to build upon. Ultimately, the genuine Nouns are the originals, as proven by the publicly-viewable Ethereum blockchain.
"You don't need copyright anymore," Nouns co-creator punk4156 told Decrypt of such projects. "In the same way that academic citations make the original paper more important, citation of Nouns in whatever form they come in—at least, this is our thesis—will make the originals more important and more valuable."
Nouns is not the only notable CC0 NFT project out there—CrypToadz is another key example, and there's even a derivative NFT project called Noadz that mashes up stylistic elements of both into new NFTs. However, Nouns is the first to try and translate that approach into industries that typically thrive on properties that are either owned or exclusively licensed.
Punk4156 told Decrypt that he expects "a real exploration of the space of possibilities" from brands regarding CC0 IP like Nouns, and that some companies will "understand it and do things that are native to the medium," while others may miss the mark entirely. Others still won't be able to come to terms with the concept of building products around public IP, he said.
"A lot of companies, I think, are going to be unwilling to make the transition—because they rely on this idea that their IP is a monopoly product," said punk4156. "It will be very scary for them to have to compete in the marketplace, where other people can use the same IP that they can."
A Nouns studio
Horvath was enlisted for Nouns Studio1 for two key reasons. He has 20 years of experience working with brands like Disney, Coca-Cola, Sony, Funko, and Random House to create products and content built around original IP. Also, Horvath is deep down the NFT rabbit hole and has released his own NFT artwork with his wife. He's really into Nouns, too.
Horvath first got into NFTs in March and has been immersed in the space since, he told Decrypt. When he first saw Nouns, he thought that it satisfied all of the dimensions of a great IP: It has character-driven storytelling potential plus a unique style that could translate into all sorts of products (e.g., Hello Kitty), and he believes that the boxy glasses seen on every Nouns NFT could turn into an icon like the Nike swoosh.
"In the licensing world, everyone's looking for the next SpongeBob, the next, next, next—because it's the 'next' which keeps our business alive," said Horvath. "When I saw Nouns, I thought: man, if the licensing world could see this through their filter, I know they would resonate with it."
Horvath plans to leverage his connections and experience to begin conversations with brands and companies that he hopes will ultimately want to pursue Nouns projects. Like his collaborator punk4156, Horvath expects resistance, along with uncertainty: Many traditional players may not understand the potential value of NFTs and community-developed IP.
Brands that release NFTs via a platform like VeVe, for example—like Marvel and Star Trek have—are still ultimately licensing out owned properties. There's a "certain level of comfort" to that for brands, Horvath said. As an NFT-native, CC0-built property, Nouns is very different in approach. But film studios have worked with public domain creations before, such as with the "Hotel Transylvania" films and Universal Monsters franchise, Horvath noted.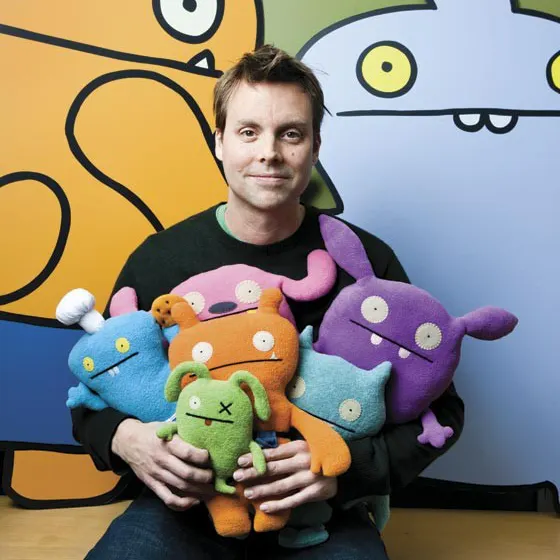 "[I'll be] focusing on getting them familiar with what this new world is, and how those in it seem to be responding to the idea of a complete flip when it comes to rights and what they're accustomed to," he explained.
For now, Nouns Studio1 has been launched as a proposal to Nouns DAO members, but punk4156 said that owners are widely enthusiastic about the idea. "We'll see when it goes up to a vote, but I would be very surprised if it wasn't unanimous," he said.
If the proposal passes, then the first initiative will be to produce a line of Japanese "sofubi," or premium toys produced in small batches. The Nouns DAO will continue the engagement with Horvath quarterly as they potentially move from toys into other endeavors, with that first effort (for Q1 2022) set to cost 24 ETH, or about $102,000 at the current exchange rate. That's a tiny sliver of how much ETH the Nouns DAO is sitting on right now.
Beginning with premium sofubi toys is all about "setting the tone" for what's possible with Nouns projects, Horvath said—to focus on quality over quantity while showing other potential creators how they too can tap into a CC0 NFT property like this.
"When I think about the DAO and the potential for doing good, and for teaching others a similar formula… it's open. You can learn from this and do that on your own," he said. "You could make something entirely new based on this system. I think that's really special, and I think there's something there—big time."