In brief
The secondary market for NFTs is growing, but is typically centered around high-value artists.
Some experts suggest that there are signs of an NFT bubble for mass consumer NFT projects.
Primary sales of NFTs are going through the roof. In the last two months, crypto artists WhIsBe and XCOPY sold NFT artworks for $1 million and $1.9 million respectively. And that's not even mentioning Mike "Beeple" Winkelmann, who made headlines around the world when he sold an NFT for $69 million in the first-ever auction of an entirely digital artwork to be conducted at Christie's.
But for this market to become sustainable (or not be completely wiped out if the NFT bubble pops), there needs to be a healthy secondary market for these NFTs. Looking at NFT marketplaces, however, it's not easy to tell whether these expensive works of digital art are being resold for a profit, or if they're losing their value.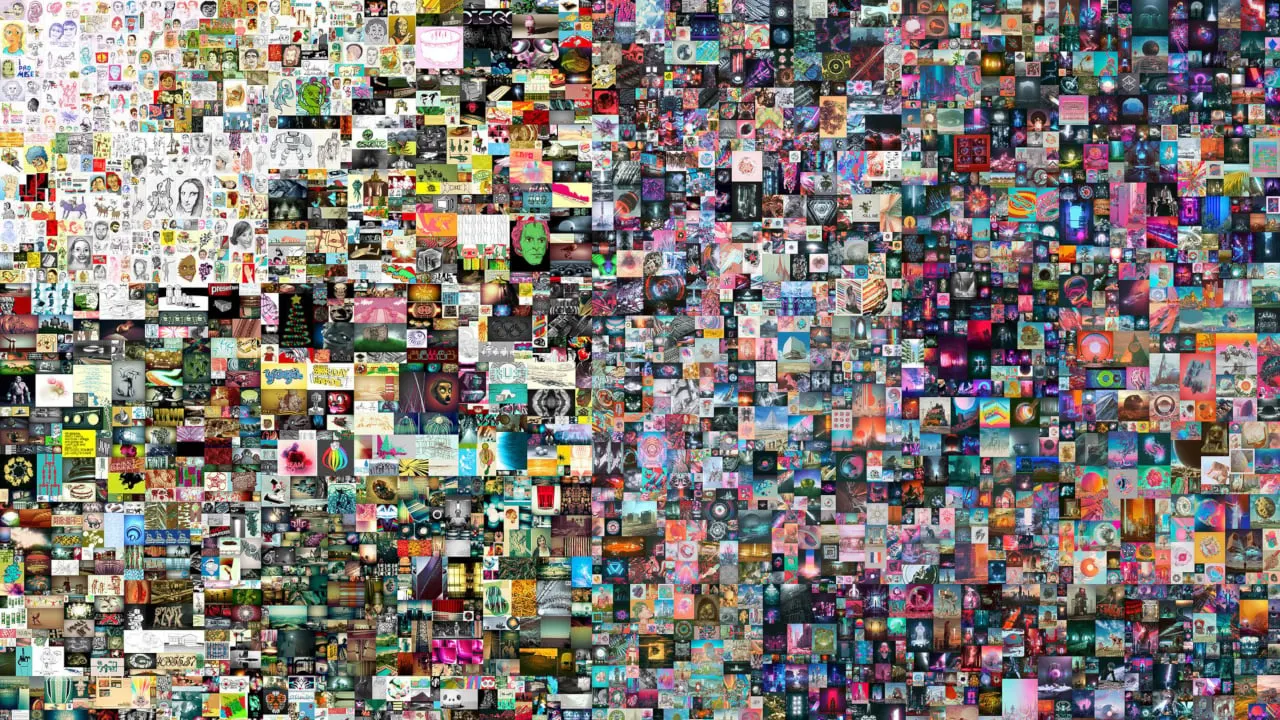 Richard Chen, creator of data tracking site Crypto Art and partner at crypto investment firm 1Confirmation (which invests in NFT art), explains that the secondary market is growing at a rapid pace, but that it's typically centered around high-value artists that are contributing heavily to the crypto space.
He told Decrypt that the average secondary sale price is usually higher than that of primary sales. "Especially for blue-chip artists, like Pak, Hackatal, XCOPY, secondary sales go for way more than primary, just because the floor price gets raised," he said.
"But for kind of the long tail, just the 99% of other artists, it's easily a little bit more than primary," he added.
Flipping NFTs
While many of the NFTs involved in the biggest crypto art sales have not been sold since, or even put up for auction, there have been some successful flips. A piece by XCOPY called Reflection that was sold two weeks ago for $98,500 was resold for $872,500 yesterday to an art collector called "4156," who has been building up a collection of XCOPY work.
Chen acknowledged that there are signs of an NFT bubble for some of the more mass consumer NFT projects, such as basketball trading card collectibles NBA Top Shot or art project Hashmasks, pointing out that a lot of the enthusiasm is dying out. He argued that the real value lies in creators that are fully committed to the crypto space and are experimenting with it.
"I think the smart collectors are realizing that the NFTs that are going to be valuable in the long run from these big-name musicians and athletes, are [from] the ones that really understand NFTs and are going to be back and do more drops," Chen said.
He gave the example of Justin Blau, a DJ known as 3LAU, who has been doing NFT drops since late last year. Last year, he was selling NFTs for hundreds of dollars. On March 28, 3LAU sold a music album as an NFT for $11.6 million.
How the NFT secondary market is evolving
The secondary market for NFTs is certainly growing at a rapid clip. According to Crypto Art, the secondary market has drastically increased in size over the last three months. In March, the secondary market on SuperRare, the second biggest NFT marketplace, accounted for 36% of its NFT sales volume.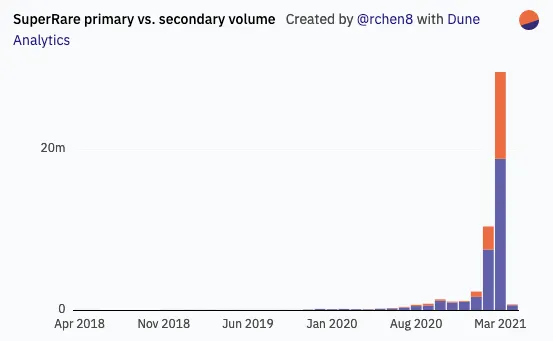 Chen said that the secondary market is growing much faster than the primary market, particularly on SuperRare. "Where it's trending, it seems like the secondary market might outpace primary if the early collectors start reselling all their blue chip stuff," he said.
If the secondary market continues to grow, it can only benefit the NFT ecosystem, by providing more liquidity and encouraging more artists to get involved. Right now it's easier to resell collectibles where there's a large set of tokens because they tend to be cheaper, Chen said. But the bigger the market gets, the greater the number of potential buyers for more expensive works of digital art.