In brief
Element has raised $4.4 million from top tier investors, including Andreessen Horowitz
The startup promises to let ordinary investors earn high yields from lending out their Bitcoin and Ethereum
Element's CEO says this yield to more liquidity in Ethereum lending markets
In the fast growing world of DeFi—short for decentralized finance—it's common to hear of traders earning double digit interest rates when they lend out their crypto. For ordinary investors, who are lucky to earn even a 1% return in traditional financial markets, the prospect of such yields is tantalizing. But unfortunately, for most people, the DeFi world is a highly technical place and the platforms where traders earn those high yields, such as Compound and MakerDAO, are too technical to use.
That's why the arrival of a startup called Element is so intriguing. Backed by blue chip investors and a team of respected DeFI veterans, Element says it has built easy tools for anyone to lend out Bitcoin or Ethereum, and earn the high yields that experienced crypto traders have been collecting. On Wednesday, the startup announced it had raised $4.4 million in a seed round led by Andreessen Horowitz and Placeholder.
DeFi is a catch-all term for a collection of financial products, mostly on the Ethereum network, that allow their users to trade, borrow, and earn interest on cryptocurrency holdings without the need for a third-party intermediary, like a bank.
Element touts itself as the first DeFi firm to offer "fixed yield, not locked yield," and it relies on a novel digital token system to pay out those high yields. Specifically, those who lend Bitcoin (BTC) or Ethereum (ETH) receive tokens that represent a discounted version of those assets, which can eventually be redeemed at full value. For instance, someone who lends 10 ETH might receive 11 units of discounted ETH, which will appreciate to full value over the span of the loan. It's akin to buying a bond for $90 that will be worth $100 in six months.
"Our users will be able to purchase BTC, ETH, and USDC [a stablecoin developed by Coinbase and crypto payments firm Circle] at a discount without being locked into a fixed rate term, allowing easy swapping between the discounted asset and any other base asset at any time," says the company.
While Element is hardly the first to offer high yields on crypto loans—others include Celsius and BlockFi—it may provide the most accessible such service to date.
In an interview with Decrypt, CEO Will Villaneuva explained that Element's protocol allows would-be lenders to avoid the so-called gas fees that can wipe out any gain from the interest they would earn. (Gas fees are essentially the cost of doing business on the Ethereum network. They are paid to miners—the people who help secure the network and validate transactions—and they'll vary depending on how busy the network is at the time.)
This problem will be a familiar one to non-technical crypto owners who seek to access platforms like Compound through wallets like MetaMask or Coinbase Wallet. In attempting to lend crypto in this fashion, the crypto owners will be offered paltry returns—typically under 0.2%—and asked to pay fees beyond what they would earn.
Villaneuva says Element will let non-technical users earn far higher returns and, in doing so, introduce a new wave of liquidity into crypto capital markets. Meanwhile, more sophisticated traders will be able to use Element to further leverage their holdings—specifically, by taking advantage of a feature in the protocol that splits the loan into tokens representing the principal and the interest. Here is an illustration of this works: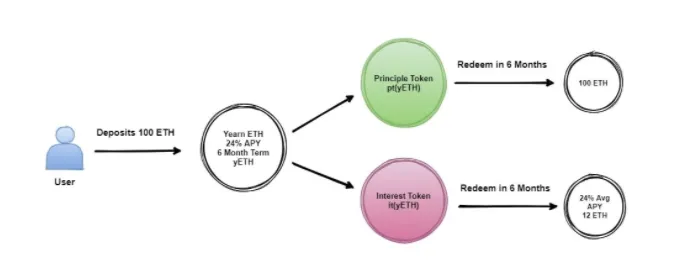 Villaneuva also noted that Element users will be able to use these token mechanisms and earn yield not only through loans, but through taking staking positions in projects like the Eth2 validator, Yearn and Curve.
According to Robert Leshner, the founder of Compound and an investor in Element, the startup could make a significant impact on the crypto industry by simplifying the DeFi investment process. He also noted that Villaneuva, who has worked with Ethereum co-creator Vitalik Buterin, and the rest of the Element team are uniquely positioned to pull this off thanks to their experience at other prominent DeFi platforms.
"The Element team is made up of some of the best folks from Maker, 0x, and Yearn and they understand the landscape of yield optimization better than anyone else. We've been excited to support such a talented team at expanding the yield opportunities in DeFi to staking and beyond," said Leshner to Decrypt.
The launch of Element, which will be available to all crypto investors in the coming weeks, comes at the time when the DeFi industry as a whole is maturing rapidly and becoming much more liquid. In the last month, for instance, the popular DeFi trading platform Uniswap updated its protocol so as to allow market makers to offer rates within specific range—a feature that increasing the efficiency by which their capital is deployed.
Meanwhile, a recent report in Bloomberg explored how the recent crypto bull run has fueled massive demand for Bitcoin borrowing, and led to interest rates as high as 12% since many conventional banks are still wary about accepting crypto as collateral.
Villaneuva predicts that Element will serve to significantly expand the size of the lending market for Ethereum.
One area of potential uncertainty for Element is the ongoing failure of the US government to provide clear tax guidance for crypto. It's unclear for instance whether exchanging Ethereum for discounted Ethereum tokens would amount to a taxable event. Villaneuva, who notes Element has undergone several security audits, says the startup is exploring the issue.
In addition to Leshner, Element's other investors and advisors include the CEO of Aave, Stani Kulechov, and the founder of Consensys, Joe Lubin. (Disclosure: ConsenSys provides funding to an editorially independent Decrypt.)