We've all been there. Scratching our heads, we repeatedly check Etherscan or ETH gas station to calculate the optimal gas fees to farm that tasty food token. Sometimes we get lucky. Other times, we have to come back later and try again.
Getting the gas price right is a daily headache for DeFi farmers. One product that has won many Chinese farmers' hearts is GasNow, an ETH GasPrice forecast system developed by SparkPool, one of the largest Ethereum mining pools based in China. This week's da bing takes a look at GasNow and how a Chinese mining pool came to develop such a tool.
Necessity was its mother
As DeFi started to pick up steam, the dev teams at Sparkpool realized that there was a big gap between quoted gas fees from ETH Gas Station and the actual gas fees they processed on the network. It is a problem for everyone on the network. So on August 12, they decided to hack together a tool to give themselves a more accurate and timely prediction of gas fees.
Five hours later, GasNow was born.
"There are two ways to calculate gas fees," "Uncle Meow," the pseudonymous product leader of Sparkpool, told me. "Most existing solutions calculate gas fees based on historical gas fee data. However, Sparkpool calculates gas fees based on our own mining pool's pending transaction mempool, where all the valid transactions are waiting to be confirmed by the Ethereum network."
The benefit of using pending-transaction data is that such a calculation is predictive rather than retrospective. "Especially during the heyday of yield farming, timing was everything." Uncle Meow told me.
Once the tool was tested, the team decided to release it to the public so everyone who raced to farm DeFi tokens could benefit. Suddenly, GasNow was making a huge splash on crypto Wechat and everyone in the DeFi circle was talking about it. Data shows that GasNow has 500w average API requests per day and 12,000 unique visitors.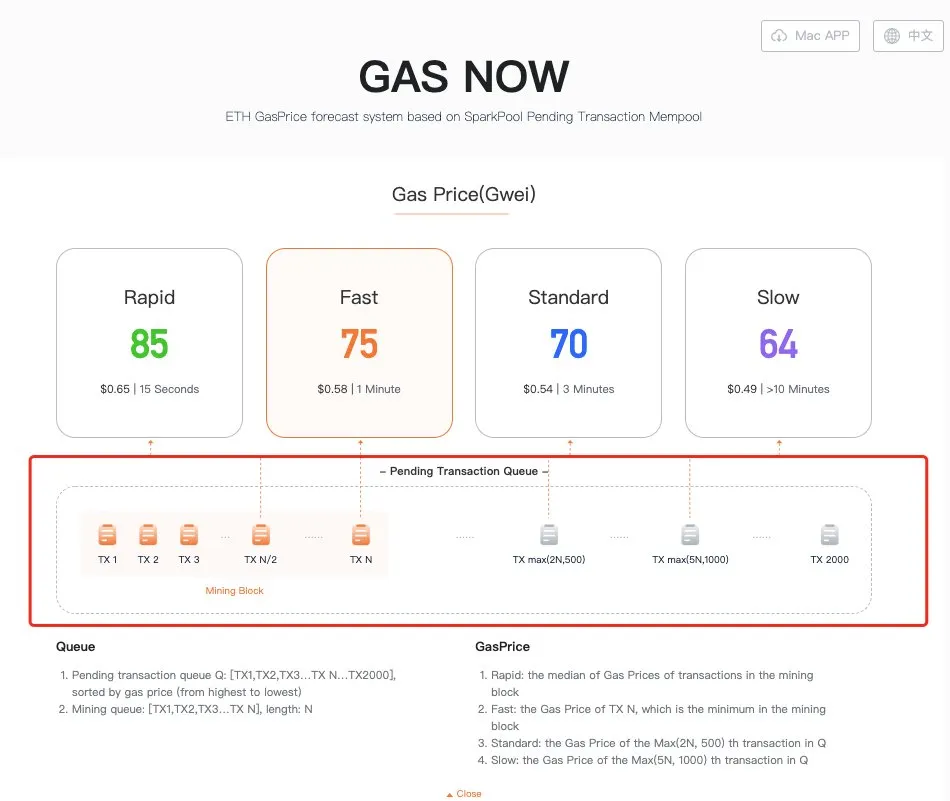 Mining Pool is a natural fit
If miners are the guardians of any blockchain network, mining pools are the guardians of the guardians. They pool miners' computing power to find the next stable block and then distribute the profit based on miners' contribution. Like everyone else, Sparkpool had access to the Ethereum network's pending transaction data across the globe, which is why it only took five hours for the product to go from incubation to launch.
"We decided to release GasNow to the public because we believe that a more accurate gas fee would benefit the entire network. We, as mining pools, are inherently neutral and GasNow does not interfere with our existing business model," Uncle Meow said.
Indeed, if we look at the purpose of any mining pool, their mission is to attract more hashrate to the network, while providing stable, fair and transparent reward distribution. Providing the most accurate gas fees to users is aligned with that purpose.
Going forward
GasNow is free and will be free for a while to the public. Chinese crypto wallets such as imToken, MYKEY, MathWallet, TokenPocket have already integrated GasNow.
Challenges also exist. The team has been using the past month to fine-tune the accuracy of pending data queues. In addition, the majority of GasNow's users are based in mainland China but an increasing number of users from abroad are starting to use it. Making sure that there's a minimum delay of those foreign visits is a priority on its agenda.
GasNow is a fresh breath of air when the whole crypto world is forking DeFi tokens. Communities like Uncle Meow's team, despite toiling under a centralized entity, show us that the spirit of innovation still remains in the crypto world.
Top 3 other things that happened in China last week
#1. Another wave of OTC crackdowns
China's over-the-counter (OTC) crypto traders have been under attack left, right, and center recently. Back in April, WeChat Pay, the wallet feature of Tencent's WeChat, dropped its support for fiat-to-crypto onramps via OTC trading desks. Such a ban prevents many retail investors from buying crypto within the comfort of their superapps.
On September 22, a number of China's major banks joined the anti-OTC force, blacklisting many OTC dealers and blocking them from opening new accounts within five years. The motive behind such an attack is China Central Bank's determination to crack down on money laundering.
According to Caixin, the PBoC issued more than $53 million in penalties for money-laundering violations, surpassing 2019's total amount. Afraid of receiving fines or other forms of punishment, financial institutes have tightened their grip and prefer to blacklist the innocent rather than letting the guilty go free.
The biggest potential victim of the OTC crackdown could be Huobi, the largest OTC trading platform in China. But since the government is primarily targeting OTC trading desks suspected of money laundering, Huobi has time to roll out a PR campaign or a lobbying group to legitimize its business.
#2: Chinese state media glowingly reports on crypto as an asset class
While Chinese banks are cracking down on OTC traders, China's Xinhua News, the country's official mouthpiece, published an article on September 23 citing data from Bloomberg that cryptocurrencies are the best performing asset class in the world.
Soon after, Chinese Central Television ( CCTV ) aired a feature on the surge of crypto as an asset class. The broadcast cited the surge of DeFi and claimed that a weakening US dollar contributed to the rise of the crypto asset class.
This might seem insignificant since Chinese state media have been reporting on and off about crypto. However, it is significant since the government news outlet rarely talks about crypto as an asset class. (However blockchain, as you probably know, is legitimate and extolled by the authorities as a technical advancement in China.)
So when crypto is cited favorably as an asset class, it would seem to encourage people to either purchase or even—horrors!—speculate.
One possible justification of this article is the government's looser control over crypto as they plan to launch China's digital yuan. In order to familiarize the public with the concept of digital currency, it might not be a terrible idea to mention the whole asset class.
#3. Bitcoin mining difficulties hit new high
Bitcoin mining difficulty has risen 40% since January 2020. And that's not good news for China's miners, especially those from Sichuan province where the looming dry season signals the end of cheap abundant electricity. Reports show that there will be a 80% reduction of power supply in Sichuan post-October.
For the Sichuan miners, the options are few. They can either shut down their machines, or migrate elsewhere. Regardless, it's going to be a long harsh winter for the miners.
Do you know?
"财富密码," which literally means "wealth code," is the Chinese equivalent of alpha. All over Wechat, people are asking where is the next DeFi "wealth code" so people can start liquidity mining before everyone else jumps in.