A week after its stablecoin briefly lost its 1:1 peg with the U.S. Dollar, Tether's Q1 2022 assurance report shows it has reduced the commercial paper in its USDT reserves by 16.8%.
As of March 31, Tether 's $82 billion reserves were 86% cash and cash equivalents, the rest includes $4 billion in corporate bonds, $3 billion secured loans, and $5 billion other investments like cryptocurrencies, according to the report. 
The cash and cash equivalent portion consisted of 52% U.S. Treasury bonds, 37% commercial paper, and the rest in money market funds and actual cash deposits.
The report itself, which provides details on the reserves through March 31, shows a 17% reduction in the company's holdings of commercial paper since the end of 2021.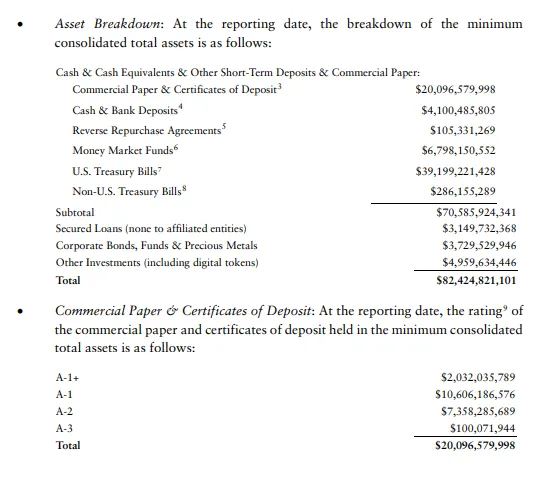 That means it now accounts for $20 billion of the reserves backing USDT.
Commercial paper is unsecured, short-term debt issued by a corporation. In an accompanying press release, Paulo Ardoino, Tether's chief technology officer, said the company had made even more progress since then.
"In fact, since April 1, 2022, Tether has seen a further reduction of 20% in commercial paper which we will reflect in the  Q2 2022 report," he said in the press release. "As Tether's growth in the market continues to validate the business, we are pleased to share attestations now, and in the future, as part of our ongoing commitment to transparency."
Tether's cash and commercial paper holdings
This time last year, only about 3% of Tether's supply was backed by actual cash, despite previous claims by the company that it was 100% backed by cash.
Since then, Tether has been under significant pressure to up its cash and reduce the portion of commercial paper in its reserves. 
In September 2021, when Chinese real estate developers Evergrande and Kaisa were at risk of missing a U.S. dollar bond payment, commercial paper made up $31 billion of the company's $69 billion reserves. 
Although Tether has not disclosed which companies issued its commercial paper, it's repeatedly drawn attention to the fact that it represents a shrinking portion of its reserves.
The latest report includes beefed-up language and disclaimers from MHA Cayman, a Cayman Island-based accounting and audit firm, that their assessment does account for turbulent market conditions.
"The valuation of the assets of [Tether and its subsidiaries] is based on normal trading conditions and does not reflect unexpected and extraordinary market conditions, or the case of key custodians or counterparties experiencing substantial illiquidity, which may result in delayed realizable values," the firm wrote. "No provision for expected credit losses was identified by management at the reporting date."