OpenSea, a popular marketplace for non-fungible tokens (NFTs), has recorded a new all-time high in monthly Ethereum trading volume, soaring past the $3.5 billion mark, according to data from Dune Analytics.
With two more weeks to go before the end of the month, OpenSea trading volume has now surpassed both the previous all-time of $3.42 billion recorded in August last year and the $3.24 billion in sales in December.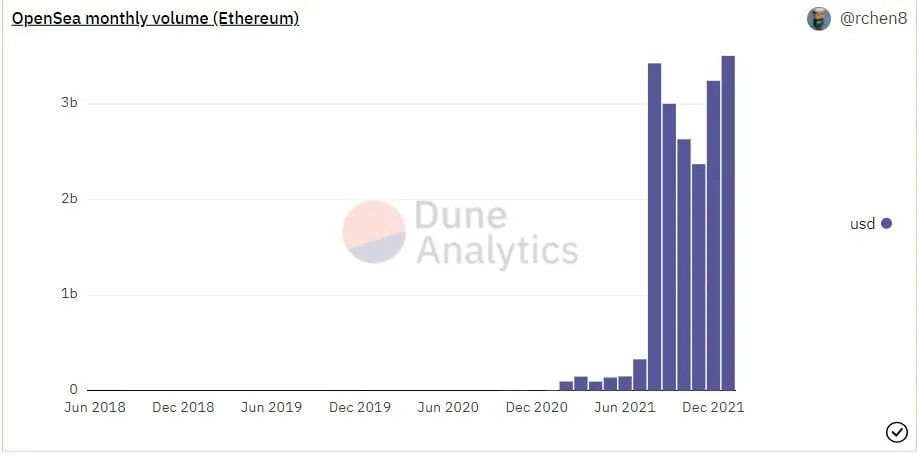 OpenSea's January trading volume has topped $169 million each day so far, with the platform's largest single-day volume of $261 million recorded on January 9.
NFTs are cryptographically unique digital tokens providing proof of ownership for a wide range of tangible items that can be stored digitally and have a variety of use cases, including artwork, digital collectibles, music, and items in video games.
More competition in the NFT space
The latest boom in activity on OpenSea, the industry's leading NFT marketplace, comes amid the larger crypto market stagnating in recent weeks, with Bitcoin down 7.5% since the start of the year.
Ethereum, the second-largest cryptocurrency by market cap, is down 14.6% over the past two weeks, trading at $3,275 by press time, data from CoinGecko shows.
Bored Ape Yacht Club, which has an impressive number of celebrity owners, remains the most popular NFT collection on OpenSea in terms of trading volume, with 14,306 ETH (nearly $47 million in current prices) traded in the last 24 hours.
Earlier this month, OpenSea announced a $300 million Series C funding round led by venture capital firms Paradigm and Coatue. The latest financing brought the company's valuation to $13.3 billion, with the new capital to be used for new product development and expanding the team.
However, the competition in the sector is heating up, with new entrants hot on OpenSea's heels.
According to Dune Analytics, one such rival is LooksRare, a new NFT marketplace launched earlier this month, which is already beating OpenSea in terms of trading volumes.
It remains to be seen, however, how this competition plays out in the long term. Early reports indicate that LooksRare is brimming with wash trading to manipulate the platform's token-based rewards system.