In brief
LooksRare is a new Ethereum NFT marketplace that uses a token incentive model.
Trading volume has soared, but the platform is currently overrun by wash trading.
The NFT market got a jolt this week when surprise new entrant LooksRare started piling up massive Ethereum trading volume numbers. But as trading rises on the OpenSea rival, it has become clear that some traders are manipulating LooksRare's token-based rewards system via a form of wash trading—and the platform doesn't appear to mind.
LooksRare is built around the LOOKS token, which the platform is airdropping to 185,000 wallets of eligible OpenSea users to try and lure them over to the platform. The platform also pays out its daily amassed transaction fees to all users who stake the LOOKS token in the form of Wrapped Ethereum (WETH).
On top of that, LooksRare also has a stash of LOOKS tokens that it will distribute daily to users who trade NFTs in select, verified collections—including the Bored Ape Yacht Club and Doodles. At a current price of $4.23 per token, the marketplace is giving away more than $12.1 million worth of LOOKS tokens each day, although the tally will shrink over the course of the next year.
For now, however, some traders appear eager to manipulate the rewards model. Over the course of the last day, LooksRare has seen numerous NFT trades that go back and forth between the same two wallets, including a Meebits NFT that sold for about $50 million worth of WETH each time. That's $100 million worth of trading volume in two transactions.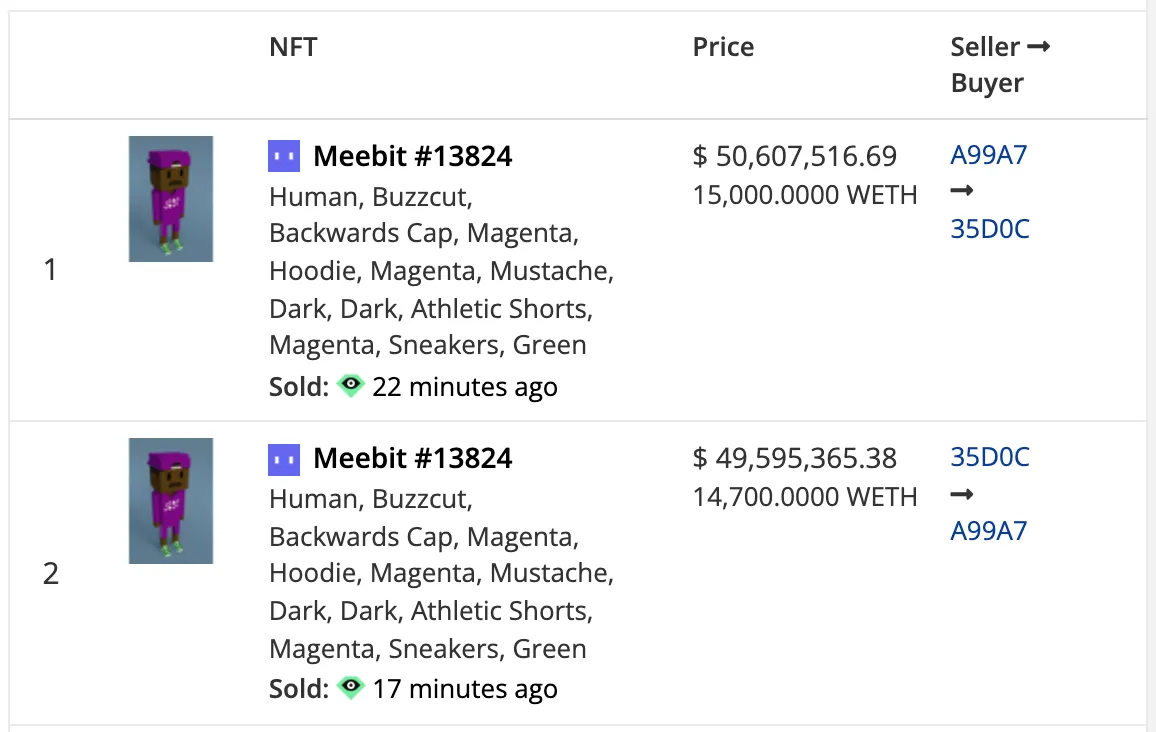 Dozens of other Loot and Meebits NFTs have sold for about $3 million worth of WETH apiece in numerous back-and-forth transactions, as seen on the top NFT sales list at CryptoSlam. By contrast, the average sale price of a Meebits NFT on leading marketplace OpenSea over the last week was about 4.1 ETH ($13,800 at today's value), while Loot NFTs sold for an average of under 2.2 ETH ($7,400) each.
It's a form of wash trading—that is, manipulating the market by making it look like there's more activity than there would be organically. Wash trading can be used to boost demand for a financial asset or to hide ill-gotten gains from illicit activities, for example. Critics often accuse the NFT market of harboring widespread wash trading and money laundering.
In this case, the wash trading is apparently being done to significantly boost the potential share of trading rewards that users receive for buying and selling NFTs on the site. Traders still have to pay the 2% transaction fee, as well as standard Ethereum gas fees (network transaction costs), but Meebits and Loot are both collections that do not charge creator royalties on top of those fees.
$LOOKS Day 1 trading rewards have been distributed.

Active LOOKS stakers are now earning WETH every block from the previous period's trading fees.

The trading rewards calculation period for day 2 is live and will end at 00:00am UTC tomorrow.

👀💎 https://t.co/xLrd3PKRKX pic.twitter.com/JlTRze1nua

— LooksRare 👀💎 - NFT Marketplace (@LooksRareNFT) January 12, 2022
In other words, traders aiming to manipulate LooksRare's rewards system are betting that the rewards they receive in LOOKS tokens and WETH will be more valuable than the LooksRare transaction fees and Ethereum gas fees they're spending in the process.
LooksRare's team appears indifferent to the manipulation tactics—and arguably may be encouraging it.
LooksRare has not officially commented on it via its Twitter account or Discord server announcements, but it retweeted a thread in which NFT collector dingaling, apparently a LooksRare seed investor, says the wash trading is happening "by design... probably" and calls it "genius." LooksRare retweeted the thread again this morning, simply adding "Discuss."
Decrypt reached out to LooksRare for comment on Tuesday and did not hear back.
LooksRare's existing website documents suggest that its marketplace model makes wash trading tactics "extremely unprofitable" due to fees, but that hasn't stopped some traders from brazenly selling NFTs back and forth from their controlled wallets to try to game the system.
Muddied data
Wash trading is dramatically increasing the amount of total trading volume taking place on LooksRare. Dune Analytics reports $377 million worth of Ethereum trading volume on LooksRare so far today, following $325 million yesterday. Compare that to OpenSea, which notched $176 million in trading volume yesterday, and sits at $102 million so far today.
Such wash trading tactics to manipulate token rewards distribution may not be illegal, but it's distorting the data coming out of the marketplace. LooksRare can tout figures that show significantly higher trading volume than OpenSea, but when a bulk of the top transactions appear to have been executed purely to game the system, the data holds little value.
Furthermore, LooksRare allowing such tactics—letting users sell the same NFTs back and forth for prices thousands of times higher than the market average—impacts the level of rewards that other users on the platform receive. Again, however, LooksRare has given no indication that it will attempt to punish or curb the wash trading behavior.
Valuable rewards and surging trading volume may prove to be beneficial short-term marketing for LooksRare, but it remains to be seen whether the LOOKS token will maintain or grow its value over time—and whether users will hold onto it rather than dump and cash out profits.
What's more, amid inflated trading numbers, is LooksRare really stealing thunder from OpenSea? Time will tell on that front, although OpenSea did see a drop-off of daily Ethereum trading volume from $261 million on Sunday to $169 million on Monday and $176 million Tuesday. OpenSea is still on track for a record-setting month of NFT trading volume at nearly $2.45 billion so far in January, compared to last August's record of $3.4 billion.
CryptoSlam, a leading blockchain analytics platform, tells Decrypt that it is evaluating the flow of on-chain data from LooksRare and may ultimately have to change how it is categorized.
"We're closely monitoring the rise of LooksRare and are actively considering how to best handle these types of transactions while getting feedback from the community," said CryptoSlam founder and CEO, Randy Wasinger. "In the short-term, we aren't removing any transactions as we feel the inflated Meebits, Loot, and other sales volume figures are clearly a huge story, and our data is giving full transparency into what on-chain activity is occurring."
"If these wash trades continue to occur in the longer term," he added, "we'll likely need to report them separately in order to maintain apples-to-apples comparisons between projects, while still providing full transparency into what's occurring on-chain."