In brief
A user has transferred 30,000 WETH, worth roughly $11.4 million, in a single transaction, to new DeFi protocol Yam.
The platform allows users to stake several DeFi assets and earn YAM governance token in exchange.
Just one day after its launch, Yam users have already staked nearly $400 million worth of crypto.
A user has transferred 30,000 Wrapped Ethereum (WETH), worth roughly $11,4 million, in a single transaction to the experimental—and unaudited—decentralized finance (DeFi) protocol Yam today, according to analytics platform Nansen.
Yam is an experimental DeFi yield farming protocol that is "mashing up some of the most exciting innovations in programmable money and governance," its developers explained in a Medium post. The platform rewards those who stake tokens on the network in its native YAM tokens.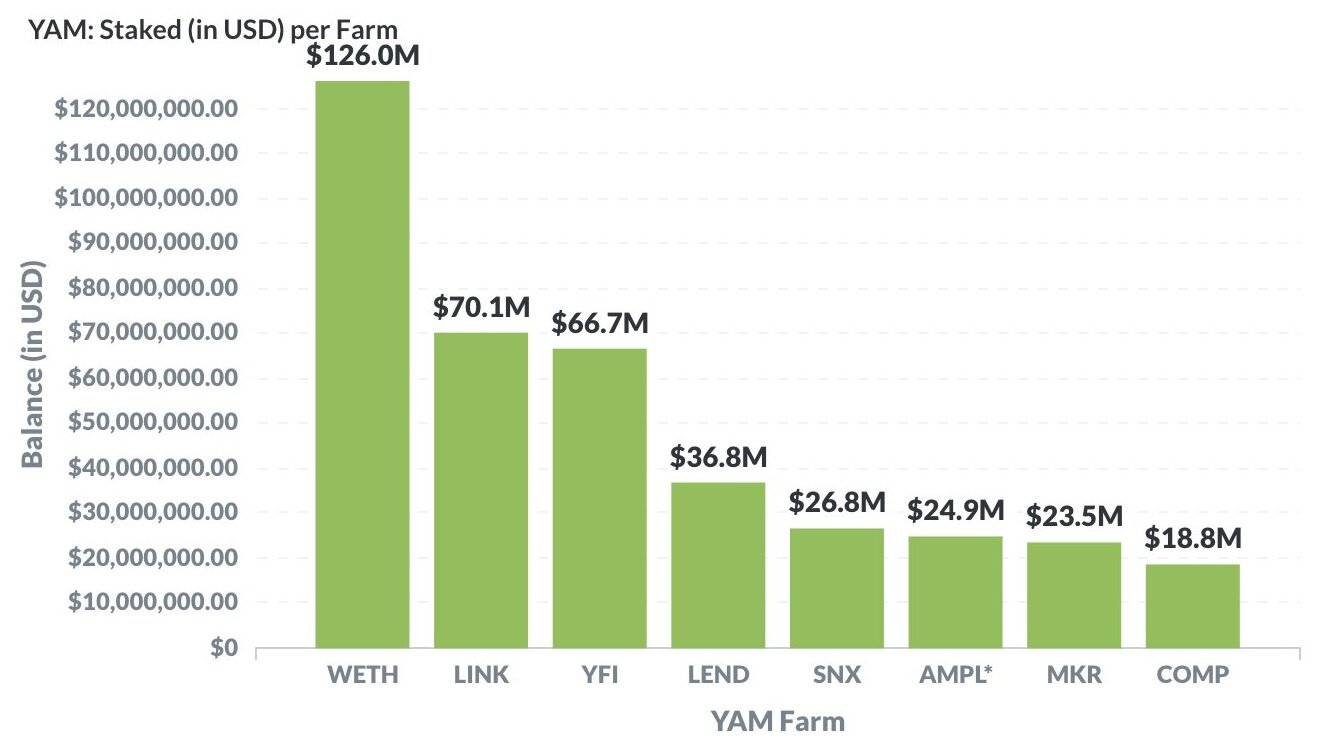 Even though Yam was developed in just 10 days, users eagerly deposited $76 million worth of crypto in less than an hour after its launch yesterday—and that figure surged to $390 million today, according to Nansen.
"YAM is a fascinating example of three defining characteristics of DeFi: community, composability, and speed. The community rallied around YAM from the moment they launched the Medium article," Alex Svanevik, a data scientist and a co-founder of Nansen, told Decrypt. 
Svanevik added that since Yam was built on the foundations of other DeFi projects, it illustrated "how innovation takes as 'money legos' get assembled."
While initially designed as "a minimally viable monetary experiment" with zero value, the price of governance token YAM reacted strongly to the protocol's instant popularity. At press time, YAM is up around 50% on the day, trading at roughly $100 per token, according to Etherscan.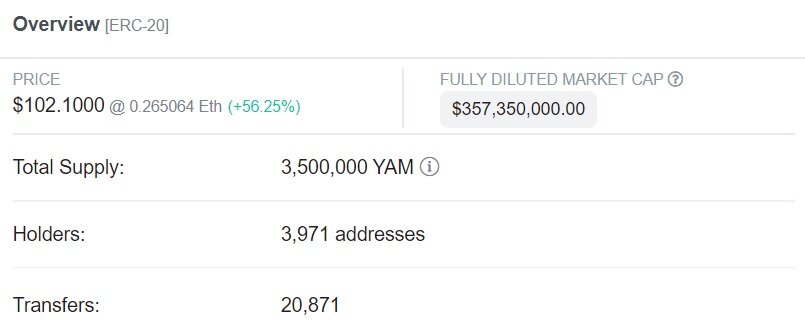 Svanevik noted that the speed at which Yam was built and the amount of money that went into it straight away are "unparalleled."
Farm yields at your own risk
Yam's developers also stressed that since the protocol was developed in such a short time, no professional audit of its code has been conducted, although they "have made reasonable efforts to attempt to ensure the security of the contracts, including forking much of the codebase from existing well-audited projects and soliciting review from friends."
"This was a 10-day project from start to launch. We STRONGLY urge caution to anyone who chooses to engage with these contracts and think a proper professional audit would be highly advisable if this project gets any meaningful use," the announcement warned.
We were serious about this being an experiment and the code being unaudited. Please exercise some caution.

— Yam Finance (@YamFinance) August 11, 2020
In his turn, Aave developer Emilio Frangella published his own audit of Yam on Twitter today, concluding that the protocol is "largely based on the original Synthetix rewards contract" with minimal changes in the configuration settings that don't have any impact on security.
My audit/review of the YAM staking rewards contracts - thread ⬇️

— Emilio Frangella (@The3D_) August 12, 2020
"Changes to the original contract are minimal and mostly related to configuration or small improvements on the reward distribution. The changes don't introduce any security risk. The contracts are immutable and the governance can only potentially change the reward emission," Frangella summarized.
While the popularity of DeFi keeps growing exponentially—with the value locked in it already exceeding $4.5 billion—the security of such platforms have been compromised on several occasions. For example, a genius hacker exploited a DeFi protocol twice in a row in February, taking $1 million in total.
In another instance, the Ethereum network's congestion allowed some of MakerDAO users to buy out over $8 million worth of crypto for free—and a report later suggested that a planned bot attack could've been behind it.
So, think twice before following those millionaires jumping on the Yam train.