Cryptocurrency scams were the most common type of online financial fraud reported in China last year. The average person reporting a cryptocurrency scam lost 134,522 yuan (almost $20,000) according to the 2019 Cyber Fraud Trend Research Report, an annual study issued by China's leading security services provider, the 360 Enterprise Security Group.
The study, published on Tuesday, provides a fascinating snapshot of China's online crime epidemic. A fall in reports of cybercrime as a whole, coupled with higher per capita losses, indicate that China's online scammers are targeting wealthier individuals and becoming increasingly sophisticated, according to the analysis.  
Online fraud reports fall, but per capita losses rise
Reports of online fraud as a whole in 2029 totalled 15,505, the lowest value since 2014, and down from 24,260 in 2017. However, per capita losses set a historical record of 24,549 yuan (approximately $3500). Notably, this is only a slight increase on last year's figure. The total amount lost reported was 380 million yuan ($54 million).
Financial fraud was the most common type of online crime—in respect of the number of incidents reported—3,314 reports were made in 2019. And, of those reports, "virtual currency fraud" was the biggest culprit, in terms of the extent of losses, followed by "investment loss" and "speculation fraud."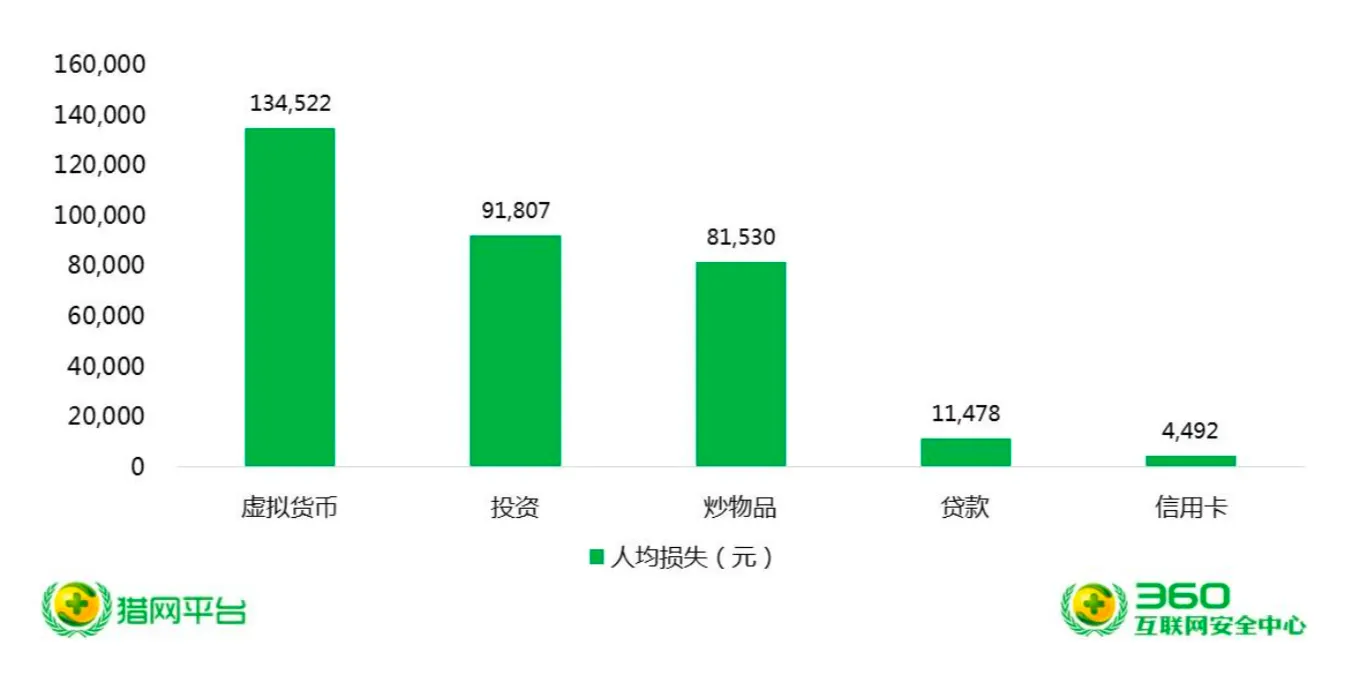 Dating scams, commonly known as "pig kills," are rapidly gaining traction; scammers frequently trick their dates into giving them money, claiming reasons such as urgent travel or surgical fees.
Financial scams, online gambling scams and dating scams were the three types of fraud with the highest per capita losses, according to the report.
Who gets scammed in China—and how
Guangdong Province, bordering Hong Kong in south east China, took the lead in the number of crimes reported (10.7% of the total), but that simply reflects the Cantonese people's relatively high awareness of rights protection, said the report. 
More predictably, the top two provinces in terms of per capita loss were the mega metropolises of Beijing and Shanghai. 
The study found that chat rooms and live broadcasts offering "investment guidance" were popular forums for extortion for cryptocurrency scammers. Often these featured a studio anchor, acting as a "mentor" to mislead investors, according to the report. (Obviously, this is not unique to China).
Tencent QQ and WeChat, instant messaging services operated by Chinese tech giant Tencent, have become key mediums for scammers—over a fifth of scams took place on these two platforms. Telephone contact ranked third, said the report.
Men were more likely to be deceived, accounting for 66.9% of total reports. However, women and the elderly suffered more in per capita losses.
And 18-to-22-year-olds had the highest number of reports, accounting for 23%. 
China's top cyber scams in 2019
A handy guide to the top ten most common online scams was included in the report, with cryptocurrency scams topping the list. The report said these typically announce the launch of a new blockchain, and induce victims to invest in tokens, which can make them money for little effort.
Cryptocurrency trading was banned in China in 2017. But the report suggests that, with Chinese President Xi's recent endorsement of blockchain technology, criminals have renewed their attacks and are again promising high yields with newly launched so-called 'coins,' or funds which are "actually frauds, pyramid schemes, and illegal fund-raising activity."
On the whole, the report's findings seem to indicate that, despite the slight uptick in per capita losses from cyber crime in 2018, the situation has stabilized. Xi's hardline approach to cryptocurrencies was having its desired effect and curbing the efforts of scammers—until his recent endorsement of blockchain technology. 
Because of that, for now, it's likely that cryptocurrencies will remain in the authorities' crosshairs for some time to come.
They'll be watching the pig killers too.