First time trying LSD? Index Coop has you covered.
Today, Index Coop is launching its new structured product that will give investors exposure to the top liquid staking derivative (LSD) tokens on the market. 
Index has long been whipping up products like this, with its most popular index being the DeFi Pulse Index (DPI), which provides weighted exposure across various tokens in the decentralized finance (DeFi) space. The project also offers a metaverse index called MVI and a levered-ETH token too.
Now, it's turning its attention to the red-hot staked Ethereum market. 
Called the Diversified Staked ETH Index (dsETH), the latest product offers exposure to Lido Finance's stETH, Rocketpool's rETH, and Stakewise's sETH2 tokens. It's three tokens in one, just like an index.
These tokens are yield-bearing assets for investors that have staked their ETH holdings and can be used elsewhere to earn additional yield in DeFi. They are especially popular because they let investors stake less than the required 32 ETH needed to participate if they were to stake directly to Ethereum. 
The idea behind getting all three versions of what is essentially the same thing comes down to balancing risk said Index Coop's product and growth lead Crews Enochs.
"You want to be able to diversify your risk at the asset and protocol layers,"  he told Decrypt. "All of my portfolio is subject to the same smart contract risk if I'm only using Lido protocol or Rocket protocol." Essentially, holding the index means you wouldn't lose it all should one of these staking platforms get hacked. 
After that, exposure to all three LSD tokens would ensure "that the overall yield that your staked ETH is getting is much more consistent," said Enochs.
Today, stETH earns 4.9%, sETH2 earns 5.12%, and rETH earns 4.53%. Rocketpool also offers higher yield along with rewards in its native RPL token for those that stake their Ethereum and run their own node.
As for Index Coop, the dsETH index is expected to generate as much as $4,000 a month in revenue from February via the 0.25% streaming fee.
That's of course if investors see the same advantages in the index as Enochs and co.
Besides providing investors with diversified exposure to staked Ethereum derivatives, the index's weighting methodology also shines a light on centralization concerns in this niche. 
Node count and staked Ethereum weighting
The dsETH index is weighted between each LSD token based on how well each project has decentralized their respective node counts, said Enochs. Nodes, in this case, refer to the army of validators that have staked 32 ETH and are now securing the network as per Ethereum's new proof-of-stake (PoS) consensus mechanism. 
"There are two factors," he told Decrypt. "There are the number of node operators, and one operator can run many nodes, and then there is the distribution of stake across those nodes." 
Rocketpool, for example, enjoys the index's largest weighting of roughly 44%, based on the Index's initial proposal from back in December. 
Though Rocketpool has far fewer actual nodes (just 11,342) than market leader Lido, these nodes are far better distributed among operators. The largest operator in Rocketpool operates approximately 20 nodes. 
Though Lido Finance boasts a whopping 147,010 total validators securing Ethereum, these nodes are distributed across 30 node operators. Professional staking firms like Figment and Chorus One, for example, each operate roughly 2,000 nodes for Lido. This earns the staking project a 29.68% weighting.
Stakewise has 5 operators and more than 2,254 validators, earning it a weighting of 26.39%.
Enochs admits that the team will likely still have to edit these weightings. "We really wanted to do a score based solely on Rated network data, but they didn't have it ready enough for us. We will add some sort of fairness score for Rated in a future update, but it wasn't included in the governance proposal for launch." 
The play is clear, though. The index is clearly meant to encourage greater decentralization, which would certainly pose problems for the niche's leader Lido. 
Data pulled from Dune show that of the 16.2 million Ethereum staked, Lido enjoys nearly 30% of the entire market, with centralized players Coinbase and Kraken boasting just 12% and 7%, respectively.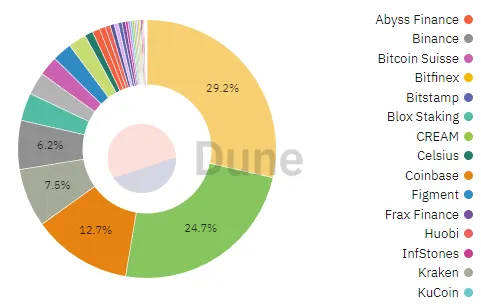 As for Rocketpool, it has just 2%. Stakewise a mere 0.44%.
With Index's product, though, this could change if there's serious investor demand. 
"Everyone kind of understands that if the customer wants this, this product is a way to increase adoption for all of their products and staking as a whole," said Enochs.