In brief
Nike claims online retailers are selling swoosh-branded NFTs without its permission.
The shoe giant has asked a court for an order to destroy the NFT, raising novel legal questions.
When a company like Nike finds someone using its brand without permission, it can ask the courts to order the unauthorized goods to be destroyed. Nike has done this in the past, but its latest trademark lawsuit comes with a twist—the products it wants to "destroy" are NFTs, which are inscribed permanently on the Ethereum blockchain.
The case in question involves Detroit-based StockX, a site that lets people buy and sell used brands, including Nike sneakers. Those sneakers are among its most popular items and, a few months ago, StockX decided to take it a step further by selling NFT versions of the Nike Dunk, Jordan 1, and other shoe lines.
According to StockX, the NFTs—which it calls Vault NFTs–are simply a receipt that customers can redeem for the equivalent pair of physical sneakers. If they choose to redeem, they must surrender the NFT. The NFTs, by the way, look like this: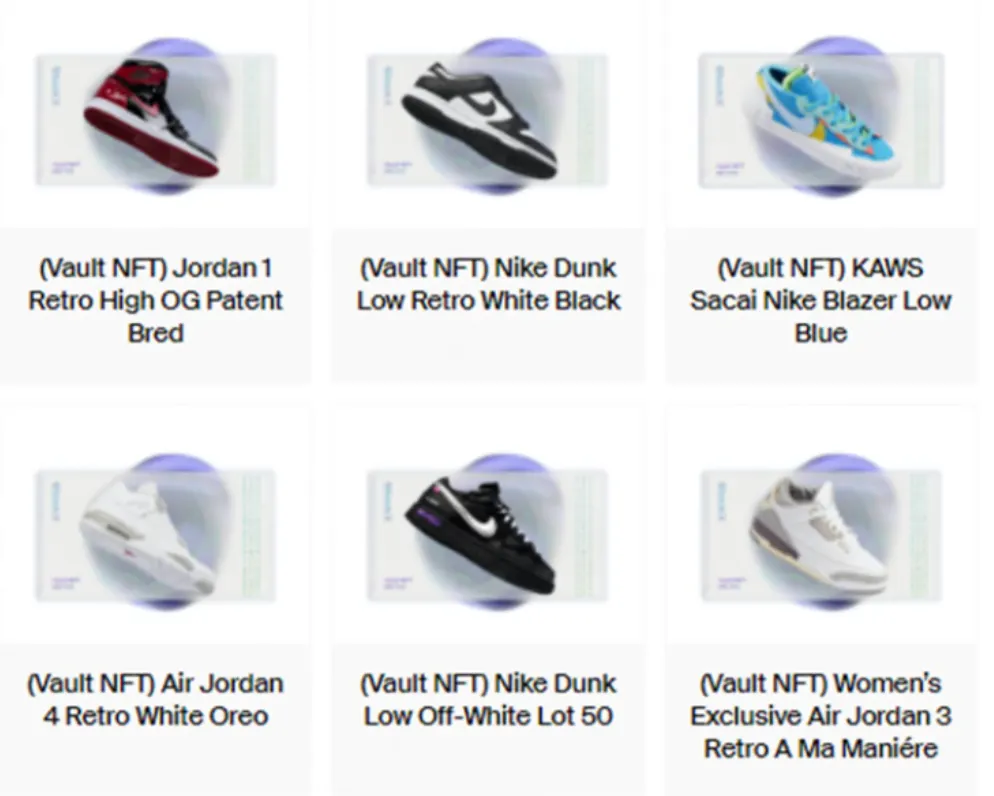 It may come as no surprise that brand-conscious Nike, which recently announced its own partnership with NFT studio RTFKT, doesn't buy StockX's "receipt" theory for the NFTs. For the shoe giant, the NFTs are straight up trademark infringement.
In a complaint filed last month in New York federal court, Nike accused StockX of ripping off its brand in order to cash in on a "gold rush market" for NFTs. (The company may have a point: many of the NFTs have sold for well over $1,000 and few people appear interested in redeeming them for shoes).
As a remedy for StockX's alleged infringement of its trademarks, Nike wants the company to turn over its profits and stop the NFT sneaker sales. It also wants a judge to "order that StockX be required to deliver to Nike for destruction any and all Vault NFTs."
According to Alexandra Roberts, a trademark law professor at the University of New Hampshire, it's fairly common for companies to ask to destroy goods that infringe their IP—there's even a law that entitles them to do that. But whether a court will grant the order is likely to be informed by what the brand owner is looking to destroy.
"Destruction of materials can feel reasonable when we're talking about a sign in front of a restaurant, menus, napkins, and pizza boxes. But it can seem to the public wasteful when it takes the form of setting clothing on fire or melting down jewelry," said Roberts.
Where do NFTs fit into this? It's an open question since the courts have never had to address it before. And even if the New York court agrees to order the destruction of the StockX NFTs, there's the question of how exactly Nike would go about doing that.
Records on the blockchain show that StockX has indeed inscribed the NFTs on Ethereum, which means they are indestructible except in the extremely unlikely event that developers agree to fork the blockchain to get rid of them.
According to some, the most practical thing for Nike to do would be to send the NFTs to a so-called burner wallet.  This wouldn't destroy them but still achieve the same purpose:
"This means that the best outcome for a brand that is seeking to have NFTs destroyed may be to have them sent to a burn address, which still does not actually destroy them but renders them incapable of being transferred anymore," writes the Fashion Law Blog.
Roberts, the trademark professor, notes that Nike may have good cause to seek the destruction of the NFTs since "in the metaverse context ... not only do NFTs last much longer than dresses or shoes, they may be re-sold many times without losing value." But she agrees that sending the NFTs to a burn wallet could achieve the same purpose—likening it to a luxury brand seizing knock-off goods and then sticking them in a secure warehouse and throwing away the key.
Nike and its lawyers did not respond to repeated requests for comment about its plans for the NFTs if it wins the case. It's possible the attorneys have yet to think the matter through, and simply used boilerplate language from earlier trademark complaints in the StockX case.
If the judge sides with Nike in the case and agrees that the NFTs should be destroyed, it will be interesting to see whether the company will indeed employ a burn wallet, and whether it or other brands will use that same address—someday in the future, there may be a blockchain wallet stuffed with nothing but counterfeit and unauthorized luxury goods.