In brief
Coinbase's new service will help streamline the tedious process of calculating crypto profits.
The company does not plan on issuing 1099 forms.
Crypto owners are already reeling from a brutal start to 2022, and now many of them face a new worry: how to calculate the tax they owe by the IRS filing deadline of April 18.
For Coinbase owners, that burden will be slightly easier than in past years thanks to a new "tax center" the company has launched that will display their taxable activity, including short and long term gains and losses, in one place.
The new offering is significant since, in the past, crypto owners had to manually calculate how much they earned, and what tax rate applied to their profits. (The government taxes crypto, like other assets, at different rates depending on whether you owned it for a year or more before selling).
"We're simplifying the process by showing each customer a personalized summary of their taxable activity on Coinbase, broken out over time by realized gains/losses and miscellaneous income. Customers can use these amounts to prepare and file their taxes either with their personal accountants or directly with tax prep software like TurboTax," said the company in a blog post announcing the tax center.
The company also shared a screenshot of the new tax center product, which looks like this: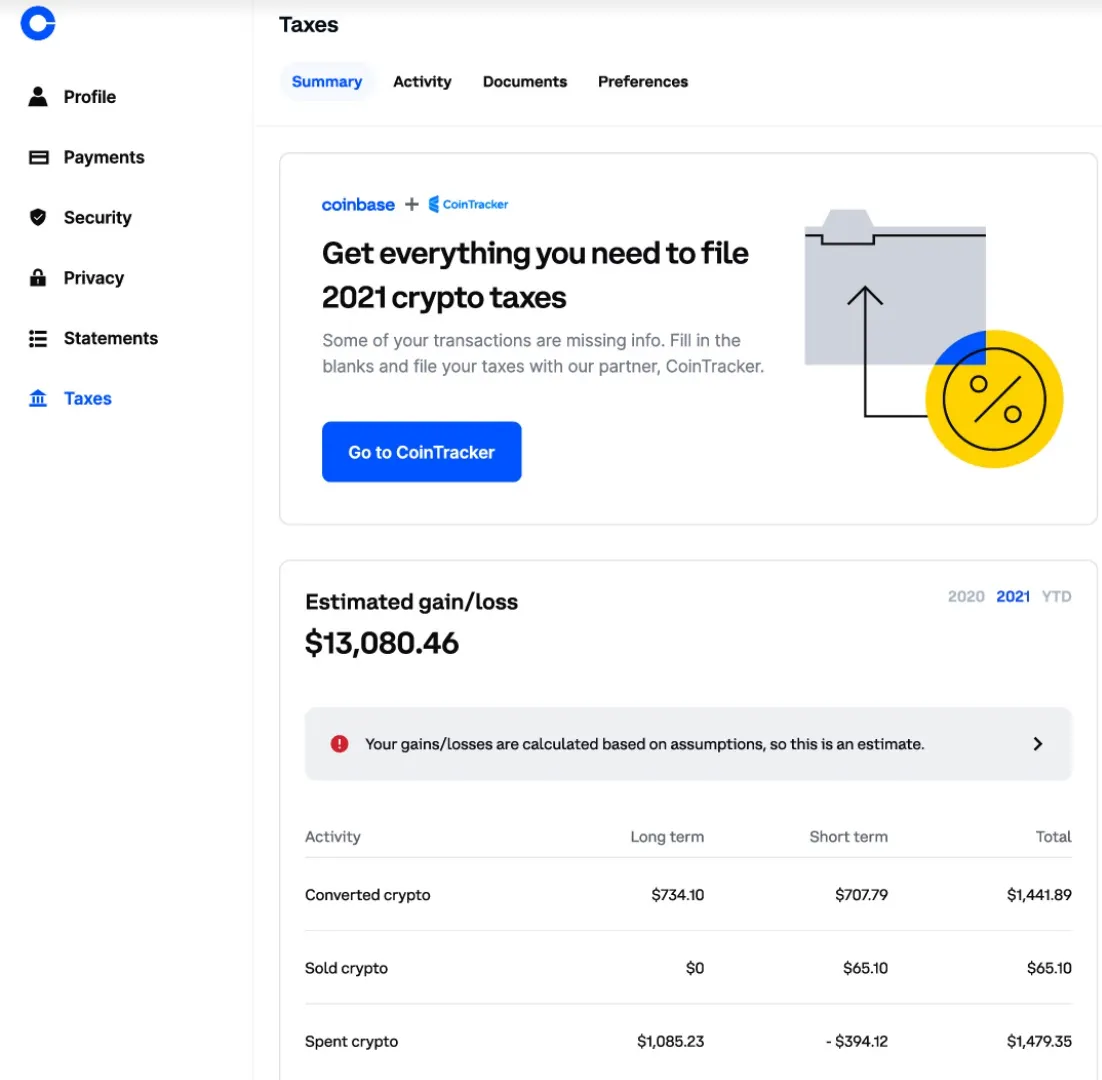 Coinbase further explained that users who rely on its Pro product, or who have conducted transactions using an external wallet, can obtain free crypto tax reports from its partner CoinTracker.
All of this comes at a time when the U.S. government has come to eye crypto taxes as a key new revenue source to pay for a new trillion dollar infrastructure bill, and other spending obligations.
In the past, the government focused primarily on searching out crypto whales who sought to dodge paying taxes. But in the last two years, the IRS has sought to cast a much broader net—including using the common 1040 form to ask every American if they own crypto.
The government's new scrutiny has in turn given rise to a segment of the crypto industry building tax and compliance tools like the ones used for other investment sectors.
While Coinbase's new tax center will make tax filing easier for many of its customers, the company is not taking the step of issuing a s0-called 1099—the form used by banks and brokerages to tell customers how much money they made from dividends and investments.
A Coinbase spokesperson told Decrypt the company does not have a legal obligation to issue 1099s, though they will issue one to those customers who earn significant income through fees and rewards.
"We do not issue 1099s for the sale of crypto assets, as it is not required by the IRS. Coinbase will provide 1099-MISC IRS forms to customers who earned more than $600 in fee income and rewards for the 2021 tax year," said the spokesperson.