In brief
A new NFT collection features paintings of Stan Lee done in collaboration with the late Marvel Comics creator before his death.
Buyers will receive both the NFT version and artist Rob Prior's original physical painting.
The late Stan Lee is arguably the most iconic comic book creator of all time, and he had an outsized personality to match his bold superhero inventions—including Spider-Man, Iron Man, and the X-Men. A new NFT drop, called The Legacy Collection: Portraits of Stan Lee, includes paintings that capture the essence of the Marvel icon alongside some of his top concoctions.
Lee, who passed in 2018, didn't live long enough to see the rise of NFTs, which act like a deed of ownership for digital items, including artwork. However, Lee was intimately involved in the creation of many of artist Rob Prior's original paintings, which have been digitized and will be auctioned in bundles with both the Ethereum NFT and the original physical artwork for each.
They met in July 2017 when Lee imprinted his handprints into cement at TCL Chinese Theatre in Hollywood. When a mutual friend suggested the idea of the pop-culture artist painting the Marvel legend into a variety of classic comic book covers, Prior said that Lee was immediately sold—and that the elder Stan had a convincing way of getting what he wanted.
"It kind of became history. Whether I wanted to do it or not, I was going to do it," Prior told Decrypt of his first interactions with Lee. "Whenever Stan wanted you to do something, the words out of his mouth would be like, 'I'm 95, Robbie!'"
Lee suggested many of the classic comic book covers that he wanted to be painted into, Prior said, but also let the artist chase his own inspiration as he recreated memorable Marvel Comics illustrations with a Stan Lee twist. Currently, the collection includes 65 paintings, but another 30 are planned.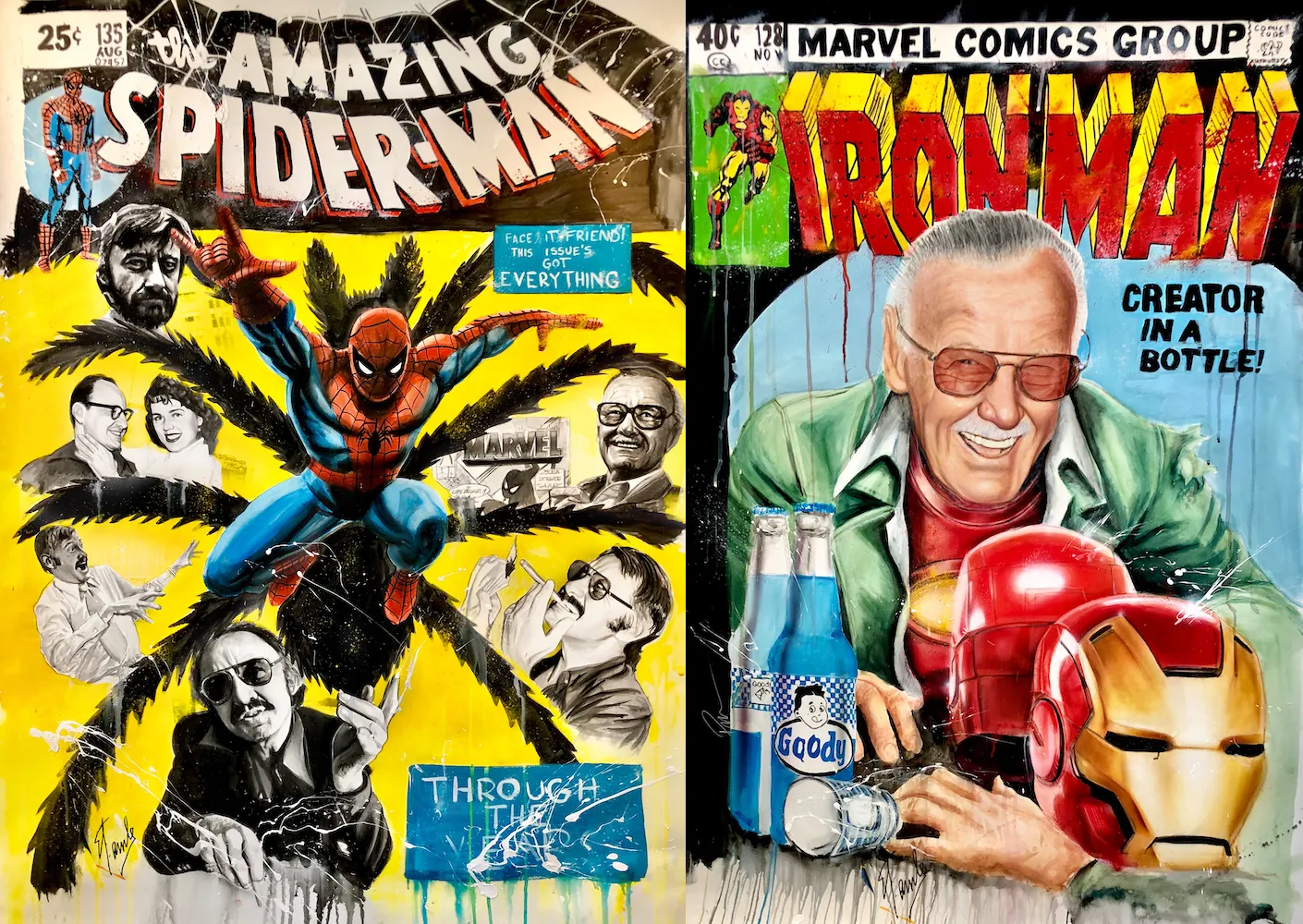 "As the collection kept growing, and growing, and growing, he left it up to me a bit more," Prior recalled. "All the way to a point where he trusted me so much that he signed some blank [canvases] for me. He was just like, 'You know, you're gonna want these someday.'"
Prior will begin releasing NFT versions of the Stan Lee paintings on October 27 through Mogul Productions, a crypto crowdsourcing and funding platform that lets token holders vote on which film projects are produced. Ten of Prior's paintings will be available in the initial rollout, with more planned to make the leap into the NFT space in the future.
Earlier this year, Prior sold an NFT version of a painting inspired by The Wolf of Wall Street for just over $182,000 worth of Mogul's STARS tokens. In a somewhat novel twist, Prior burned the original painting on a livestream, leaving the NFT as the only remaining version of the work. He will still launch previously announced NFT paintings inspired by Marvel and Star Wars in 2022, and if the buyer of each chooses to receive the NFT version, the physical painting will be burned.
With the Stan Lee collection, no paintings will go up in flames: the NFT and the physical painting will be auctioned in tandem. Each painting features Stan Lee's real signature alongside his likeness, and Prior said that it was Lee's final project before his death. Prior believes that he would have been into the concept of NFTs—Lee "was innovative at all times," the artist said.
"I just want to be able to give people around the world a chance to see the stuff that [Stan] really liked," Prior explained. "And face it, he just loved cameos. So what better way to honor Stan than to have him cameo in all of his favorite books and favorite things, and all the things that we grew up with or are growing up with?"
More broadly, Prior sees NFTs and provably scarce digital artwork as revolutionary, and believes that they will further shake up the traditional art world. He conceded that burning physical artwork is an example of "trick stuff," but he believes the NFT artwork market will move past gimmicks and mature into a "great, fine art collectible thing."
"Oh my god, it's been amazing," Prior said. "The art space in general hasn't had a kick in the ass since, what, Warhol? This is a chance for artists of all kinds to be seen, to be heard, and to move everything forward for them," he said.
"It's a brave new world."