In brief
Dark web vendors are increasingly peddling faux COVID-19 "vaccines" and other viral paraphernalia.
Along with fake vaccines, sellers are pushing other miracle cures, COVID-19 blood samples, masks and other medical supplies.
While coronavirus scams are surging, general dark web usage remains relatively stable.
Dark web merchants aren't necessarily known for their scruples. And if it has an asking price, the dark web has a market for it.
It should come as no surprise, then, that during the fever pitch of the coronavirus pandemic, some vendors are peddling the 21st century equivalent of snake oil.
According to data accumulated by the team at darknet search engine DarkOwl, there's been a surge in listings on the Internet's grimy underbelly for COVID-19 "vaccines" and related paraphernalia—like samples of coronavirus-infected sputum and blood.
"The most recent pandemic related scam to surface on the dark web is a hidden service dedicated to the COVID-19 vaccine," a DarkOwl report shared with Decrypt reads.
One notable example includes an advertisement on a private vendor page for a vaccine engineered by Israeli scientists. "God bless Israelites!" the post exclaims. Written in somewhat-disjointed English, the post encourages readers to share and includes a checkout page. A single order includes 10 "vaccines" vials for the low price of $99 (about how much you'd need to buy N95 masks—which, incidentally, vendors are also selling on the darkweb.)
Coincidentally, that's not the only advertisement from an Israeli-sourced cure. DarkOwl found another post by a user "buddrugtrade" earlier in March that promised false mana from the Holy Land.
But the "God bless Israelites!" post standouts in terms of complexity among its peers: the listing actually has a checkout page, unlike other posts, and requests an address for shipment. Other darknet market posts, by comparison, only include a Bitcoin payment button.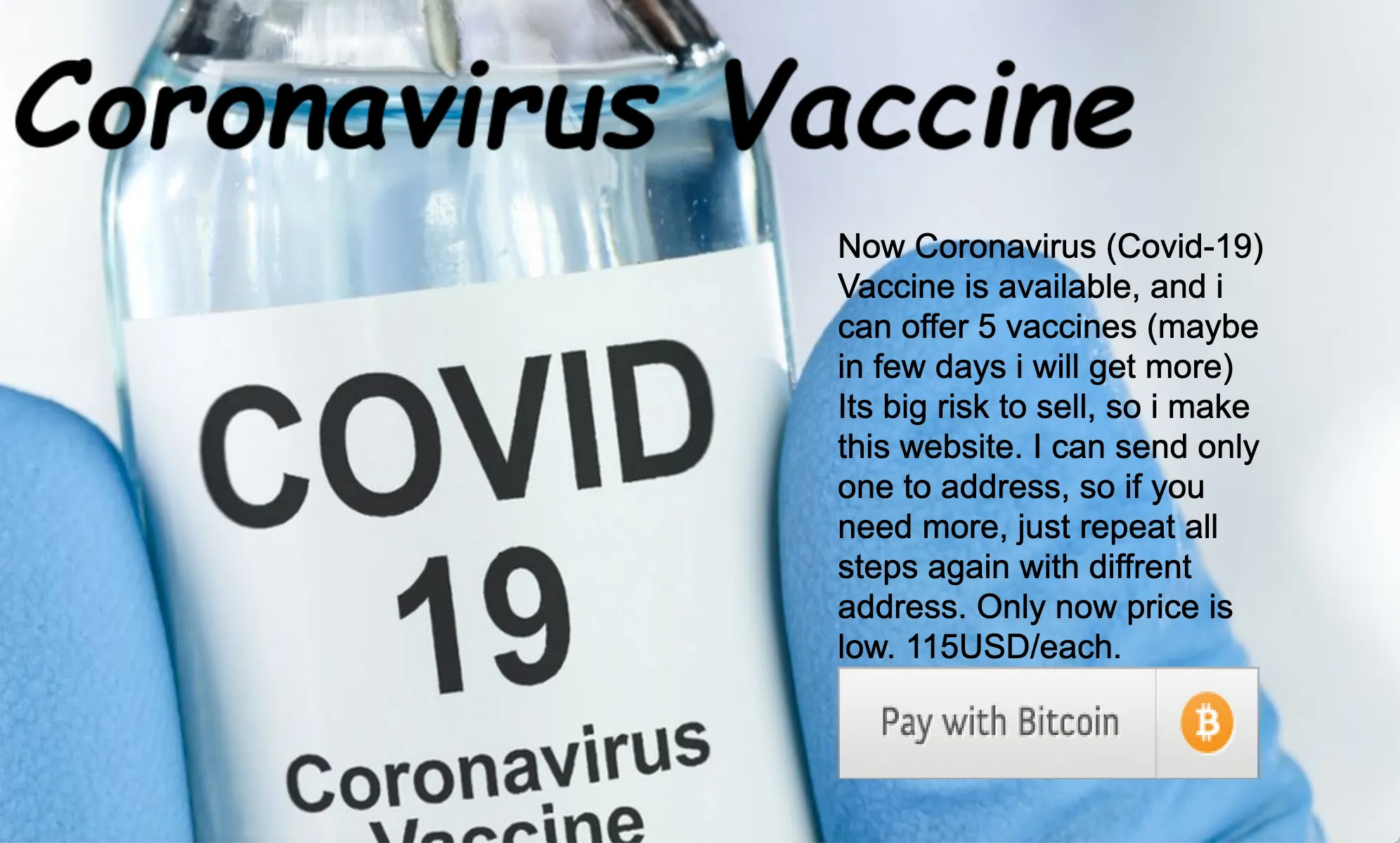 What the listings have in common is this: a supposed miracle cure, at what could be considered fire sale prices, for a viral pandemic that has stumped international governments and global health organizations—if the "vaccine" were real, that is.
But it isn't just bogus vaccines being offered on the darknet. The Internet black market has also seen a surge in listings for viral samples, according to DarkOwl.
"I am a laboratory doctor in Spanish public health, I have obtained 24 blood samples and infected sputum of the new COVID-19 I am willing to sell for a price of $100 USD," one listing reads. "I could send tests when payment is made, I ship worldwide by seur [sic] refrigerator to not let the bacteria die and ensure viral life."
Another less lucid post claims that the seller extracted a vial of blood from his infected father, after which he promptly "inserted his blood into 10 bats." He's selling the samples for 0.005 BTC ($36), but it's unclear whether that means he's selling the bats as vessels for the blood or just the blood itself. The post lists an email, a Bitcoin address, and offers to answer questions for 0.001 BTC. (We were too sketched-out to ask, though.)
DarkOwl noted that they have seen other such offers for blood samples. One standout from a user named "drdeath4"1 described the contaminants as "great for the coworker you don't like," or for "spread[ing] it in the ghetto if you're like that or maybe let[ting] it loose at the country club."
Other vendors, however, have opted to sell more salubrious and more practical wares amidst the virus panic, assuming these posts can be believed as legit. Some, like "drHades," are selling tests and thermometers while others are selling masks and hydroxychloroquine, a malaria drug that has a disputed track record as a possible COVID-19 medicine. 
But a few are selling supposed "cures" that sound stranger than fiction, including an mp3 file whose high frequency, when played 3-6 times a day, can kill the virus. More industrious vendors are selling access to 3D-printing blueprints for medical gear like masks and ventilator pieces.
Whatever they're peddling, dubious darknet actors are finding ways to profit off the coronavirus crisis. DarkOwl analysts aggregated the data using its eponymous search engine. While the team was able to piece together a collage-work profile of some of these vendors, they couldn't make complete profiles as many of their darknet profiles are encrypted. Instead, the analysts manually scraped data from darknet market forums to key in on whether or not activity was growing in response to the virus.
DarkOwl concluded that while COVID-19-related listings have been on the up, there is no clear uptick in general darknet market registrations. In other words, dark web markets aren't growing; they're just evolving to accommodate a new "product" and court a paranoid (and, at times, ill-informed) clientele.