Bubble shooter (or popper) games have been a fan favorite dating back almost 30 years to Taito's Puzzle Bobble (aka Bust-a-Move), and the genre has corralled a new generation of casual fans on mobile. Now you can earn Bitcoin by playing them, too.
A pair of games on iOS and Android—Bitcoin Pop and Bitcoin Bay—offer cryptocurrency rewards while playing, although beyond that shared premise they vary in design, amount of ads that pull you out of the game, how they each dole out Bitcoin rewards.
After playing dozens of rounds of each game on iPhone, here's a look at how the games compare, and approximately how much Bitcoin you can potentially collect from each.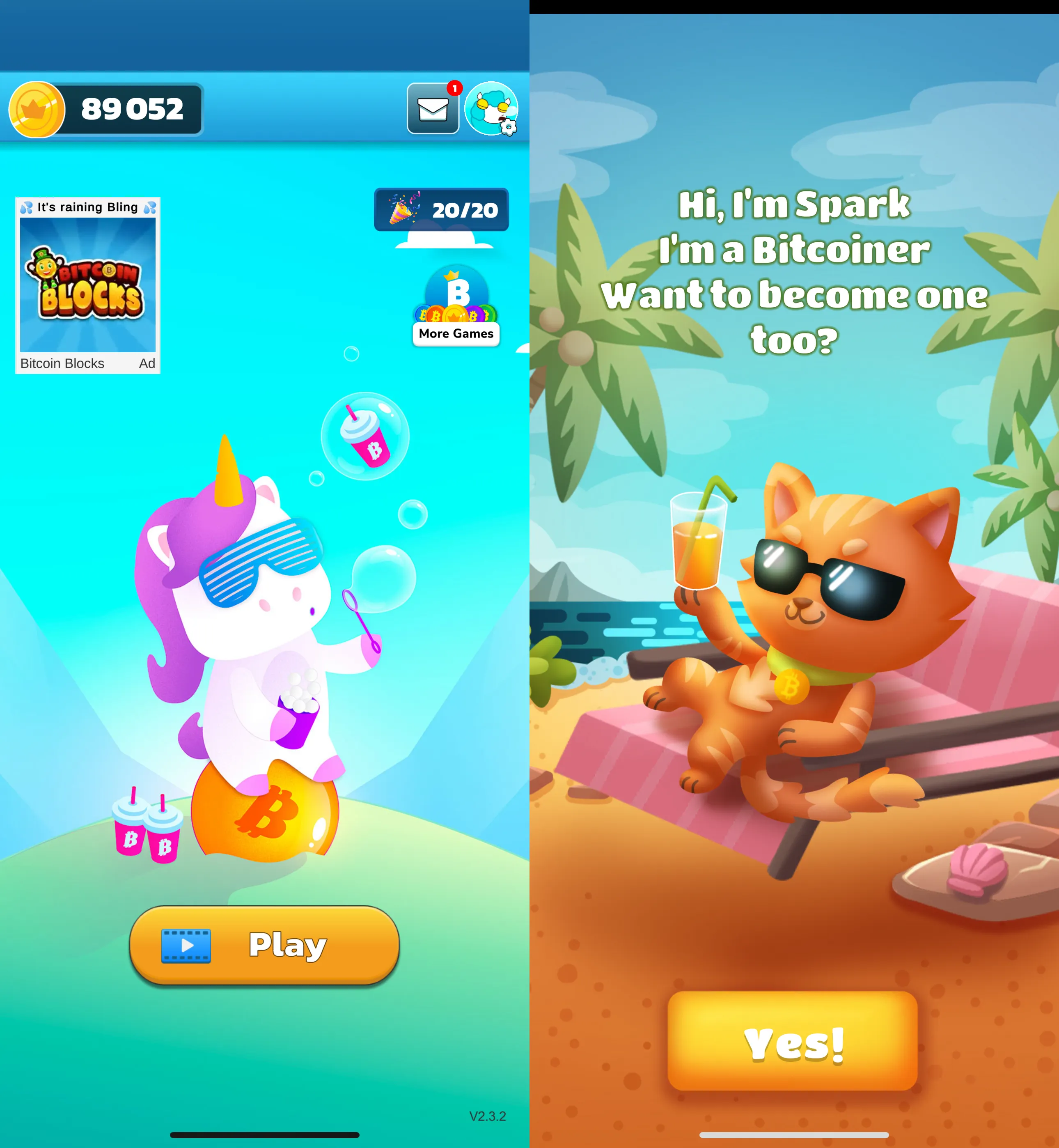 Bitcoin Pop
Hailing from Bling Financial, a company with numerous play-to-earn mobile games, Bitcoin Pop (iOS, Android) delivers a relatively straightforward rendition of the tried-and-true bubble shooter format. It tasks players with launching colorful bubbles onto the board above with an aim to match at least three of a kind, thus clearing them from view.
Often, the goal to finish a level is to clear a certain number of special soda bubbles using a limited number of shots. Power-ups and other twists emerge along the way to shake things up, but otherwise this is a pretty standard riff on the genre.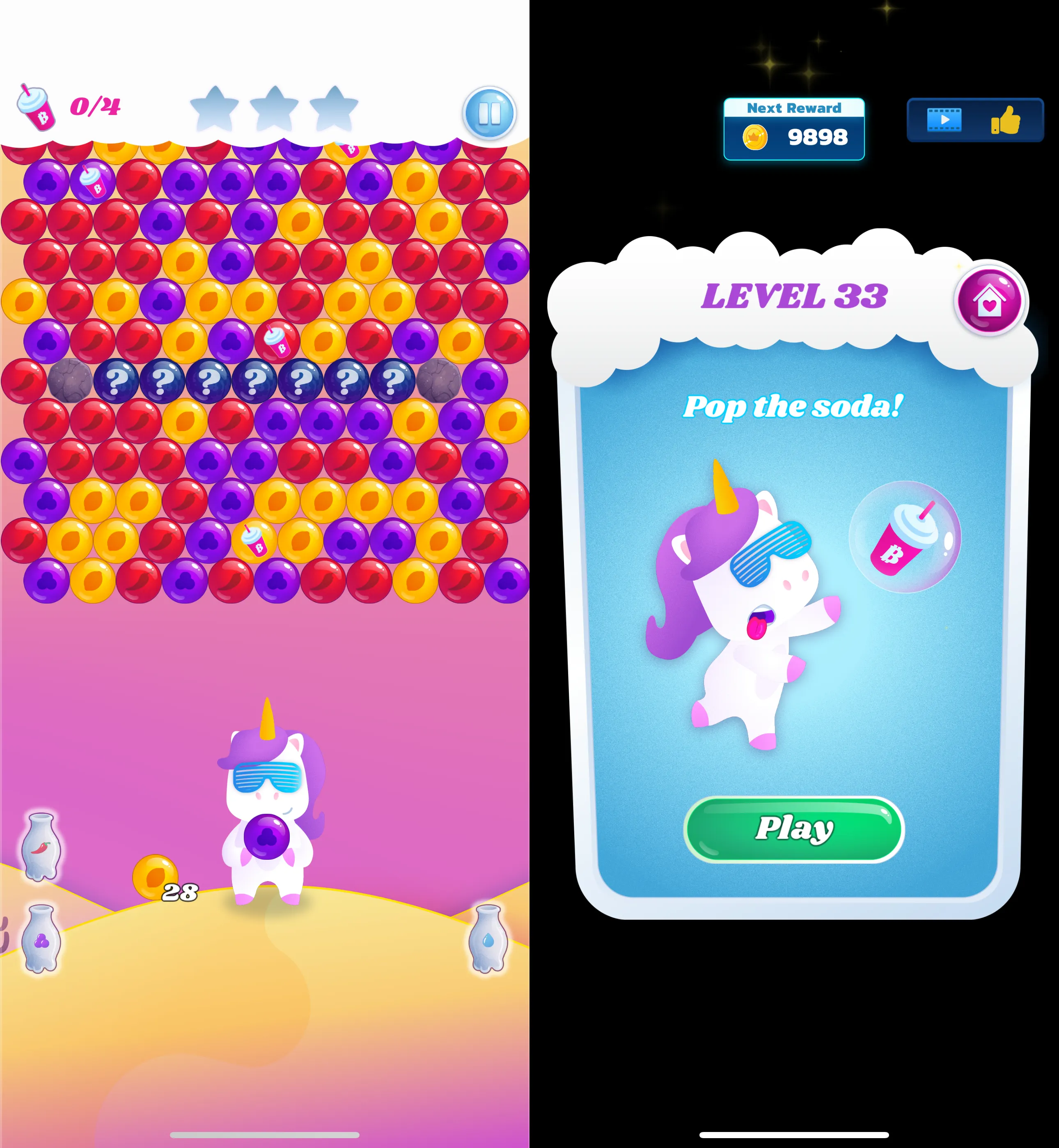 It's loaded with lengthy, full-screen video ads, however, which pop up after nearly each level and take over your screen—often for a minute or more. This means that you'll spend nearly as much time playing as watching ads, and you'll often see the same handful of commercials, including scammy-looking ones that promise to pay thousands of dollars for playing other mobile games.
Bitcoin Pop, however, can't make that kind of claim. After two hours of playing, I netted enough Bling points—a little bit at a time after each level—to convert to 233 satoshis, or 0.00000233 BTC. That's about $0.06 worth. You can convert your points into Bitcoin or Ethereum and send it to a Coinbase account, or otherwise cash out via U.S. dollars through PayPal.
Bitcoin Bay
THNDR Games, another company that specializes in play-to-earn Bitcoin mobile games, is the firm behind bubble popper Bitcoin Bay (iOS, Android). The premise is broadly the same as Bitcoin Pop, but Bitcoin Bay strikes a different tone and takes a distinctive approach to payouts.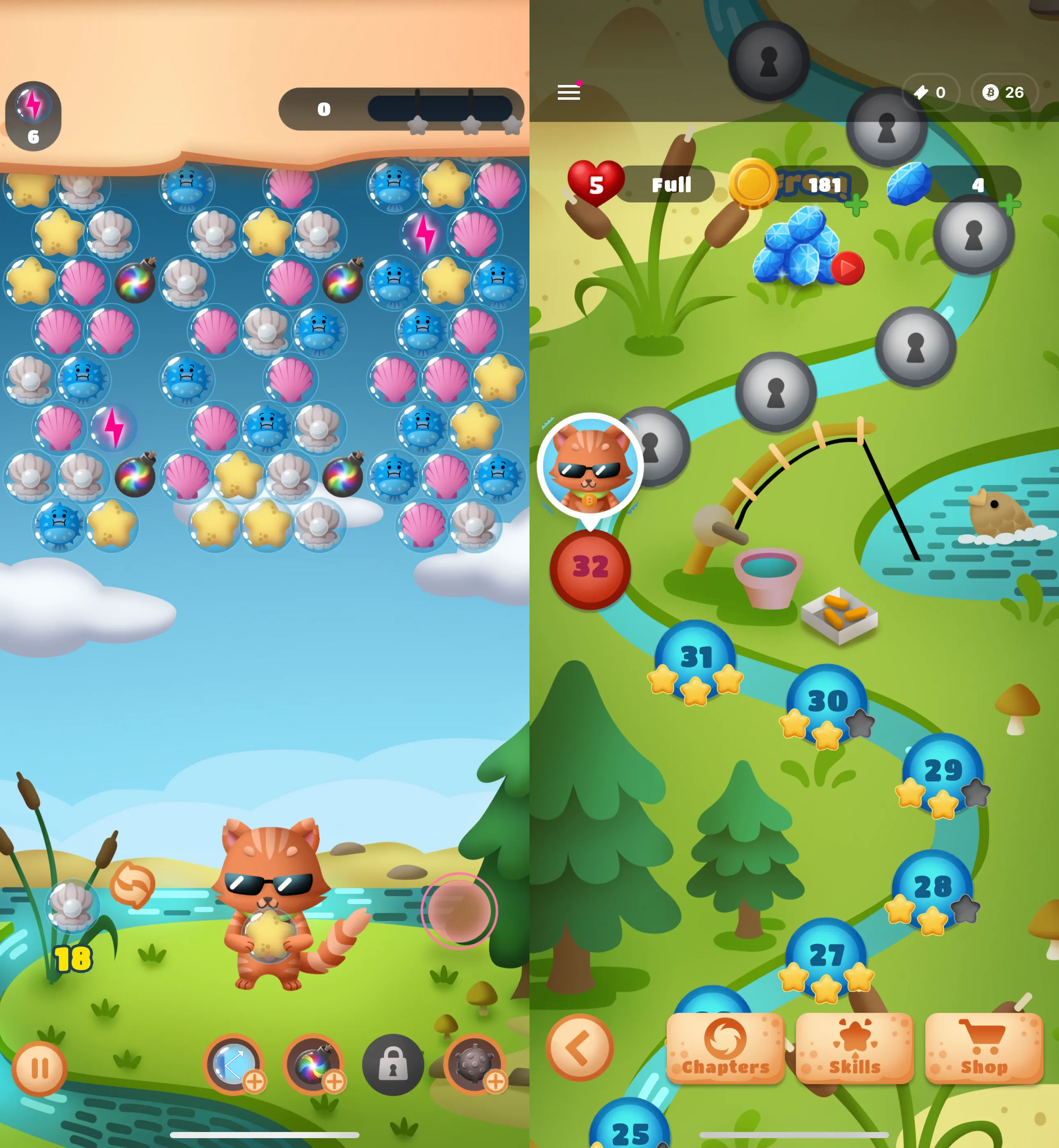 Bitcoin Bay's vibe is centered around a beach theme with a feline hero, as you connect bubbles containing things like crabs, starfish, and shells. The end result isn't terribly different from Bitcoin Pop, but there's a bit more depth to the game here, including a world map that lets you go back and replay levels plus skills that you can upgrade over time.
Thankfully, Bitcoin Bay isn't nearly as overloaded with ads as Bitcoin Pop—the video ads only launch every so often, typically after playing a few levels, and generally they're not as long or obnoxious here. The downside, however, is that I earned far, far less Bitcoin while playing.
Ultimately, I netted only 26 satoshis across two hours of play—that's less than $0.01 worth of Bitcoin. As with other THNDR games, you earn in-game tickets for completing levels, and those are put into an hourly raffle to claim a share of potentially thousands of satoshis. Earnings can be cashed out to the ZBD wallet or Cash App, for example, but you must withdraw any Bitcoin within a week of earning—otherwise, you lose it.
Which should you play?
I had a lot more fun with Bitcoin Bay, which has an appealing vibe and way fewer ads, but I earned almost 10 times as much Bitcoin playing Bitcoin Pop for the same amount of time. Bitcoin Bay's raffle model means that your mileage may vary, however. Had I hit the jackpot while playing, I would have netted significantly more satoshis than in Bitcoin Pop.
But ultimately, I only earned approximately $0.07 worth of Bitcoin between the two games across four total hours of play. Neither game is going to give you much cryptocurrency in exchange for playing and viewing ads.
Unless you're dead set on stacking sats very, very gradually, you might have more fun playing one of the many bubble shooters on the iOS App Store or Android Play Store that isn't built around Bitcoin—but might be more polished or robust, or lack so many intrusive interruptions.