What do you get when you cross a 1,100-year-old coin mint with the future of digital art?
France's la Monnaie de Paris, the world's oldest active monetary institution—known for its centuries-old tradition of minting physical coins—has opened its doors to the very technology that seeks to disrupt its existence
Founded in 864 by the King of France with the mission to mint French coins, La Monnaie de Paris is now responsible for minting euros for France.
It carries out the activity of manufacturing collectible coins too and is also the historical manufacturer of official decorations and grand orders, such as the Legion of Honor or the National Order of Merit.
Now, though, the institution is turning its attention to something much different: an NFT exhibition.
"BABEL" is the fruit of a collaboration between the British artist and crypto-art pioneer Robert Alice, the NFT platform La Collection, which collaborates with the most prestigious art institutions in the world, and the curators and conservators of La Monnaie de Paris.
"The discussions began a year ago. They liked the artists we were promoting and asked us if we had an artist in mind who would make sense," Jean-Sebastien Beaucamps, CEO of La Collection, told Decrypt. Their choice was Robert Alice, an artist known for his hybrid approach to art, combining physical and digital elements in his creations.
Alice is not only a pioneer in NFTs, turning to blockchain technology to critique centralized powers. In October 2020, he was the first artist to sell an NFT at Christie's, paving the way to the iconic 2021 Beeple sale that launched the NFT boom.
A few months later, in June 2021, Alice partnered with the company Alethea AI to give birth to a "virtual entity," a character named "Alice" animated by AI, which was auctioned at Sotheby's as the "first intelligent NFT."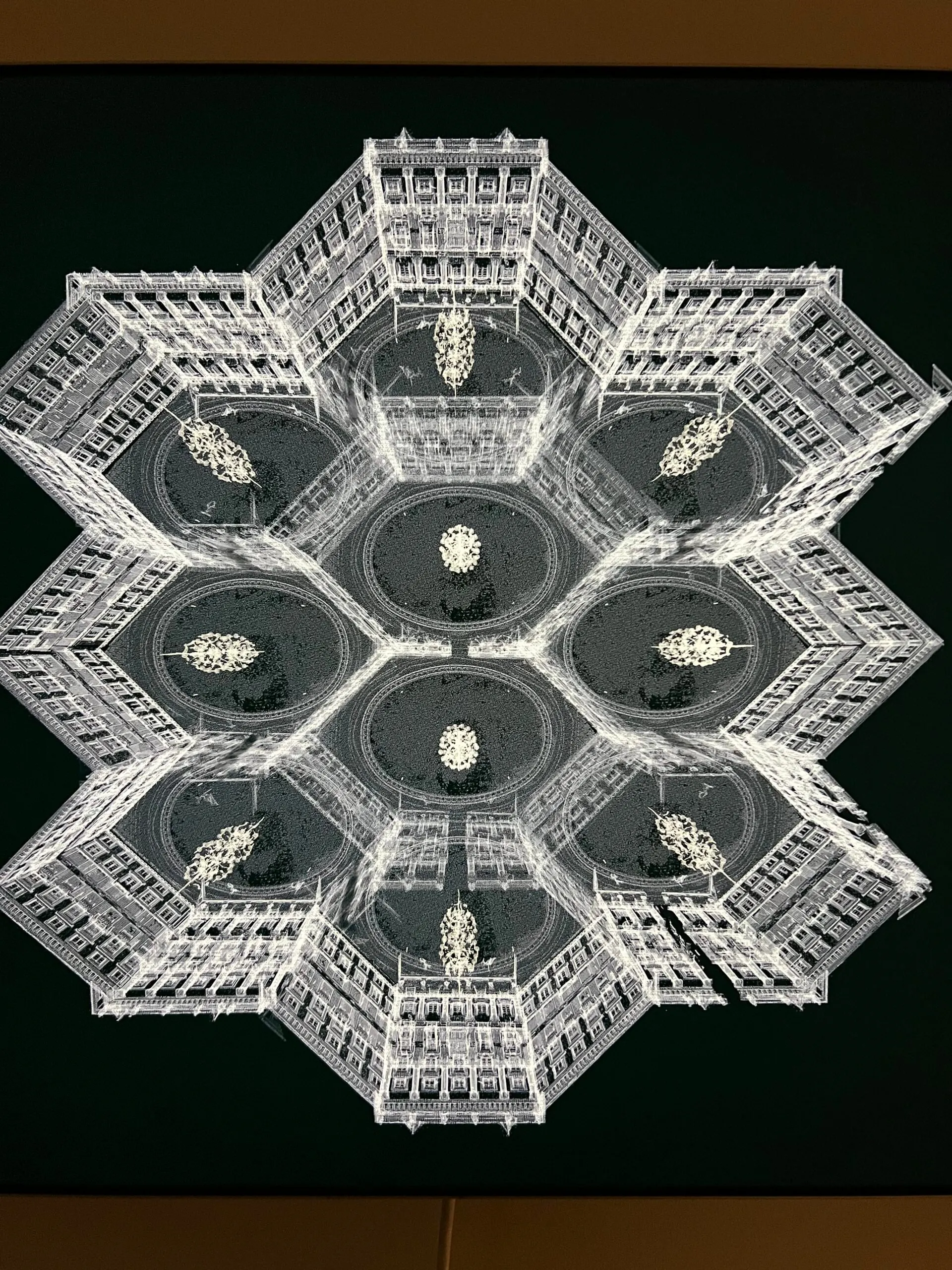 'Carte Blanche'
For the La Monnaie de Paris exhibition, Alice was given a carte blanche to draw inspiration from the institution itself.
He chose to focus on the forgotten blueprints of the building, revisiting them with a coding angle.
The dialogue between the artist and the institution gave birth to two series of new works, "Blueprints" and "Ornament and Crisis," both inspired by the architecture and history of La Monnaie de Paris.
For "Blueprints," Alice used artificial intelligence and machine learning to create an aesthetic rendering of these ancient plans, echoing the logic of the blockchain and including references to Jorge Luis Borges' novel "The Library of Babel."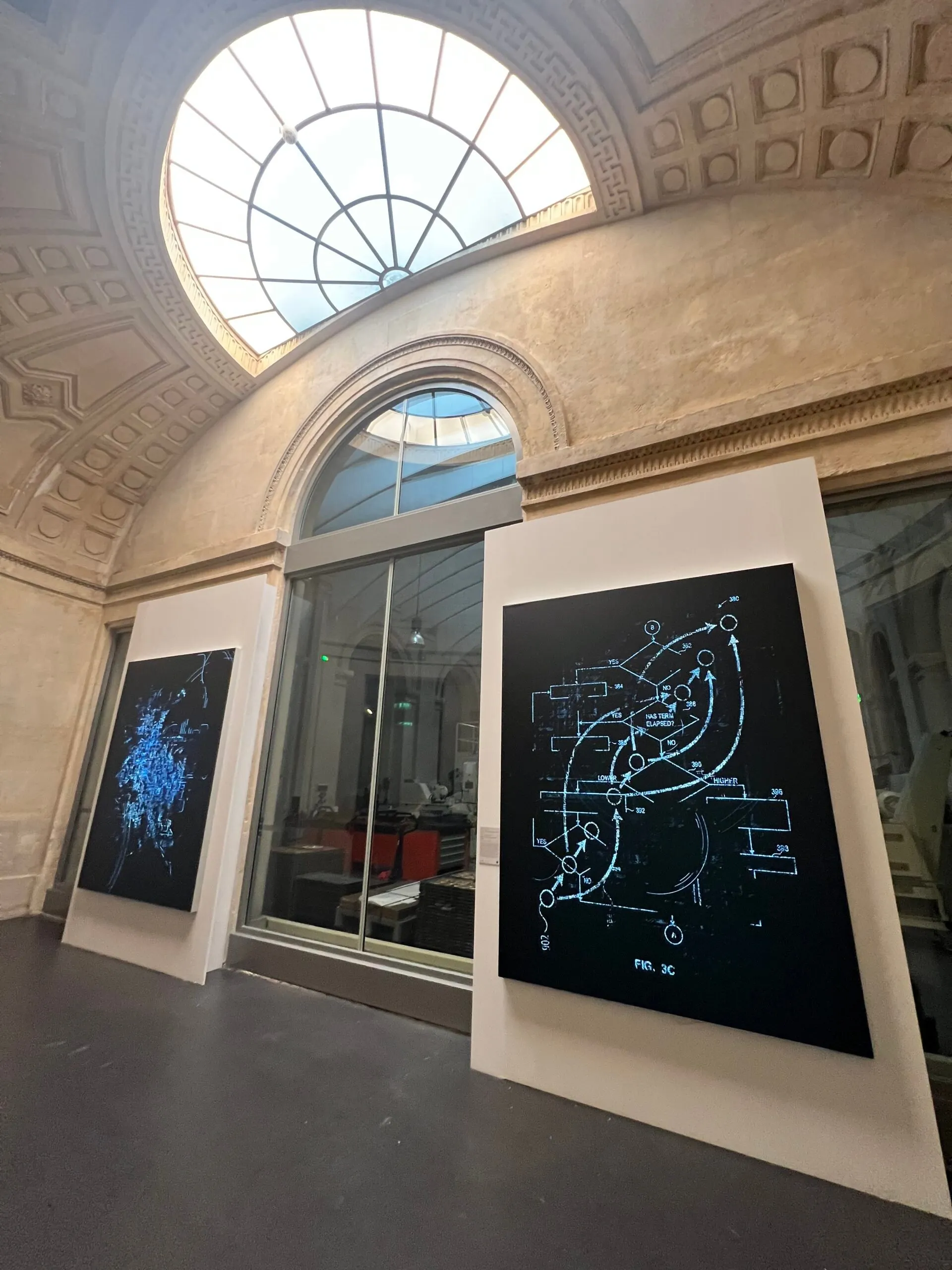 In this novel, first published in 1941, the Argentinian writer imagines a universe in the form of a vast library containing all possible books, created by all the different permutations of 25 symbols: 22 letters, the comma, the period, and the space.
From a distance, the backlit canvases might be mistaken for digital screens, but they're not. Their texture and volume blend perfectly with the surrounding machines, coins, and medals that constitute the permanent exhibition of La Monnaie de Paris.
For Alice, having the opportunity to exhibit in this timeless institution constitutes serious validation.
"As an NFT Artist, I was often told institutions are not interested," Alice told Decrypt. "I also met many people that are defiant toward NFTs, and I'm still feeling resistance to it today. Now, I walk around this museum and realize that artists like me can have this kind of show. Suddenly, you start to think that you're not an NFT artist but an artist who happens to make NFTs."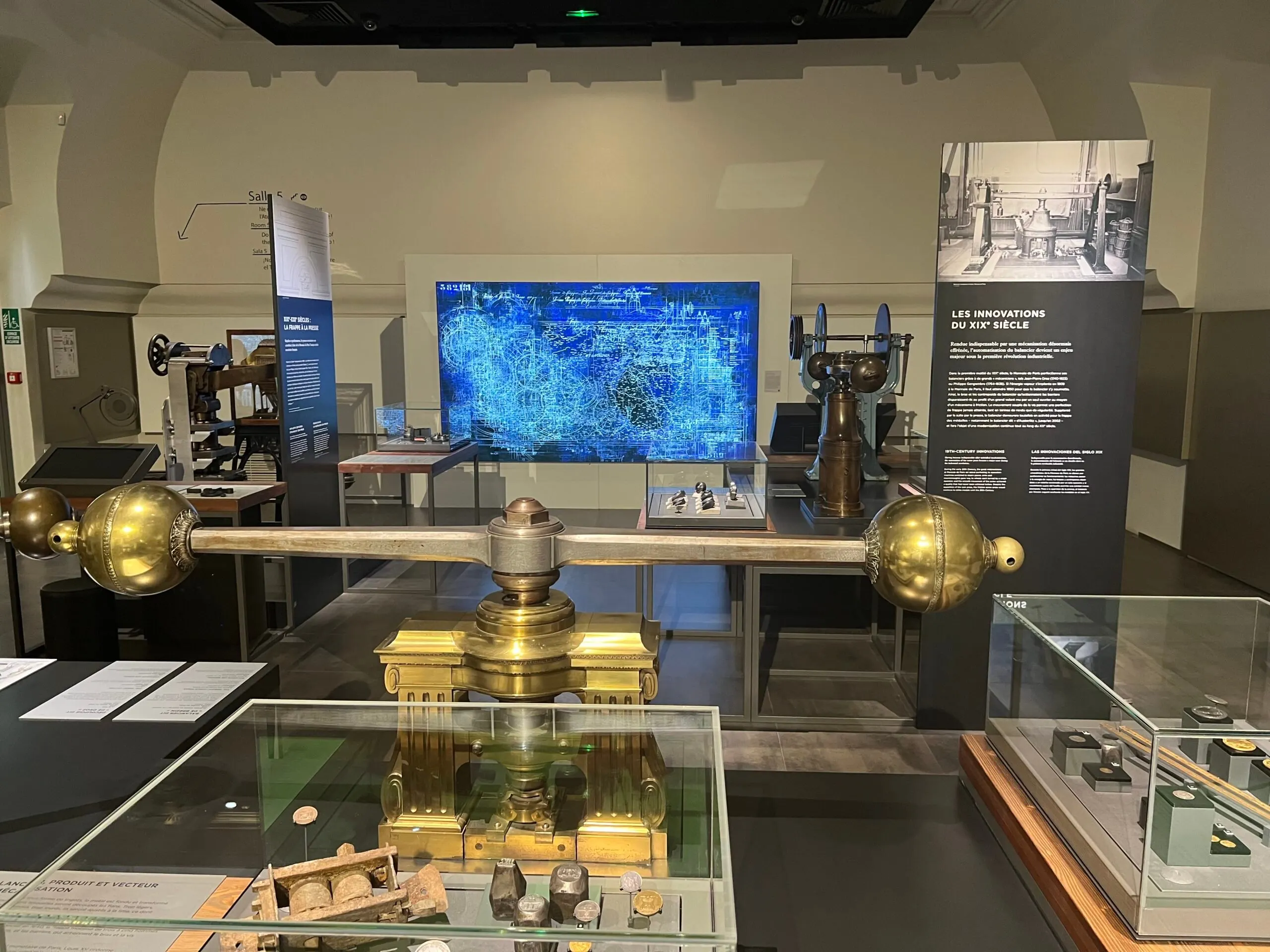 A provocative exhibition
The main challenge, said Alice, was to respond to the very specific brief he was given: an exhibition that responds directly to the La Monnaie de Paris collection.
"A lot of the work in this show is quite provocative, like the history of the financial crisis in a building that has made money for 1,200 years," Robert Alice told Decrypt. "There is also a VR experience that makes you stuck in a room, artworks telling the story of the narcissism of the building, which is looking back on itself, reflecting its own glory. You also have the reference to Virunga National Park in Congo, which points to French colonialism and the economic colonialism that is the CFA currency."
The CFA franc—Franc de la Communauté Financière Africaine—is a currency used by several countries in West and Central Africa that are members of the CFA franc zone. These countries are former French colonies, and the currency is guaranteed by the French treasury.
Questioning the role of centralized powers, Alice's work reflects on the potential impact of blockchain and cryptocurrencies on traditional institutions.
In a room downstairs, "the Babel Screens" have been installed next to the workshop where coins are minted.
"The screens project texts about the history of blockchain and crypto," he said. "So a man there, doing the same craft for 1,000 years, is now bombarded by these texts, which have to do with this new world, which potentially could see the end of their world."
Despite the provocative nature of his work, Alice says he has built strong relationships with the institution. "They opened up their home to someone from a very different point of view: decentralized versus centralized," he told Decrypt.
"It was a highly fruitful dialogue," Mark Schwarz, president and CEO of La Monnaie de Paris, told Decrypt. "Our institution has existed for 12 centuries, and we have witnessed the evolution of various forms of currency. We have gained valuable insights into the history of monetary forms, and it is clear that today's payment methods are becoming increasingly digital and dematerialized, much like art itself."
He nevertheless firmly believes that these diverse forms of currency and art, material and immaterial, can coexist harmoniously.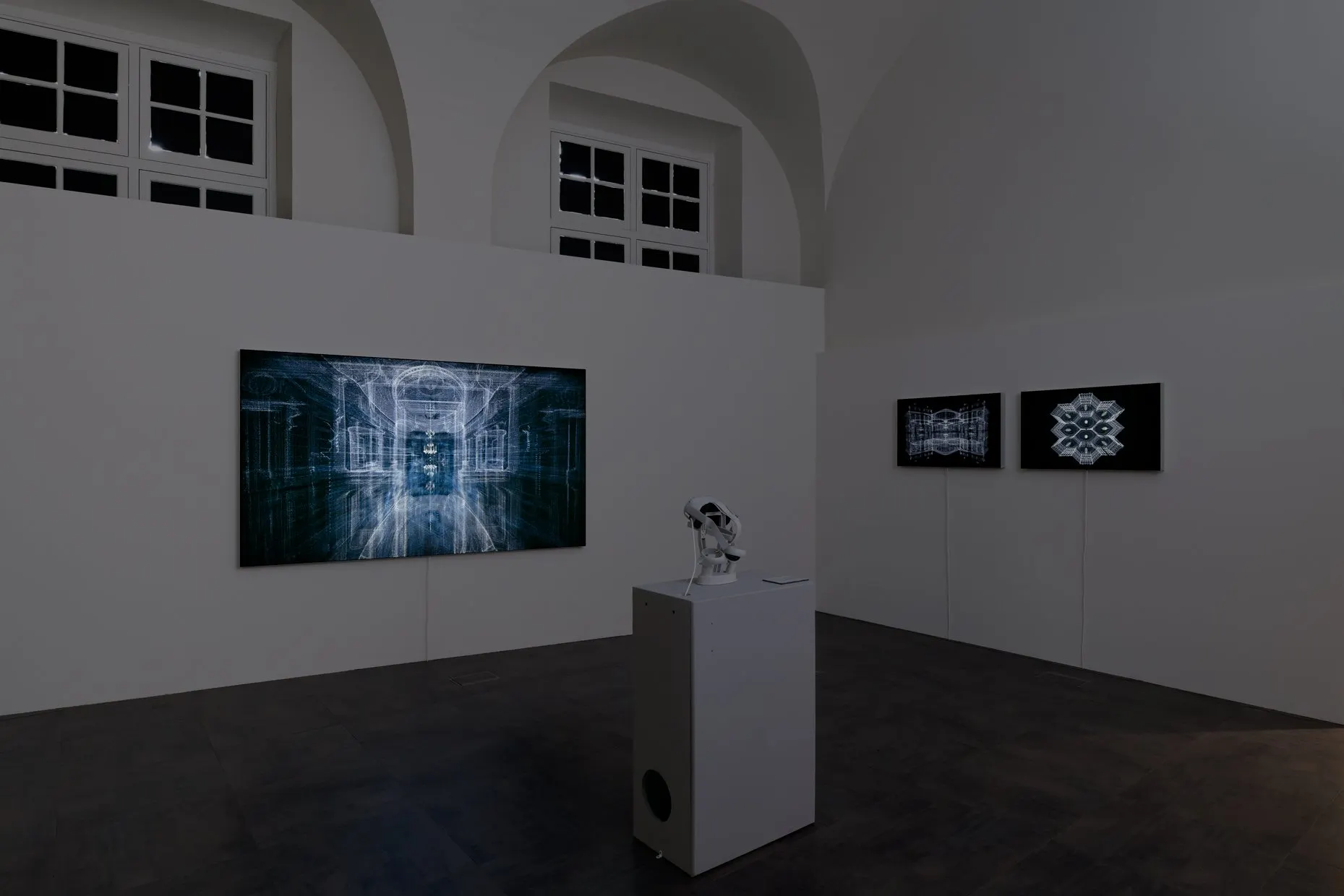 La Monnaie's bet on blockchain
Beaucamps says that he was pleasantly surprised by the modern aspect of such an ancient institution. Similarly, he underlines the benefits that La Monnaie de Paris can find in this collaboration.
"Like any museum, they are seeking to rejuvenate their audience and attract a more international public," Beaucamps said to Decrypt. "The Web3 population is inherently international. And the average age of the La Collection community is thirty-something, indicating a younger demographic compared to traditional museums."
This exhibition pushes boundaries, which could lead to future projects. "We talk about tokens, authentication, security, and trust, and that's what currency is about," says Schwarz. "Crypto-assets are intriguing to me, particularly through the use of blockchain, which we intend to keep utilizing."
Beaucamps says he's enthusiastic about the dialogue born between two worlds that seemed so distant, insisting on La Collection's mission to be a bridge between cultural institutions, artists, and collectors, and to support institutions in preserving their legacy.
"The ultimate goal for any artist, especially digital artists, is to be exhibited in a museum," says Beaucamps.
Referring to one of the main pieces in the main room, Alice says he hopes that any future buyer will let the museum display it forever.
"It's an amazing context, and I hope a collector would be interested in putting a bit of crypto and blockchain history in an institution like this to stay and educate the public," said Alice. "And therefore have a foothold in the history of money here."