Cameron Winklevoss, the co-founder of the Gemini crypto exchange, has made what he called a "final offer" in the debt-restructuring negotiations over the bankrupt digital asset firm Genesis.
This offer aims to bring resolution to months of discussions and mediation and includes a plan for $1.465 billion in forbearance payments and fresh loans denominated in USD, Bitcoin (BTC), and Ethereum (ETH).
In an "Open Letter to Barry Silbert," the founder of Digital Currency Group (DCG), which owns both Genesis and the crypto asset manager Grayscale, Cameron Winklevoss expressed frustration with the delays from DCG in formulating a satisfactory repayment plan for Genesis creditors.
The Gemini co-founder also alleges that "the DCG enterprise had engaged in fraudulent behavior," while Barry Silbert has been personally fostering "a culture of lies and deceit."
The offer also includes customers of Gemini's Earn program, the exchange's high-yield investment service that had Genesis as a primary lending partner before the latter suspended withdrawals in November 2022.
In May this year, Gemini said that DCG missed out on a $630 million debt payment, defaulting on its obligations.
'Game over' for DCG, says Gemini co-founder
Now, as Cameron Winklevoss is claiming, it's "game over" for both DCG and Silbert.
Constant delays in finding a resolution to the matter, according to him, also "ballooned professional fees to over $100 million, all which have gone to lawyers and advisors at the expense of creditor and Earn users."
"Enough is enough," said the Gemini co-founder as he also shared a document titled "Best and Final Offer - July 3, 2023."
The document outlines a proposed plan that involves $1.465 billion in payments and loans, with the deadline for accepting the offer set for 4 pm ET on July 6. The failure to agree to the plan would result in Gemini filing a lawsuit against DCG and Silbert personally.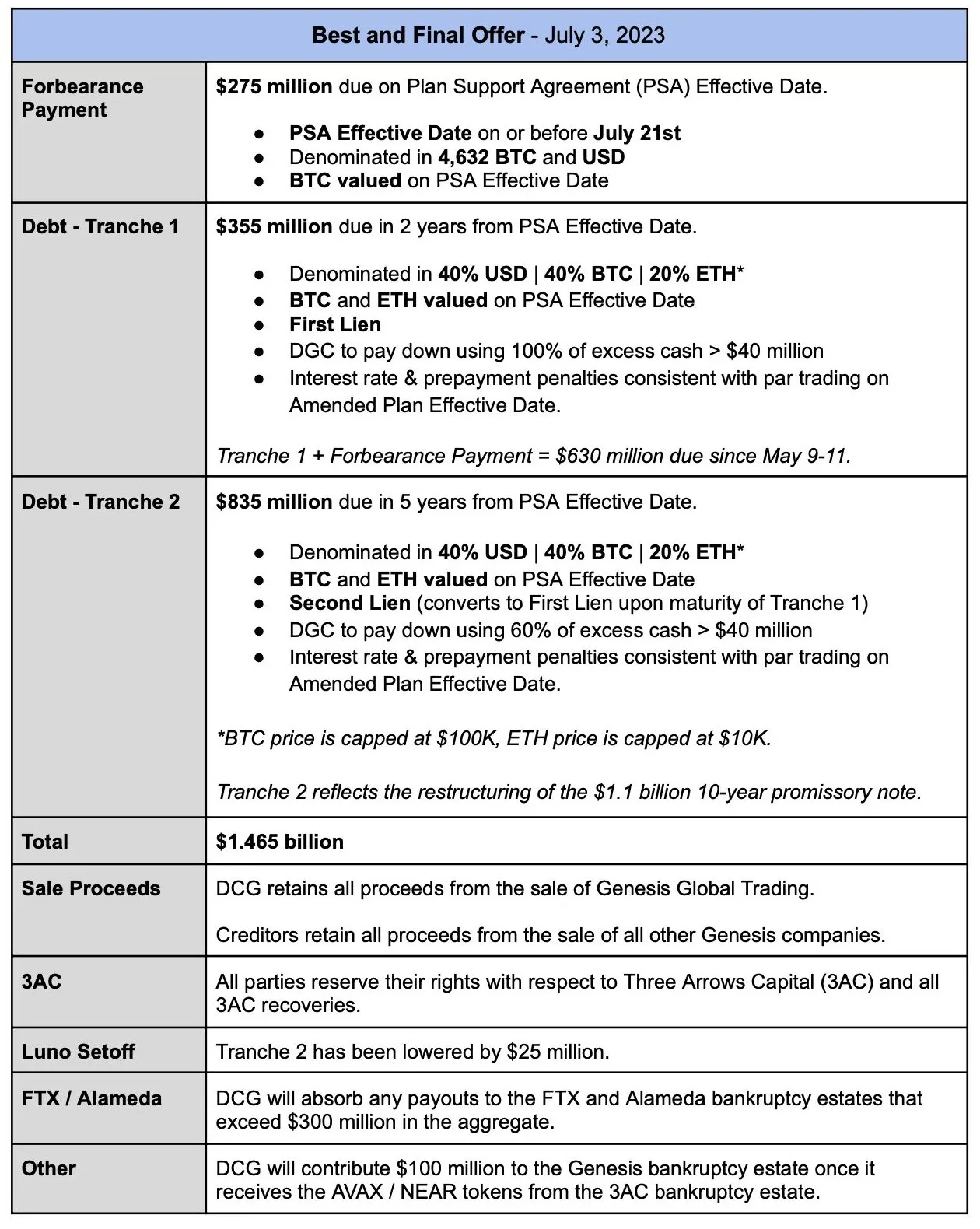 Additionally, the crypto exchange plans to demand that the Genesis Special Committee fulfills its fiduciary duties by filing a turnover motion on or before July 7 that would put DCG in default—along with the demand of the immediate payment of $630 million owed to creditors and Earn users.
In the closing remarks, Cameron Winklevoss addressed Silbert saying that he's seen "a lot of bad behavior" from him over the last several months, but what disturbs Genesis president the most is that in all this situation the DCG founder is playing a victim card.
"Not even Sam Bankman-Fried was capable of such delusion," said the Gemini co-founder.
DCG didn't immediately respond to Decrypt's request for comment.
Gemini accuses DCG of 'fraud'
According to the letter, in June and July 2022, Silbert, DCG, and Genesis "knowingly lied" to creditors, Earn users, and Gemini to make them believe that DCG absorbed the $1.2 billion the crypto lender incurred from the collapse of Three Arrows Capital (3AC).
"In reality, DCG absorbed none of these losses and instead entered into a bogus long-dated promissory note to make it look like it did so without ever sending as much as a penny to Gemeni," reads the letter.
Cameron Winklevoss alleges that Silbert and DCG engaged in this fraudulent transaction and subsequent accounting fraud to buy time to dig themselves out of the $1.2 hole that 3AC blew into Genesis.
"Fake till you make it. You hope that everyone would be none the wiser. Unfortunately for you, someone by the name of Sam Bankman-Fried came along and committed and committed an even bigger fraud that had the undesirable effect of exposing your fraud," said the Gemini co-founder.
According to Cameron Winklevoss, DCG chose to pretend to go through the motions of negotiating a deal, something that would "rope a dope creditors and position DCG to litigate the promissory note's for many years to come."
"Delay is critical because it gives you time to solve the one thing that stands in the way of your ability to fight the promissory note—the $630 million dollars that DCG owes Genesis. This loan is the sword of Damocles that hangs over your head," reads the letter.
The Gemini co-founder further said that by May 1, "the writing was on the wall": DCG didn't have the $630 million required to repay Earn customers and "was about to head off a cliff."
Although creditors "reluctantly" agreed to give DCG more time, "8 weeks in and multiple extensions later, there still no deal," said Winklevoss, adding that the mediation has granted FCG "an indefinite forbearance on the $630 million it owes Genesis—for free."