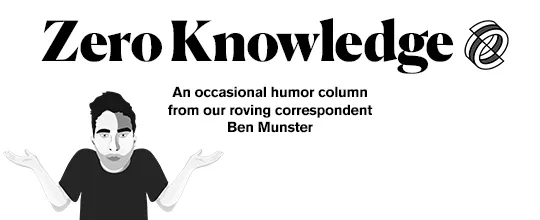 Stephen Diehl was giving an ebullient toast at the world's first conference for crypto skeptics, which he co-hosted this week. "We want to thank the sponsors, and of course the illuminati," he said, to an almost frenzied hysteria from the gallery. "We couldn't have done it without them!" 
It was the final evening of the two-day Crypto Policy Symposium in London and a group of crypto skeptics had gathered in a club in Marylebone to drink free Prosecco and conspicuously not sell each other crypto tokens. I was surrounded by guys who were the exact inverse of your usual crypto bro conference-goer: they wore corduroy trousers, worked in IT, and looked like your dad. They were all called Martin, and they came armed with evidence-based research, sober policy proposals and empirical, entirely uncontroversial perspectives on market structure.
"We're getting more organized and more powerful, and this conference is a testament to that," said Diehl, a virulent online critic of crypto and a chief organizer of the conference. (Coincidentally, he is also peddling a new, free, self-published book he co-authored, "Popping the Crypto Bubble.") 
Along with his colleagues, Diehl animatedly answered questions from all comers, including one pro-coiner, who wanted to know about the panel's thoughts on IoT blockchain network Helium. (Spoiler alert: they think it's bogus). They brought down the house with their wry provocations—"crypto bros like talking about code; real hardcore skeptics can actually code"—and their cynical view of an industry that has long run on hype.
They even tolerated a question from a wheezing, porcine envoy from a reviled crypto publication, about the skeptics' relationship with policymakers. "From the crypto presses!" Diehl commented disdainfully, before offering me a brusque answer: "Certainly crypto skeptics have become more involved in expressing our sentiments to policymakers. We have people from the highest echelons of power saying things our people are saying."
The Crypto Policy Symposium, which took place largely online but included one evening of networking, was the world's first conference of its kind and featured men and women in positions of considerable influence. Skeptical Twitter pundits sweatily gladhanded policymakers. Disillusioned programmers mingled with Financial Times journalists. There were former regulators and even a sitting U.S. congressman, Rep. Brad Sherman, the anti-crypto Democrat from southern California. 
The conference was the first of what its organizers hope will be a long run, and a new organization, the Center For Emerging Tech (or something), has been set up in its wake. 
Crypto skeptics have existed almost as long as crypto has, but last year's parabolic rise in cryptocurrencies—and this year's subsequent vomitous crash—brought with it a new, more determined cohort. No more is the crypto skeptic a semi-tragic lone wolf: The new entrants to the game are hugely influential online, and many, like Molly White, have become celebrities in their own right—if they weren't already celebrities, like Ben McKenzie, "The OC" actor turned bellicose crypto skeptic and author-to-be.
Thus far the no-coiner effort has been a rather meager counterweight against the $10 million in lobbying money thrown at congress by the pro-crypto world during the past five years. For now, at least, the no-coiner lobby isn't much of a menace. 
The event itself, for instance, was a spartan affair. Use of the private members' club setting had been donated for free to one of the organizers. There was minimal marketing, and most of the panels were virtual. 
The in-person portion was not widely advertised, presumably to deter Bitoiner terrorist attacks. Panels were sober: "The Politics of Bitcoin," "Crypto Contagion," "Are Regulators and Regulations fit to meet the Crypto Challenge?"
"Usually crypto events try to sell you something," said organizer Jan Akalin, one of Diehl's co-authors. "We wanted this event to be free, rather than bribe people to be here."
Some of the speakers were impressive—and more than a little dramatic. 
Sherman, arguably the foremost crypto hater in congress, spoke grandiosely about the threats posed by crypto to American prestige. 
Here was a man whose very energy radiated imperial authority. A star-spangled banner hung behind him. He spoke with that timeless and slightly unsettling statesmanlike deliberation perfected by H. W. Bush. His every pronouncement made you feel like you were about to be hit by a predator drone. His eyes twinkled enigmatically. 
He spoke at length about hamsters. "Will bitcoin always be worth more than hamstercoin?" he thundered. "The Uruguayan peso will always have some value because there's always going to be a Uruguay. Will hamstercoin always have the same value? What about cobracoin? And although a mongoose can defeat a cobra or a hamster, I believe mongoosecoin—a coin that was created as the result of a joke I told at a hearing—is now worthless!"
Alex Sobel, by contrast, a friendly Labour MP from Leeds North, radiated not so much imperial authority as the impression that he'd just climbed out of a single bed shared with a dog. He was hanging back by the free bar. A former software engineer, he seemed up for a chat, so I sauntered over to him, asking him about the view on crypto in Westminster. 
"There's an awareness, in Parliament, that crypto is backed by nothing," Sobel told me. "What's not happening is MPs aren't going, 'I lost all my money,' so it's not really permeating."
What especially piqued me was where Sobel said he had acquired much of his anti-crypto perspective: an "excellent" book called "Attack of the Fifty-Foot Blockchain"—by one David Gerard.
The David Gerard! I looked around and indeed there he was, looming seven-feet-tall right behind me, my lone crytoskeptic source from the good old early days of Decrypt, the man I'd call up for an easy hater's quote on anything blockchain, no longer alone but in his element, surrounded by the spawn of his mental labor, the gushing paterfamilias of a vibrant 3rd century imperial Chinese dynasty, reveling in the industry of his royal issue. I'd never seen him so happy. 
"One guy, that's a weird guy," he was telling some rapt listener. "Two guys, that's a movement!"
I wandered closer and asked whether he was, indeed, in his element—whether this felt like a watershed moment. "It's nice," Gerard said, coyly. "I mean obviously it's been coming for years, but it's nice to be around like-minded people." 
Don't you get the sense this is suddenly a very serious movement, though? I asked.
"I mean, there are 8 billion no-coiners in the world," he shrugged. He probably meant million since there are fewer than 8 billion people in the world. But who was I to correct the maestro?
Gerard opined that the crypto skeptic movement was beginning to affect hearts and minds. The reasoning in Alex Sobel's speech during the virtual conference (which Gerard said proudly "was basically half my idea"), was, "basically 2+2=4. Which is a fact."
Wessel Pannebakker, who identified himself as "a student from the Netherlands who is highly into crypto and its applications," was among the few pro-crypto attendees. (It was Pannebakker who had asked whether the hosts thought the Helium network is viable.) We met by the salted almonds, which I had been wolfing down, alone and despised. 
Pannebakker was vocally nonplussed about the goings on. "It's fair to say any 'symposium' should have both sides," he grumbled.  "I didn't expect it would hire only one side! Even though there are many scams and frauds, it's important to have a balanced take on both sides."
I put it to him that maybe it's reasonable, against an endless backdrop of squillions of dollars' worth of pro-crypto conferences, to stage one tiny anti-crypto conference. 
He demurred, saying the skeptics should at least try to interact with, say, the Helium network. "It wouldn't be so bad for them to spend 50 bucks to interact with applications, to play around," he said. (Weirdly, he told me he'd never actually used it either.)
Whether "don't knock it till you try it" is an adequate stand-in for classical methods of empirical truth-seeking is one for the philosophers. I nevertheless posed it to Martin Walker, an amiable member of the Center for Evidence-Based Management, whom I had bumped into as the night was ending. 
Floppily gray-haired and dressed like a train enthusiast, Walker was one of the organizers of the event. I asked whether a skeptical, rational view was always adequate: whether a bit of credulous blind faith was ever an asset. It has made a lot of dumb people rich, I ventured. 
Walker seemed doubtful. "If we didn't have a fact-based way of looking at the world," he said, "we'd still be living in caves." 
Alas. Such was the imaginative paucity on display at this conference. Were it a pro-crypto event, feverish entrepreneurs would surely be talking up caves as the new literal "hard" store-of-value, and trying to sell me some NFT derivative-of-a-derivative pegged to the quantifiable ignorance of cave-dwellers and over-collateralized by neolithic renderings of antelopes. 
But I wasn't trying to sell Walker anything, nor he me, so instead we agreed to agree, and amicably parted ways.  And I hung back to finish off what was left of the free almonds.