For just .03 Ethereum (about $50), you can buy a photo of a coffin in front of the famed Centre Pompidou.
For another .03 ETH, you can buy a picture of that coffin in flames.
"The coffin symbolizes what this period has been, which is why it was symbolically burned to represent, through this funereal gesture, the death of contemporary art," French artist John Hamon told Decrypt's SCENE.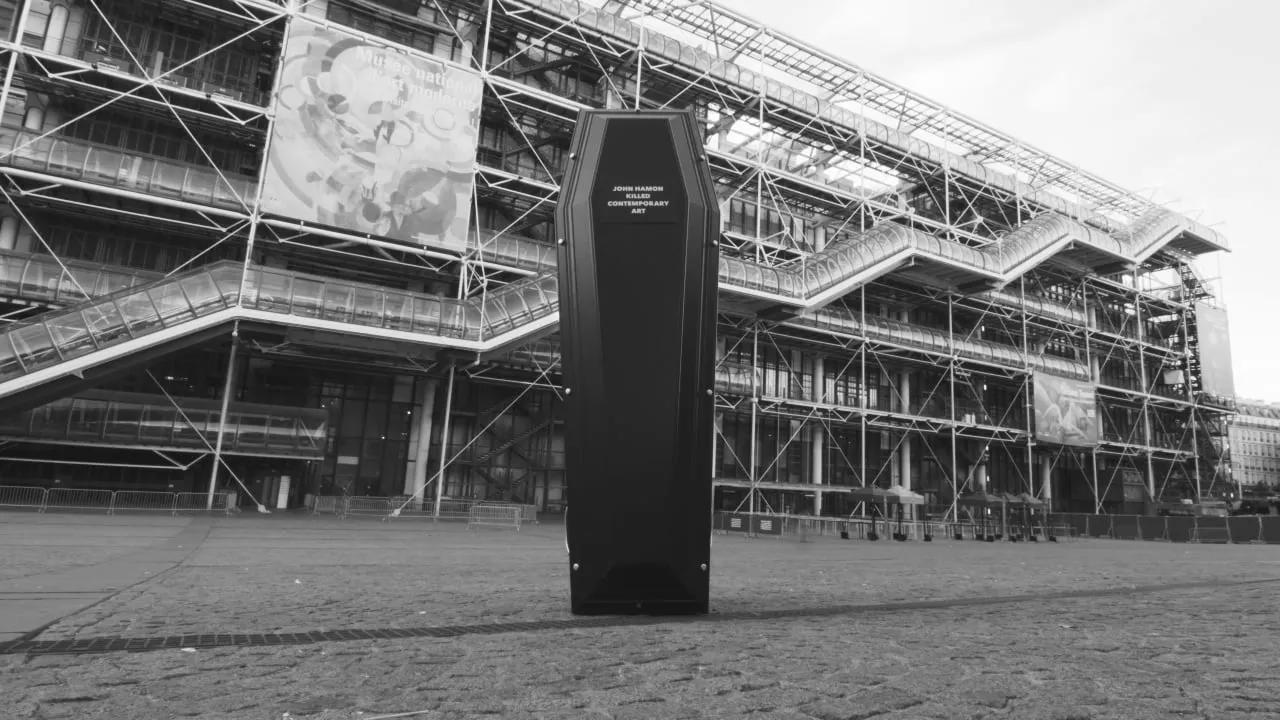 Kicked off in 2020, the performance—turned into various NFTs—symbolically staged the death of contemporary art.
Concurrent with his NFT Factory showcase, Hamon released a 70-piece NFT drop on Foundation capturing scenes from a film centered on his performance. The film itself was fully minted as a distinct NFT and exclusively sold on SuperRare.
Last week, the project took center stage at the NFT Factory in Paris, titled quite simply "John Hamon Killed Contemporary Art."
Over the last three years, in addition to the dozens of posters bearing the project's title, Hamon provocatively placed coffins in front of major art institutions like the Centre Pompidou and the Fondation Louis Vuitton in Paris, before setting them ablaze.
He said that the contemporary art phase, which took root around the 1950s with origins tracing back to Marcel Duchamp in 1912, has finally reached its conclusion.
And with the rise of blockchain, crypto art, and other innovative art forms, the traditional understanding of art seems even more antiquated.
"Contemporary art aligns with capitalism and its understanding of currency," Hamon told Decrypt. "With the advent of blockchain and Bitcoin, a financial revolution has emerged, subsequently shaping art. This encompasses crypto art and related blockchain movements, diverging from the previously centralized perspective of art."
A fiery evolution
Fiery, solipsistic work is nothing new for Hamon.
For over two decades, he's been posting posters depicting his 17-year-old self's ID photo, merely accompanied by his name. He estimates having plastered hundreds of thousands of these worldwide.
"The initial idea was to represent myself as an artist," Hamon told Decrypt. "We were in the early days of the internet before social media took over. Posters were the most effective way to massively disseminate, so I started making photocopies and pasting them everywhere."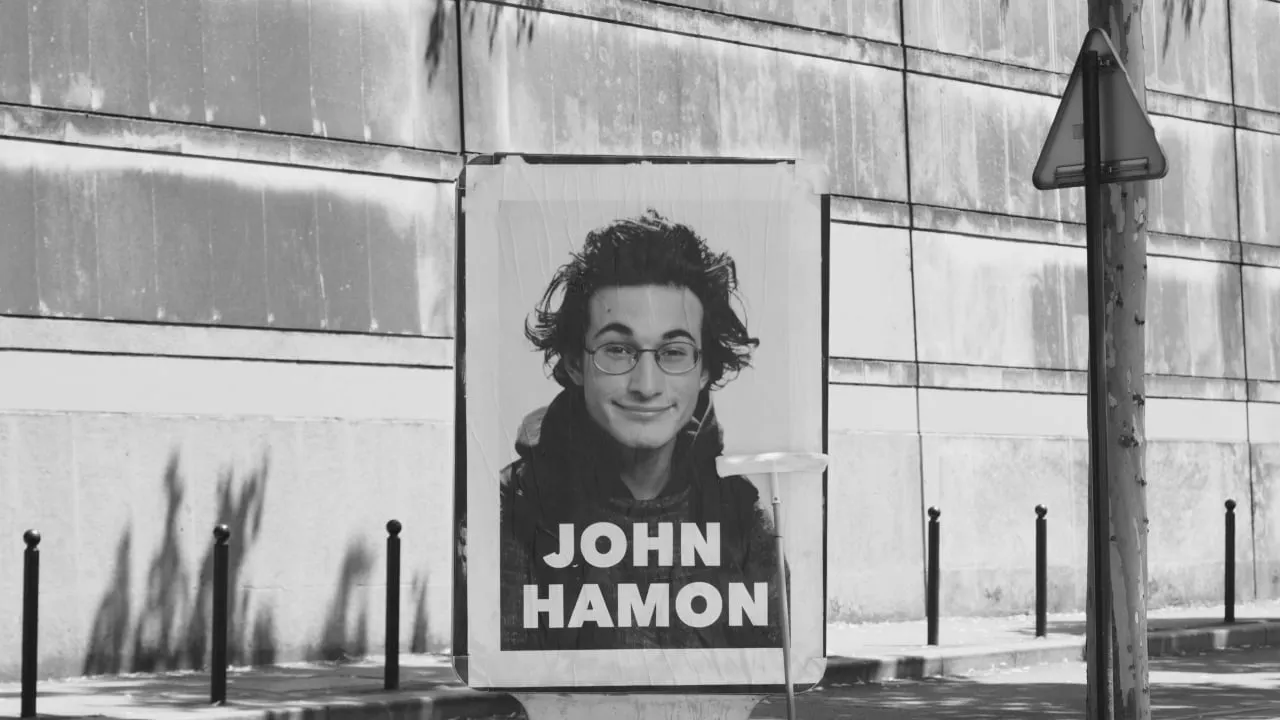 Hamon even projected the image onto landmarks, such as the Eiffel Tower, occasionally leading to altercations with authorities. In a way, he says, his work foresaw the rise of social media and later NFTs.
"On social platforms, we utilize avatars and succinct descriptions to represent ourselves," Hamon told Decrypt. "In a sense, my work prefigured this with its minimalist approach of a name, a portrait, and a tagline. With NFTs emerging, many have adopted personalized avatars."
Drawing parallels with blockchain art and NFTs, he lamented the intense promotion of many unremarkable projects in the Web3 space, which sometimes surpasses the artwork itself. Hamon was drawn early to the technology.
"Starting around 2015, I began diving into the realm of blockchain and Bitcoin," he told Decrypt.
This budding interest led to his foray into NFTs by 2017, being among the first users of Decentraland and helping establish one of the first museums in the metaverse.
This led to his "Metaposter" project, which showcased artworks in the metaverse while also connecting them to real-world displays.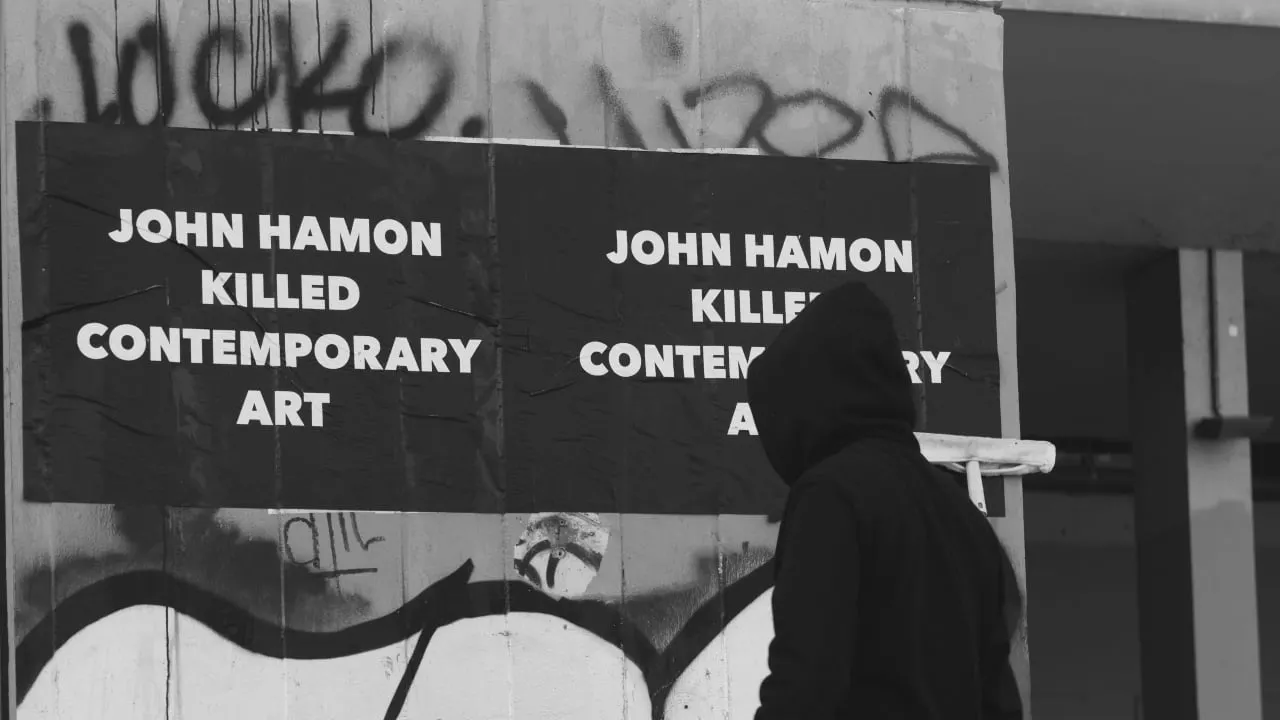 He became a big fan of using blockchain for his artwork and is determined to keep exploring this. Next month, he's releasing something new with Nouns DAO. Also, Hamon will launch a new part of his "Hamoney" project next year.
It includes 1,500 unique money bills that he tracked using blockchain and sold in 2019. The people who bought these will get pictures of them. Hamon says that his work uses blockchain to highlight an important change in the art world.
"Art ought to be inclusive and varied, and blockchain has the potential to democratize art establishments," he told Decrypt. "Shifting to a decentralized exhibition approach and presentation mode would be advantageous."